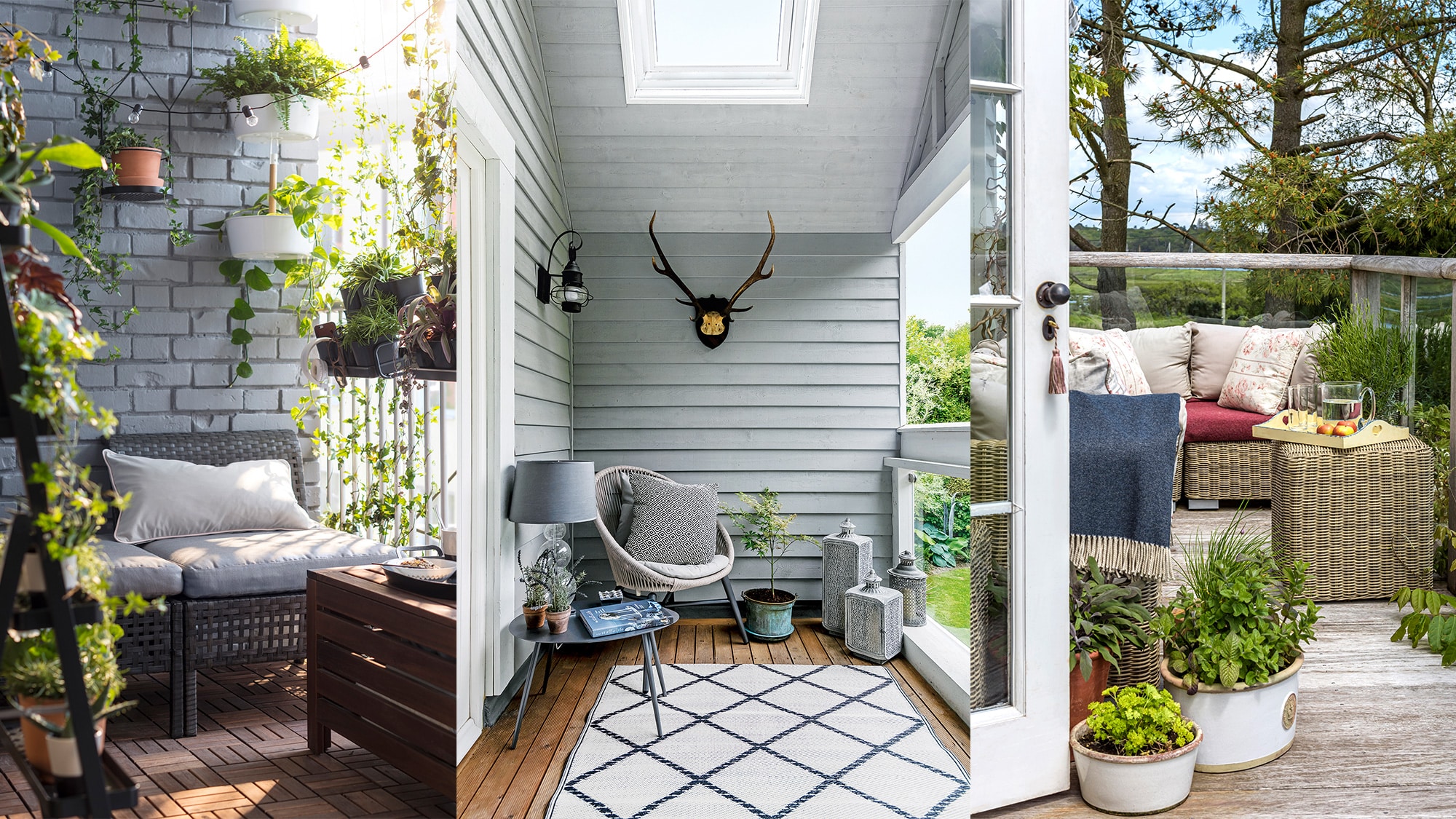 Don't you think people living in apartments often face the issue of having a small balcony space? Well, it's quite common. But when it comes to a private outdoor space, having a cozy apartment balcony is always a dream idea.
However, if you are lucky enough to have a balcony, then this great apartment balcony privacy screen idea is going to work. In fact, these ideas help you create a cozy private space where you can enjoy your blissful mornings and beautiful evenings without any sneak peek of your disturbing annoying neighbors.
No matter how small your balcony is, you can give it a perfect makeover by integrating these amazing balcony privacy screen ideas. So what are you waiting for?
Let's dive into some detailing of how you can transform your apartment balcony by installing a balcony privacy screen.
Factors to Consider Before Buying a Balcony Privacy Screen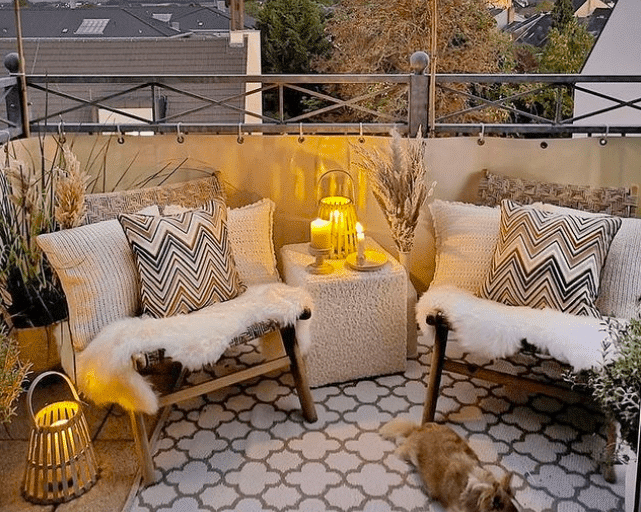 Well, there are multiple factors to consider before buying a balcony screen, but a few have been listed below.
1. Weather
It is the most vital factor that you should definitely look for before buying, just because certain privacy screens are not suitable for all weather conditions. For example, if it rains a lot, then go for plastic ones. At the same time, if you are experiencing windy weather, then avoid installing metal privacy screens.
2. Prime Considerations for Renting Apartments
When it comes to unique factors, the high-rise balconies are windier than the lower ones. However, the biggest difference among these is the storage space. So while choosing, make sure to pick those that are easy to store. You can consider Fabrics or expandable options, while Bamboo fencing makes the most space.
3. Rental Agreements
Among all the varieties, there are some, like retractable ones, that require full installation that includes drilling too. However, this is not an option, as most rental agreements prohibit drilling. So choose those that can be installed with these restrictions as well.
Best Balcony Privacy Screens for 2023
Let's discuss the best types of Balcony Privacy Screens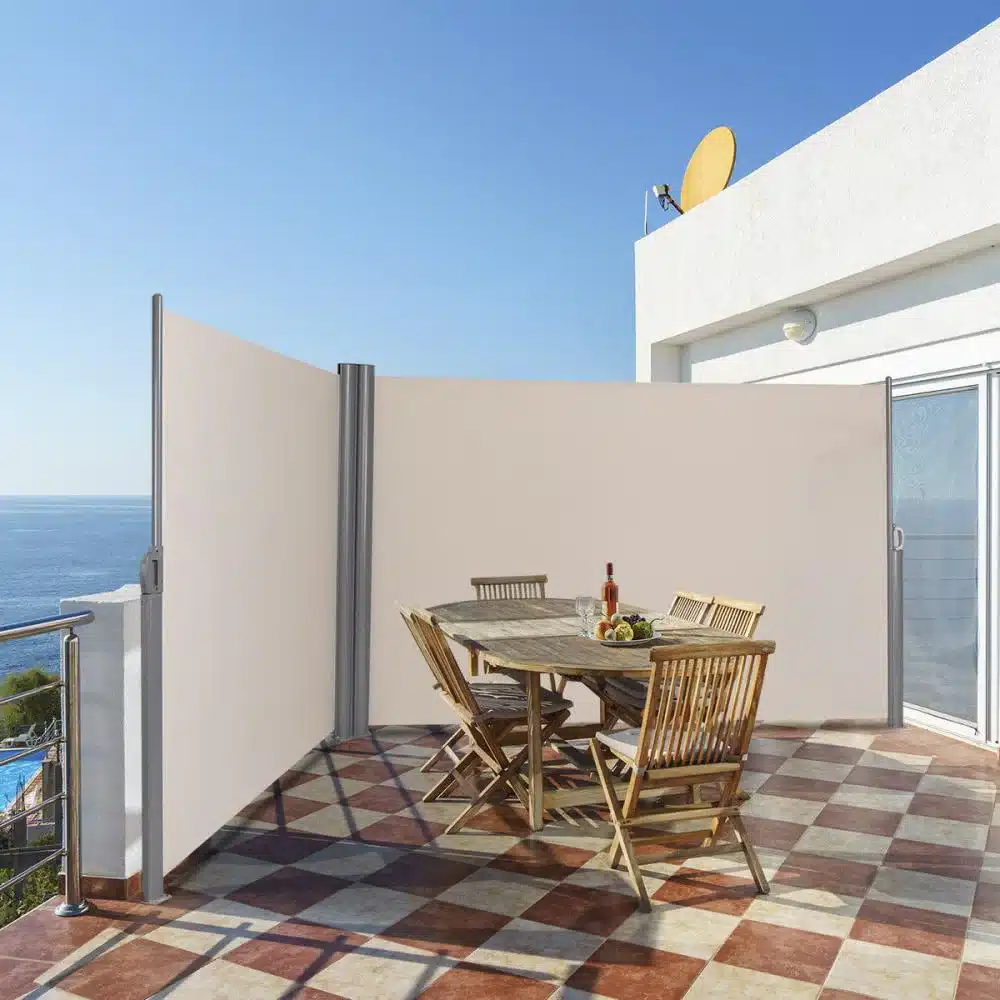 A retractable privacy screen is a smart choice if you want to keep your neighbors sneaking out while spending quality time. It is made up of material like polyester fabric. The installation is very easy; all you need to do is just pull it open and hook it in a place. And when you want to close it, unhook it and roll it up. Isn't it quite very easy?
Pros
Perfect fit for a small space; it does take up the whole space of your apartment balcony
It creates an amazing privacy level
You can fold it up when not in use
Cons

Renters may be constrained by installation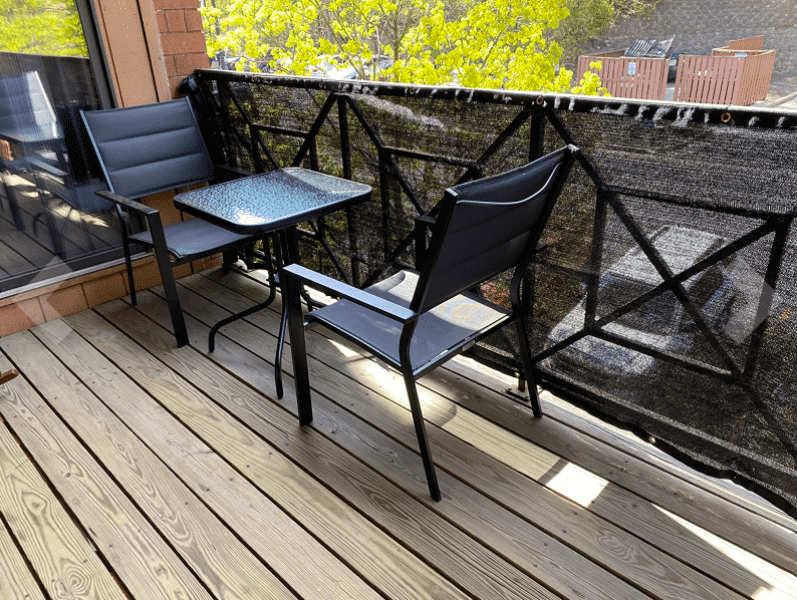 The mesh balcony privacy screen provides a decent balance between transparency and privacy. You can easily install it, as it is made from a typical polyester cloth. Well, you cannot find it an attractive option for your balcony, but it still is one of the best suited among space management options. However, it is a suitable option for construction sites.
Pros
Easy Installation
It gives perfect visibility and coverage
Available in multiple color options and sizes
Totally Inexpensive
Cons
Not that much attractive in terms of looks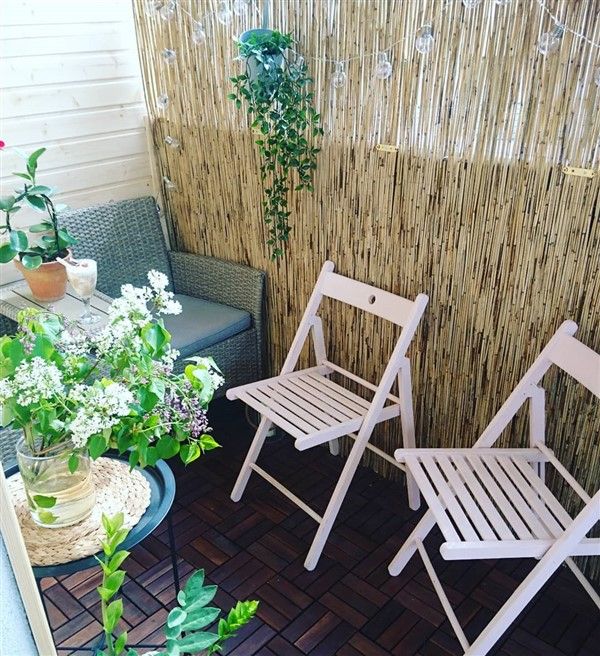 Bamboo fencing is one of the most beautiful DIY balcony privacy ideas you can adopt. These are available in pre-sized rolls so that you can cut them and place them according to your balcony space. Either you can buy it or can make your own custom piece by using canes. They are perfect for railing balconies, and you just need to tie the cables to the railings. But at the same time, installations become a bit difficult if you have glass or walled balconies. It's an amazing touch of Boho style to your balcony.
Pros
Completely Inexpensive
Easy Installation Process
Creates a high level of privacy
Cons
Do not match all design styles of the balcony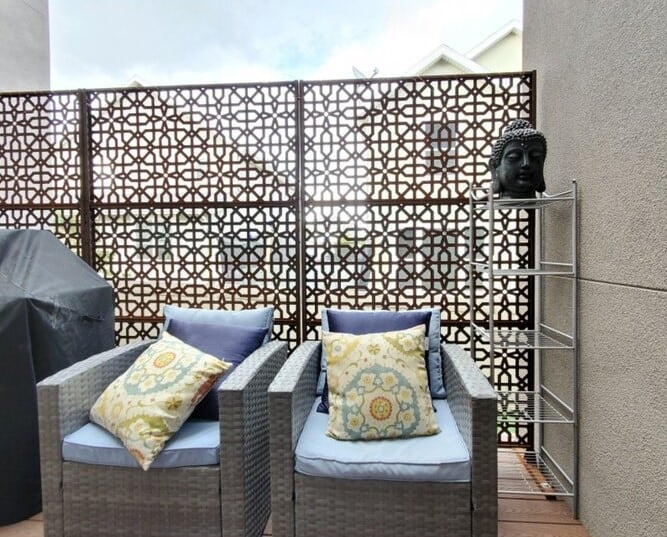 Metal privacy screens have some of the lowest levels of privacy compared to fabric privacy screens, still they are still a great choice for everyone. However, they are a beautiful decorative option and ideal for growing small plants as well. Most of the metal screens are freestanding, so you do not need to be worried about their installation. If you are a renter then you can blindly bet on it. But avoid them, if you have a windy balcony as it blows up with everything and causes heavy damages.
Pros
Ideal for renters as available in freestanding options
Perfect decorative privacy options
Beneficial for protecting objects like AC vents
Cons
Not at all good for windy balconies
Do not offer complete privacy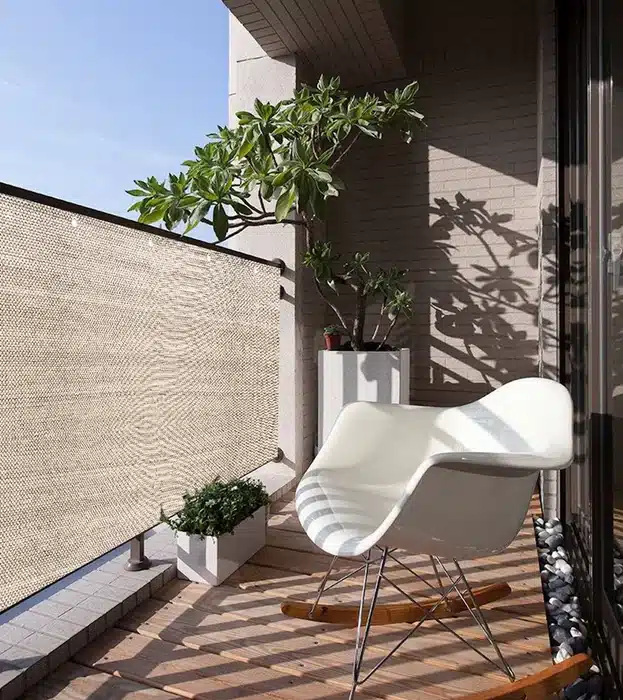 A Canvas balcony privacy screen is a classic option. It is an expensive piece and is not available in commercial stores, so to have it, you need to prepare it on your own. It is made up of polyester to withstand various weather conditions. Usually, the canvas is cotton, but polyester blended is suggested just to keep it safe and the long run. Installation is not that difficult; however, to make it look more appealing, you can add some curtains to it.
Pros
Not that difficult to installation
It gives high level of privacy
You can opt for various weather-resistant options
Cons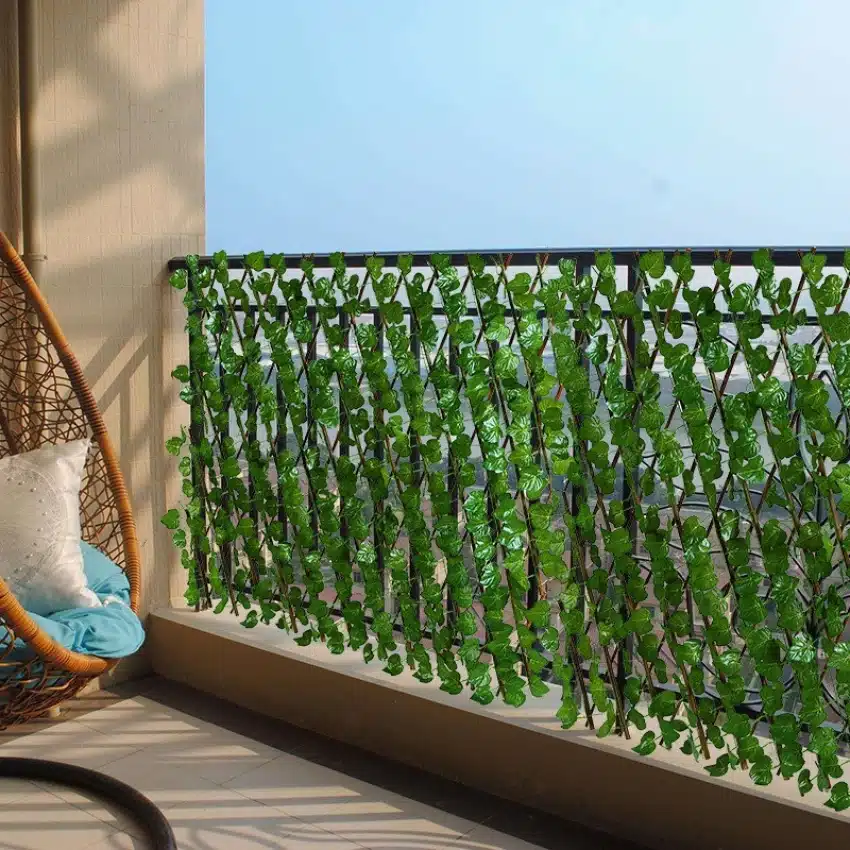 How about creating a jungle view? Yes, you heard it right! This fake leaf balcony privacy screen is the perfect idea for bringing nature to your apartment balcony. They are nothing but beautiful fake leaves tied in an expandable trellis. You can try this as they are inexpensive. But while buying, go for some good-looking leaves options, as the cheaper ones really look awful. Or else you can prepare your own screen by following online tutorials.
Pros
An extraordinary way to add some greenery
It provides a high level of privacy
An ideal choice for renters
Cons
Cheap fake leaves may ruin your balcony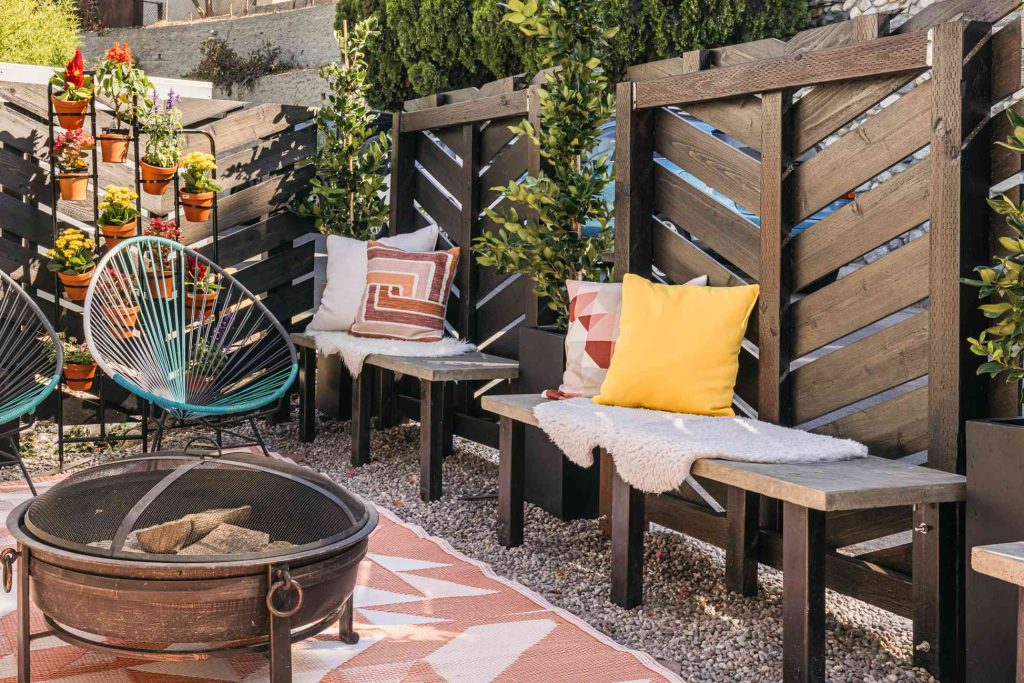 Lattice privacy screens are again a great addition to your apartment balcony. These are available in wall mounted as well as expandable screens and can be installed with or without infusing any plants around. However, as per your privacy goals and overall balcony aesthetics, it completely depends upon which one to choose from. Wall-mounted lattices have the advantages of height and greater durability, although expandable lattices are favored for their general flexibility. Now the choice is yours!
Pros
Completely easy installation
For more privacy, you can add more plants
In terms of size and placement, expandable options are available
Cons
Not suited for windy balconies
Expandable latices are not that much durable compared to wall-mounted ones.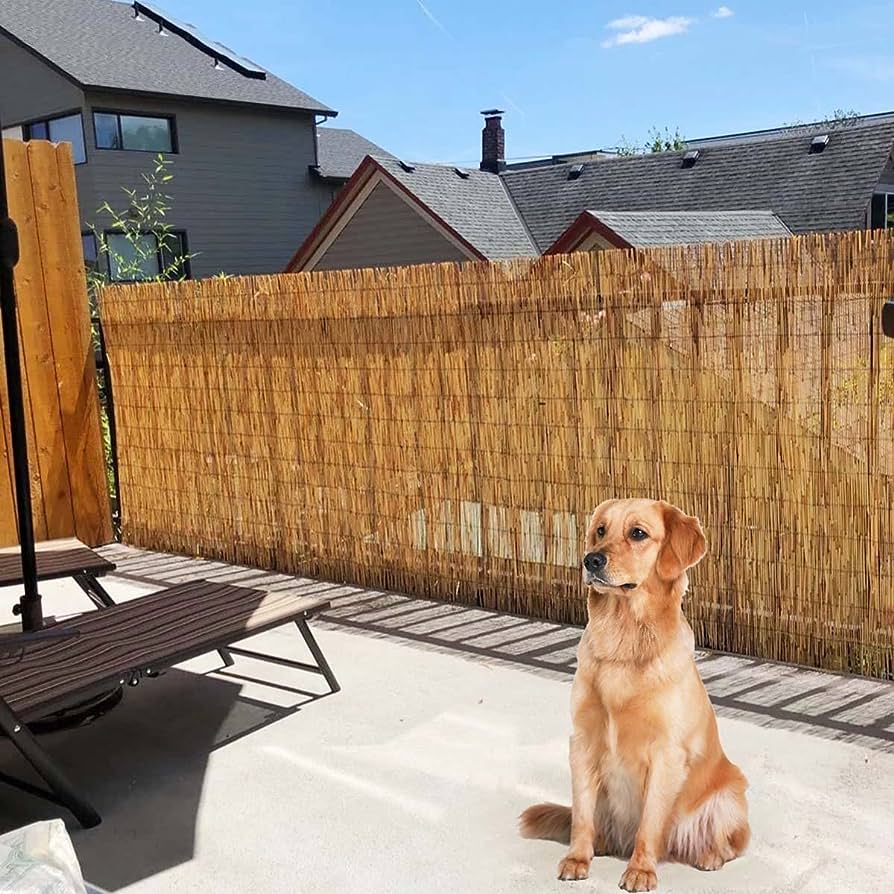 Don't you think wood screens can be the best option to add some natural elements to your balcony that are completely water resistant? Yes, absolutely! People love nature, and its elements, so installing a wooden screen is always the best idea. Well, it might get you extra maintenance, but at the same time, it gives you multiple benefits as well. Starting from designs and colors, so easy to work with, and much more.
Pros
Blends with every style
A perfect freestanding option
Ideal for private spaces
Cons
Requires regular maintenance
Quite expensive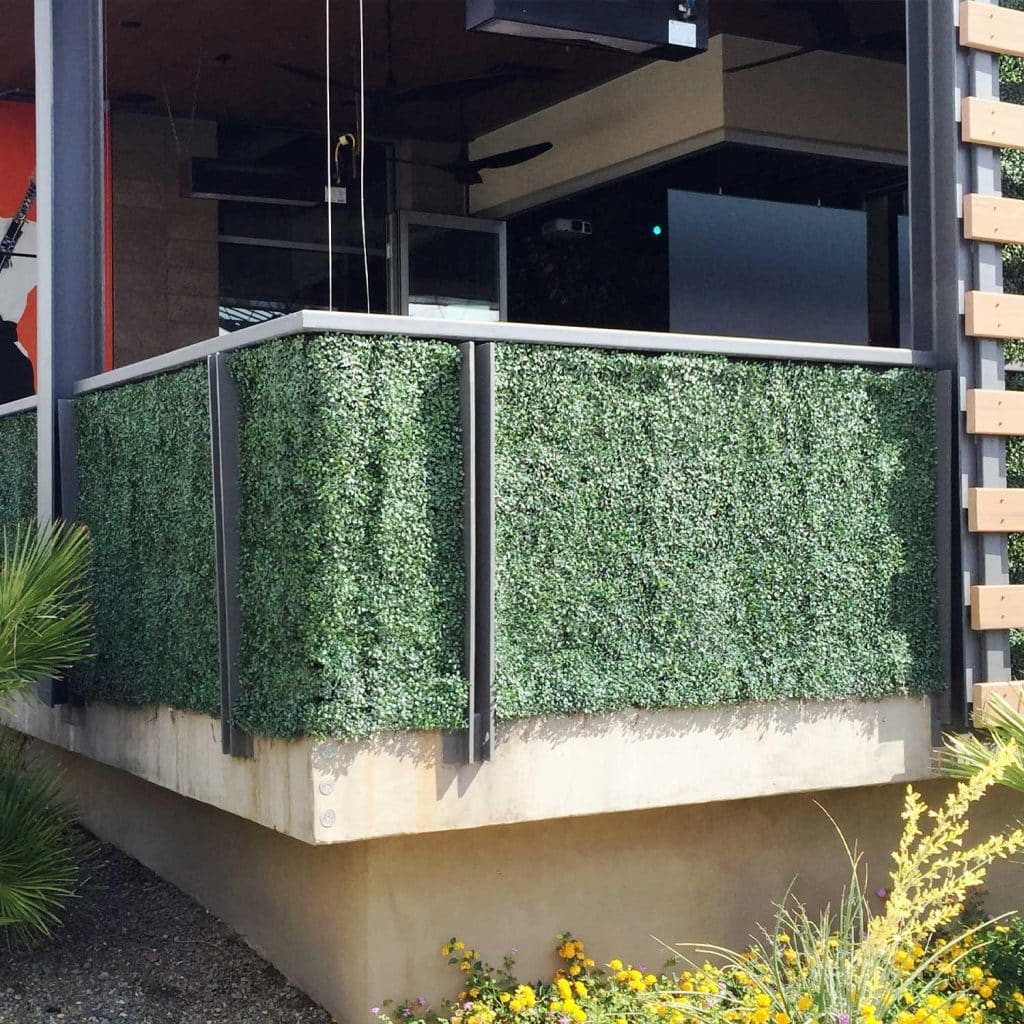 Boxwoods are quite similar to fake leaf screens. The only difference is it has dense leaves just to create a boxwood foliage pattern. However, these are quite expensive choices. If you want complete privacy, then installing these is the best idea among all others. Having complete opaque panels, they create a full coverage balcony privacy. And the best part is you can get it in multiple colors, but maximum prefer its real one, which is green, to maintain its realistic look and value.
Pros
Offers complete privacy due to dense foliage
Easy to install
It is easier to design and place individual panels
Cons
Costlier options
It can only be installed on railings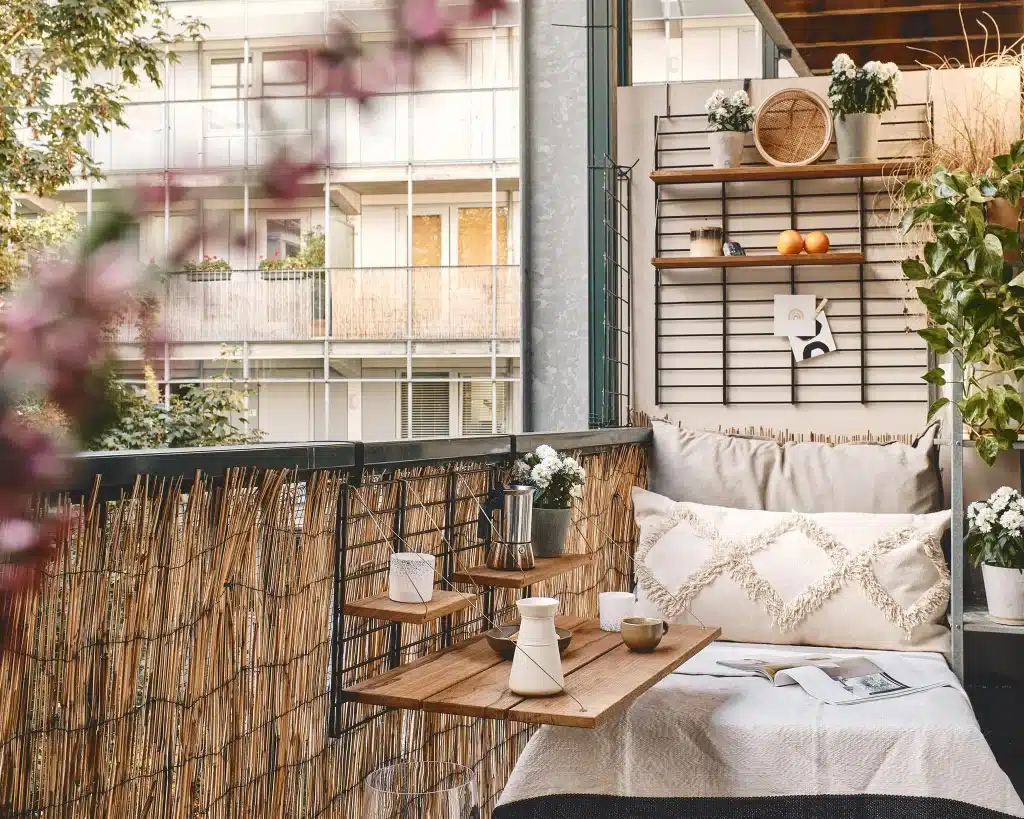 Reed fencing is also an amazing DIY balcony privacy idea. You might get confused with the bamboo and reed fencing, as they look similar. But the installation is a bit different. The only disadvantage of installing this reed fencing is that it looks a bit messy. Otherwise, it's an ideal choice for small space apartment balconies. In terms of availability, you can easily buy a ready-made piece or make it on your own.
Pros
Totally Inexpensive
Complete easy installation
It gives a high level of privacy
Cons
Not fit for all design styles
Summing It Up
All in all, these amazing apartment balcony privacy screens add a beautiful privacy corner. They not only increase the overall aesthetic of your balcony but also protect you from any kind of disturbance from outsiders, especially from those irritating neighbors.
However, budget and installation restrictions are the two factors that matter the most. Once they are set, you can make your choice freely.
Well, then, without wasting time, you can pick the best one for the balcony now, or if you want to explore your creativity, then you can try it on your hands as well.
Start creating your cozy space now!
Frequently Asked Questions
Can I Put a Privacy Screen on My Balcony?
Yes, definitely! A balcony screen is a must to maintain your privacy while relaxing on your balcony. It will set boundaries without getting in the way of your lovely setup. And if you are running out of space, then you can use a room divider as well.
What is The Best Material for a Privacy Screen?
Well, most customers consider Aluminium, Plastic, and Bamboo for a privacy screen. But among all these materials, the best-suited one is Vinyl/Polyresin and Composite Steel.
What Color Privacy Screen is Best?
There are multiple options available for privacy screens, but the best among all is the darker shade ones. I always prefer the ones that are in black, brown, or rich dark bronze as they provide more privacy as compared to the light-shade privacy screens. So choose accordingly.