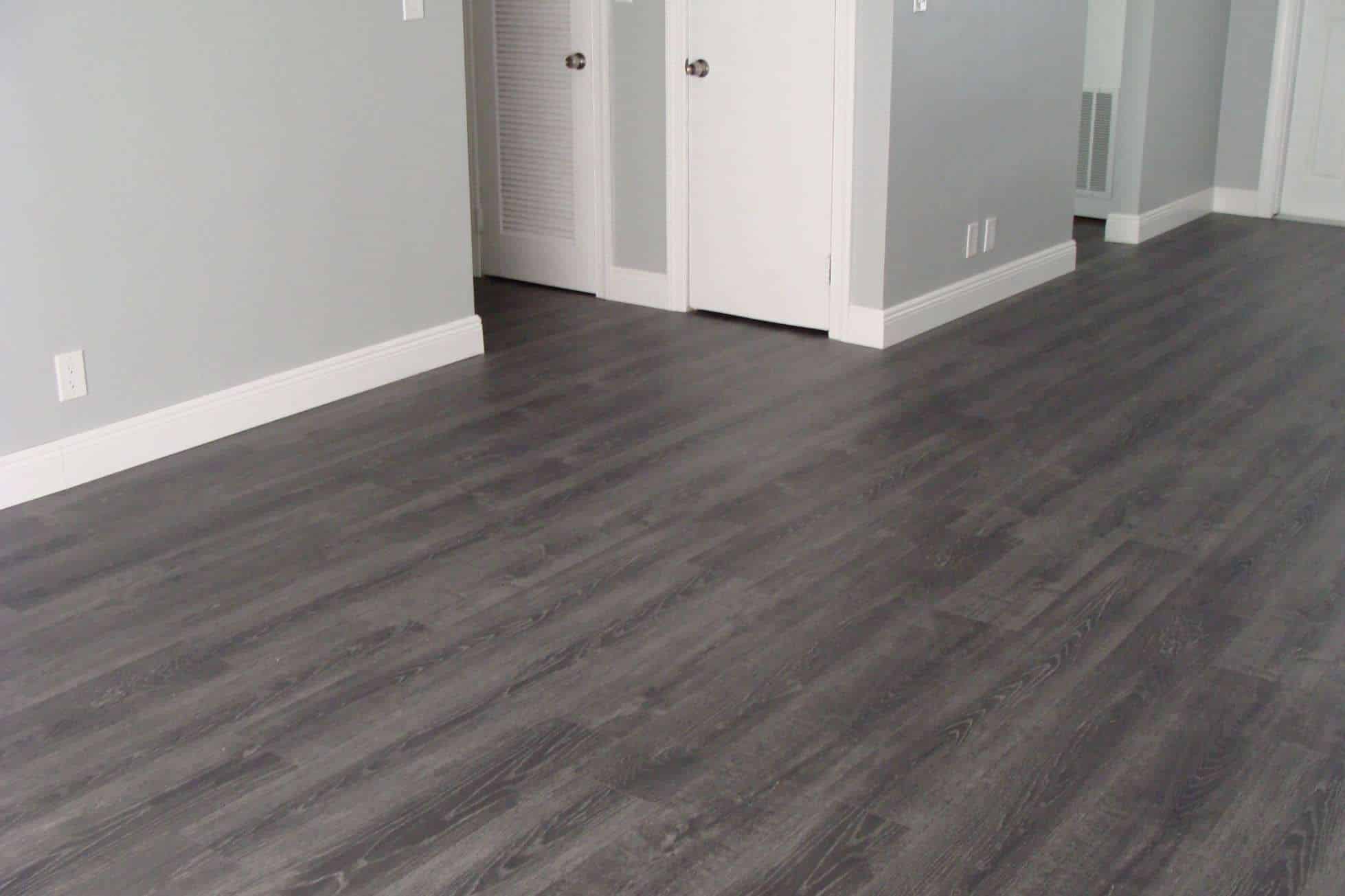 For homeowners looking to give their homes a contemporary and stylish appearance, wooden floors are a top-of-the-list option. Thankfully, finding the ideal product for your home flooring is now simpler than ever because of the convenience of online shopping.
High-end dwellings frequently have fashionable and elegant timber floors. It can be of solid or engineered hardwood quality. Grey floors can complement any other colors in your space. These hardwood floors typically conceal stains better than other flooring options as well. Moreover, they are accessible in numerous tints and wood varieties. 
This article will introduce you to 12 incredible-grey hardwood floors you can easily purchase online. Scroll down to find out more!
1. Teak Wood Grey Flooring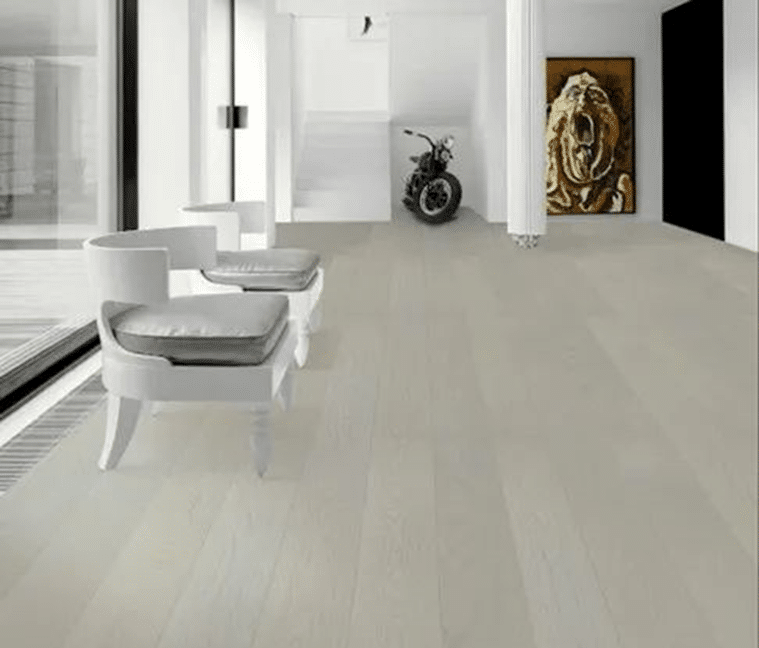 The Sunny Royal Dect Tiles are interlocking flooring tiles. Its primary material is solid teak wood with bona fide high-grade wood-plastic blended material.
It has a distinct natural wood grain layout with a grey finish. Heavy-duty and long-lasting, the flooring endures scratches and strains, well-suited to most outdoor spaces, including balconies, decks, and patios. A tile measures 1sq.feet.
It is an all-rounder product and an ageless flooring option for your home and workspace. Its composite wood-plastic water-proof structure makes it suitable to withstand the outside environment and brings pure splendor and coziness to your home exterior. Its fast-drying surface helps prevent slipping, thus providing safety from physical harm.
Additionally, this option can resist decaying, fading, stains, and other related issues. It is an excellent choice when you want to buy a premium outdoor flooring item at a reasonable cost. On the top, it is sustainable and eco-friendly.
2. Birchwood Grey Flooring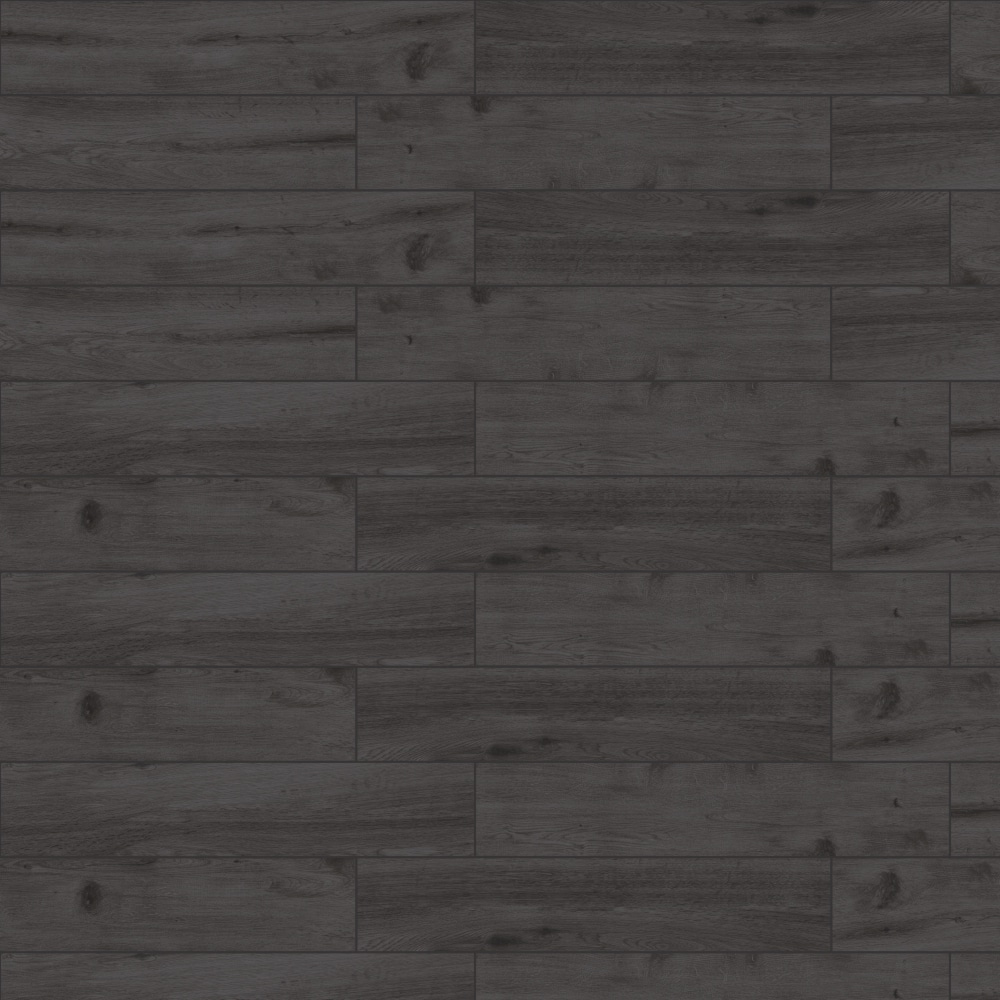 American Birch prefinished hand-scraped solid hardwood is produced from original birch wood. The hand-scraped texture exhibits a mild sheen and adds a rustic appeal. Easy to handle and install, this super quality wood comes with 25 years of surface warranty and a lifelong structural warranty.
Use nails or glue to fix the floors. The rectangular floors' price is mid-ranged. Birch hardwood is available in a range of surface finishes, including smooth, grain, and hand-scraped, and has a fine and uniform structure. The American Birch Hardwood is prefinished, meaning the planks are already covered by an outer coating that guards against marks and wear. Each plank measures 5″ x 3/4″.
The flooring is appropriate for those who want to showcase the authenticity of a high-quality hardwood floor.
3. Cool Gray Flooring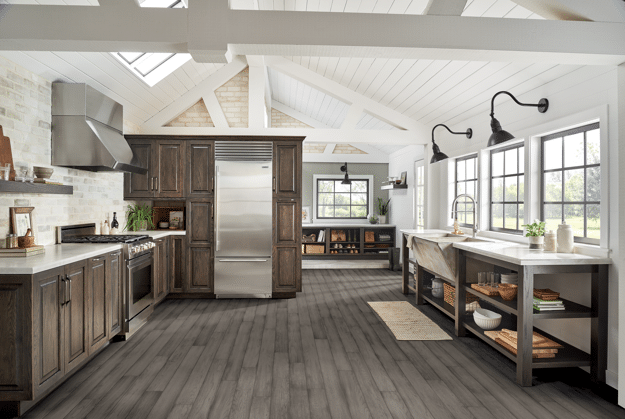 Bruce Hydropel's cool, gray-engineered wood flooring will make you overjoyed. Its waterproof structure offers water protection elements to keep moisture at bay. The cool gray hickory shade is unusual and versatile. Made from birch wood, it has minimal imperfections and radiates a clean disposition. It can perfectly match diverse home interior designs. The product carries a 15-year commercial and 50-year residential warranty. Every plank is 5 feet wide, and thickness varies between 7-16 inches. The length of the plank is not fixed. The 'cool gray' flooring is a high-quality product priced between middle to higher brackets. Although expensive, it is a good investment for a long time.
4. Dove Gray Flooring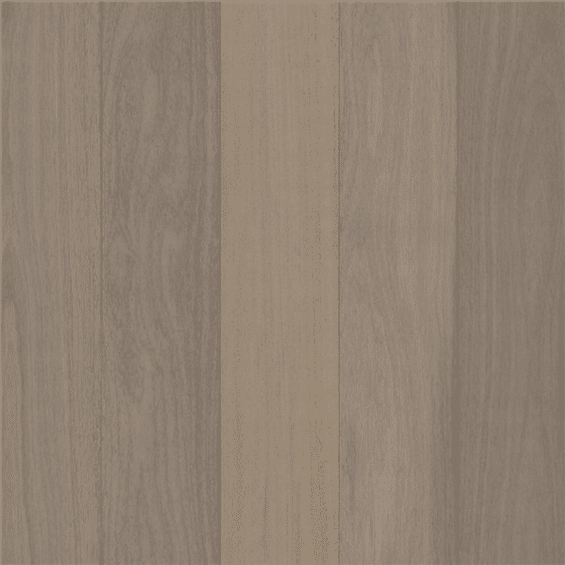 Made from tauari wood, Indusparquet Largo Brazilian Oak Wirebrush Prefinished Engineered Wood Flooring is of dove grey shade and a wire brushed surface. The product possesses an earthy appeal.
The tauari wood provides the flooring with authentic quality, thus making it well-suited for traditional and urban homes. Due to the presence of numerous compact layers and high-grade fiberboard, it gained durability, reliability, and bend resistance. Thickness varies from 5 to 8 inches, and width from 7 to 8 inches. 
It is an ideal choice for those who want to create coziness and grandeur to the interior of their dwellings simultaneously. Installation and maintenance are simple though it is a bit expensive.
5. Intrinsic Patterned Grey Flooring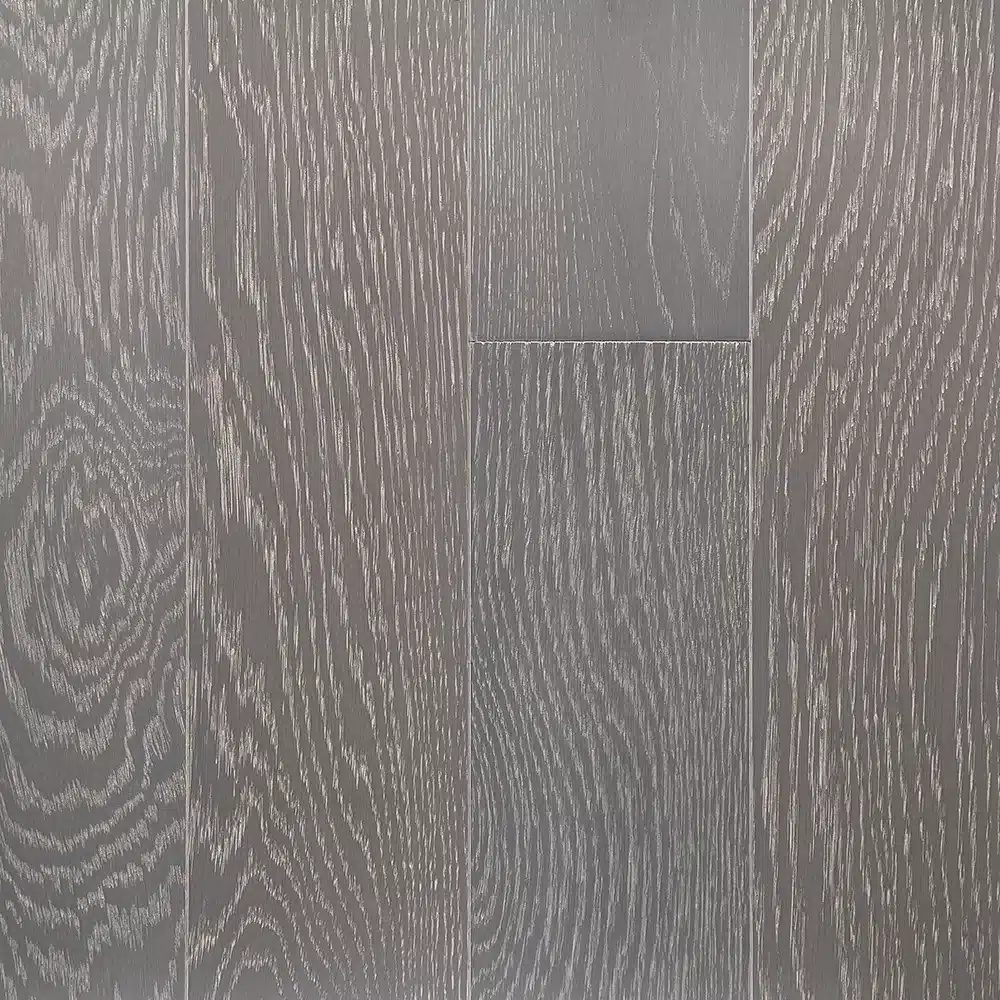 Impervious Engineered Hardwood Flooring offers several benefits. The royal grey color with real 'medullary rays' (natural marks) adds a new dimension to its appearance. The engineered hardwood layout enables it to withstand deformation and cracking. Because of the HDF base and engineered hardwood and construction, it is more stable and stronger. Easy upkeep as well as installation. The attached foam pads lessen noise transmission and make walking more comfortable. The flooring has 36 hours of water-resistant quality. Each grey hardwood flooring measures  2-5 inches thick, and with different lengths.
It is an outstanding choice for those who have kids or elderly people at home. It is an inexpensive choice and can go with a variety of interior design versatility.
The product is durable and remain a part of your household for many years in the future. It is a well-decided pick for you.
6. Grey Oak Flooring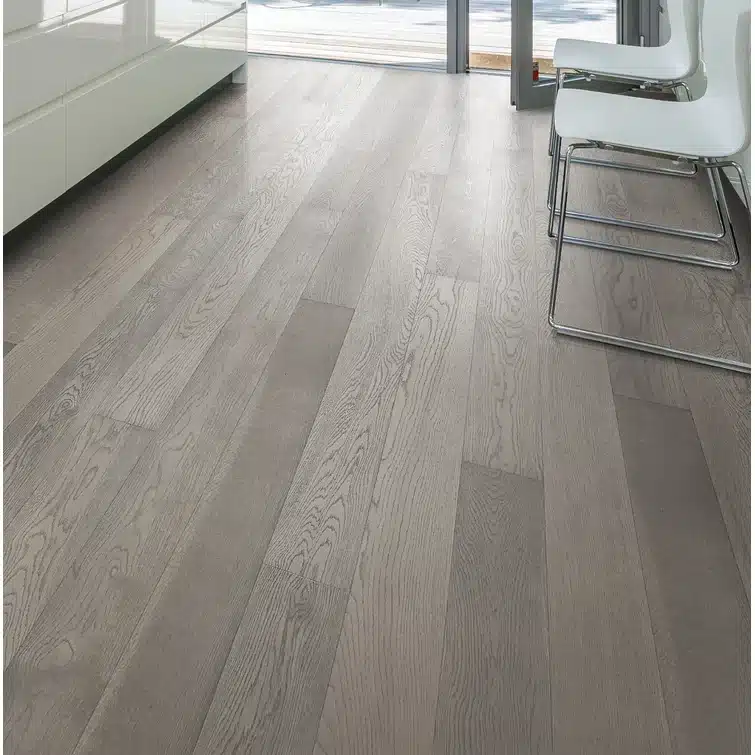 Canvas oak hardwood flooring from Kahrs has a distinct and genuine appearance simply due to the inherent attributes of the European oak tree variety. It is made of engineered timber. Its HDF core gives it greater sturdiness and durability.
The length is 73 inches and comes in a 5″ width and a 1/2″ depth. It can withstand scratches, making it pet-friendly. Suitable for both concrete and wood subfloors. When looking for a durable flooring option, Canvas oak floor is an admirable choice because it is simple to set up and upkeep and can be easily polished and renewed, if necessary.
It is an option in the middle to high range. Enhance the attraction and interest of your living room and bedroom by picking the product as your new home flooring.
7. Ethereal Grey Flooring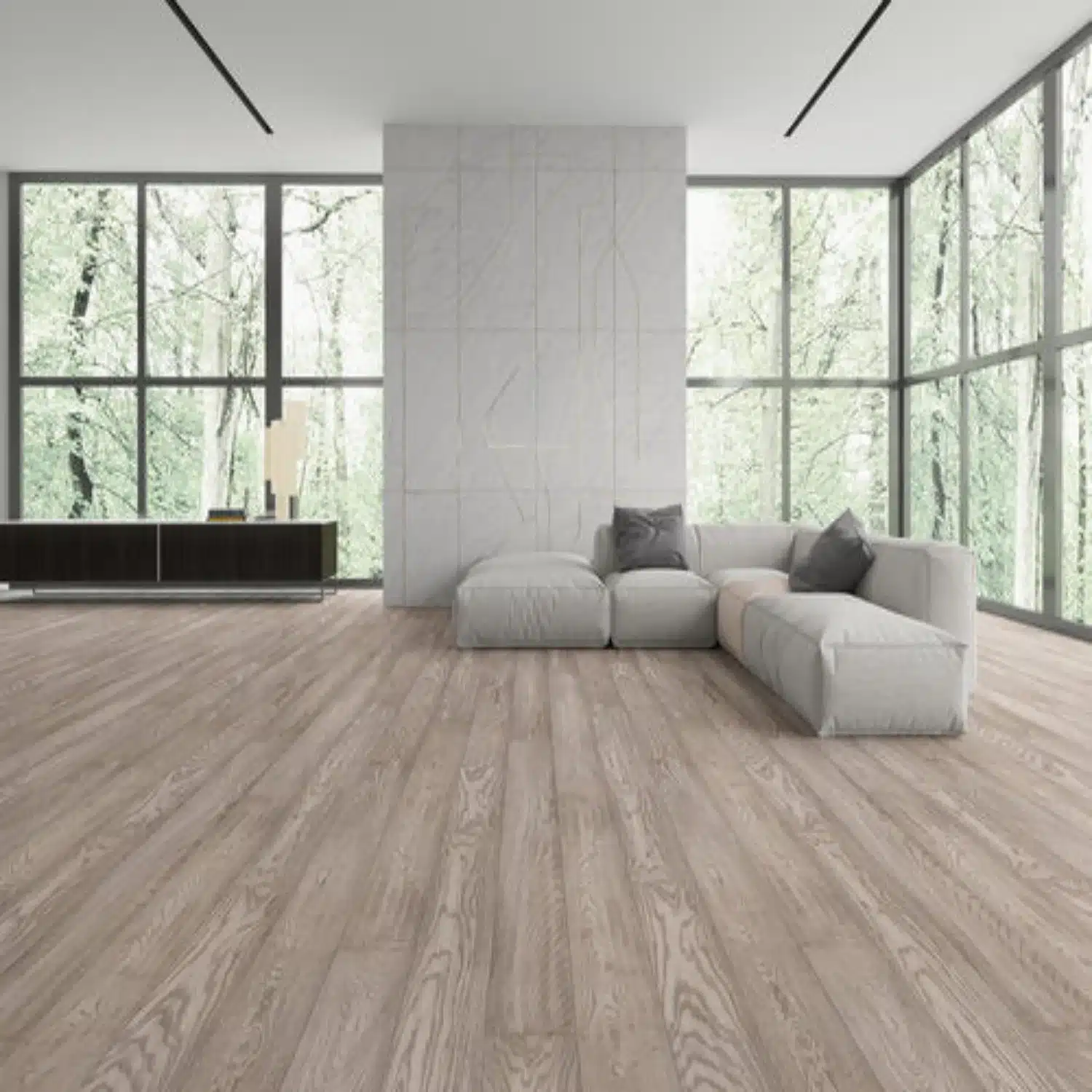 The Mazzia collection of Elysian Oak Prefinished European Oak Flooring, also known as engineered hardwood, appears in a medium or subtle brown color. They contain a 2mm thick layer that can withstand aging,  while the planks are 1/2 inch thick. These boards are 7.5 inches wide and 59.05 inches long on average.
The floor covering is made of engineered lumber and coated in urethane. The Elysian Collection offers ethereal timber planks and has a wire-brushed texture to its exterior. The product is shipped in boxes that cover 31.09 square feet. The flooring's usefulness enhances by the differing lengths of the wooden boards.
Overall, Elysian Oak Engineered Hardwood Flooring is a top-notch, long-lasting flooring product that changes the look of the interior of a buyer's home elegantly and fashionably.
8. Premium Grey Flooring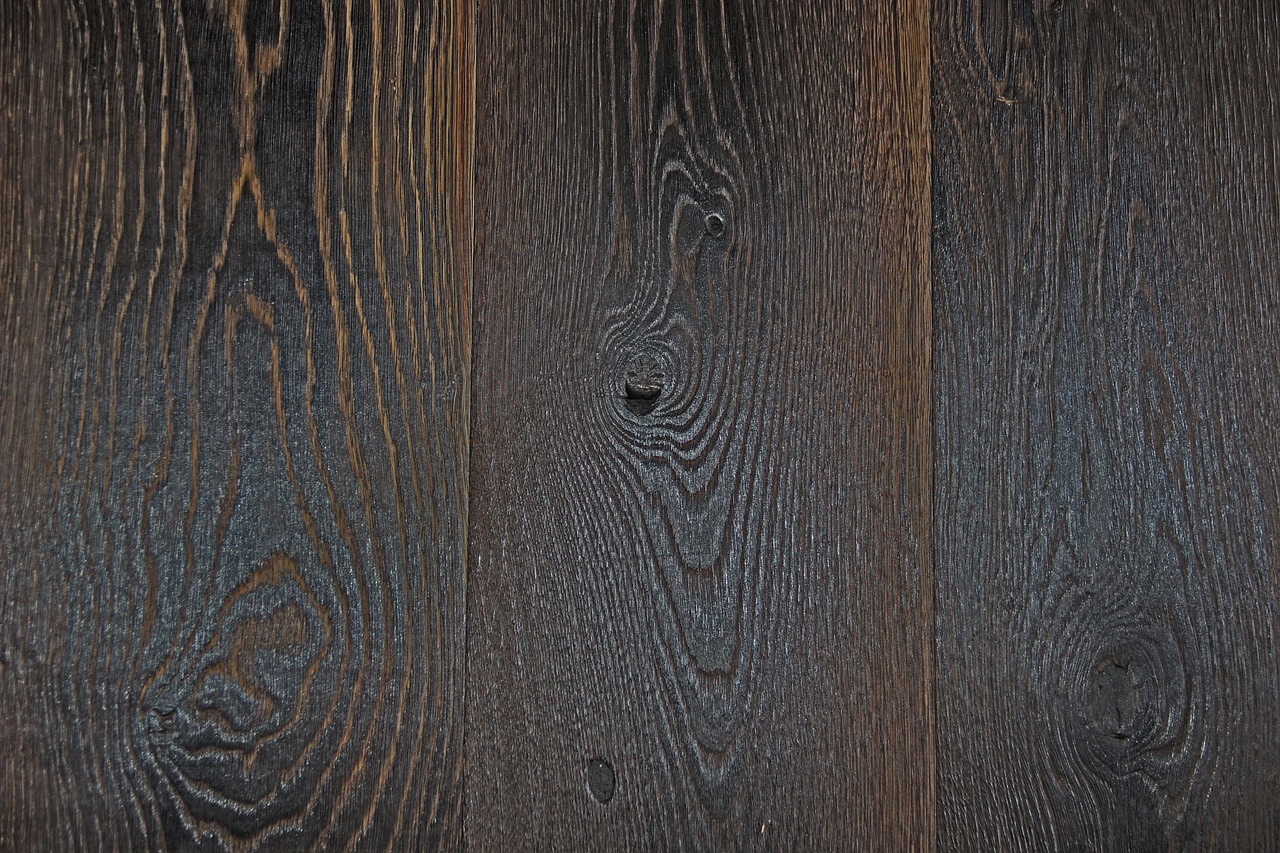 A high-quality floor option from Garrison, the French collection is made only from European white oak. It possesses an opulent look and is a top-notch fashionable flooring option. The edges of the planks have micro bevels and a thick wear layer. The flooring is offered in unusually wide 7″ wooden planks with a 5-8″ thickness. The lengths of the planks are arbitrary and range from 24″ to 72″. Moreover, the French Connection collection by The Garrison Collection includes Lyon hardwood flooring. The Lyon finish is known for its sleek, contemporary appearance. Oil-finish upgrades the look. There is a lifetime warranty for the flooring. However, it's crucial to learn that hardwood flooring might not be the best choice for spaces visited by people with more and greater humidity, like bathrooms and kitchens.
9. Toned Grey Flooring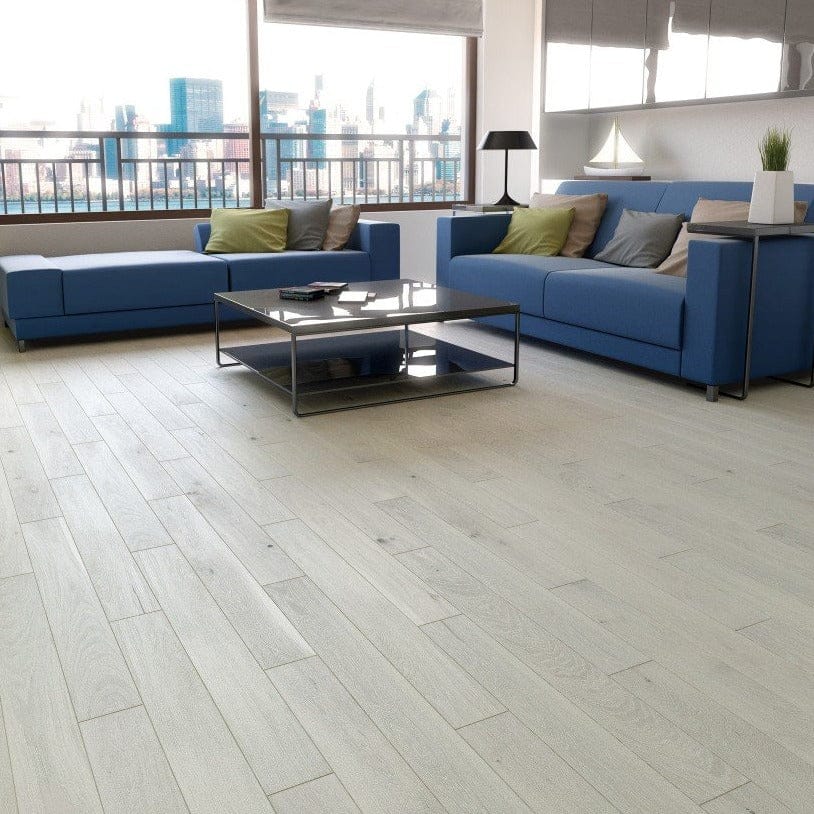 The Mullican Astoria 5" White Oak Eider hardwood flooring is another high-quality product also available for online shopping. The planks have been wire-brushed to highlight the white oak species' natural traits and elements.
These boards are 1/2″ thick and 5″ wide. The length of the floors may reach up to 84″. The white oak wear layer is 3 mm thick on the flooring. Overall Mullican Astoria Hardwood Flooring is a heavy-duty yet fashionable floor-covering option that gives your room a vintage appearance. It is accessible for a reasonable price.
The company offers a lifetime finish warranty. Eider white is an off-white shade with a hint of grey. It creates an illusory grey tint. If your room faces the north direction, you may find it completely grey. That's why we include it in the list of our top picks.
10. Bamboo Grey Flooring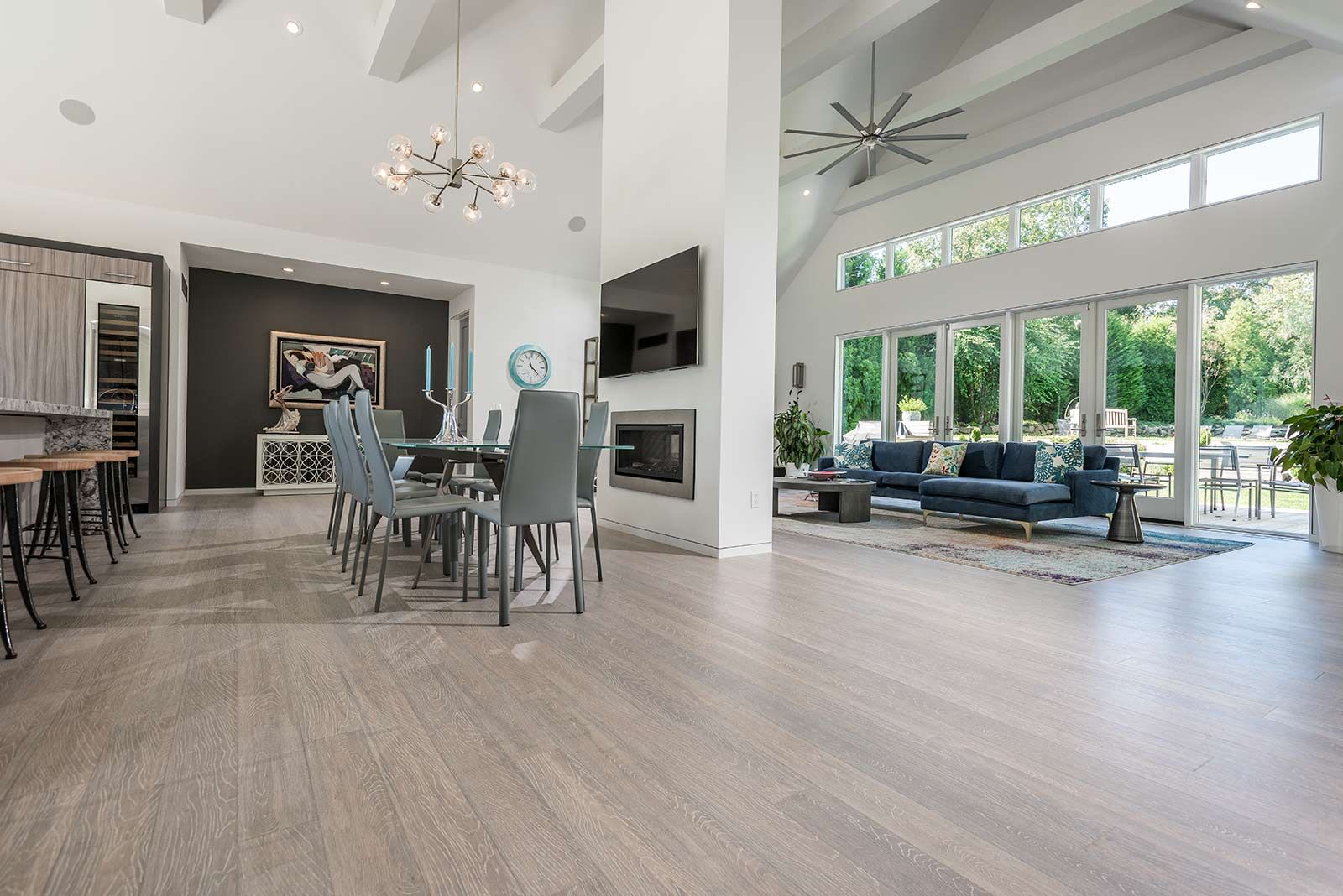 The Boardwalk Cali Bamboo flooring, one of the finest products, is created to be sustainable, durable, and trendsetting. Do remember bamboo wood is three times stronger than oak.
It is created by the fossilizing process of weaving together bamboo strands to produce a dense and robust flooring material.
The flooring has a chic grey shade and a smooth polished appearance. The product is appropriate for homeowners as well as businesses. You can install it using either a nail-down or glue-down technique.
The flooring has a 10-coat scratch-resistance finish that offers strength and defense against regular wear and tear. The planks are 5 inches wide and come in a length ranging up to 72 inches. The thickness is between 9-16 inches.
The flooring is rocklike, with a Janka hardness rating of 5000 or higher. Hence, an outstanding choice for flooring for your space.
11. Rustic Red Oak Grey Flooring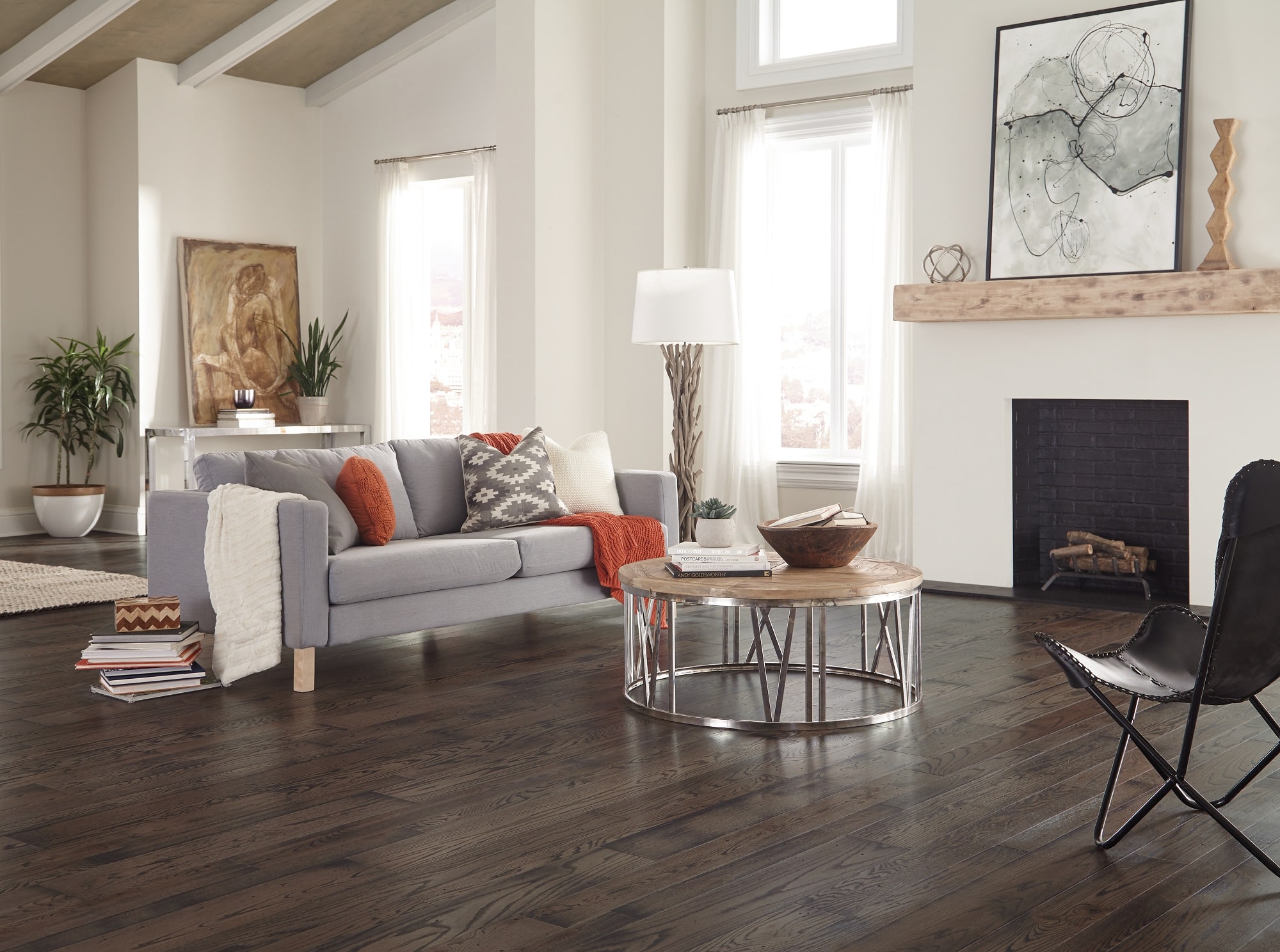 The Somerset specialty collection has a remarkable red oak grey color. Once again, a long-running and reliable option for buyers. It has both solid and engineered options.
Both flooring types have sizes varying from 2-4 inches in width, thickness ranges between 3-4 inches, and lengths up to 78 inches.
Since the flooring has a mixed-width plank pattern, the outer layer of the planks has a riveting look and texture. Country-style grey flooring with an aged and shabby-chic look provides an improved appeal. Low gloss is applied for the flooring's finish and adds a light sheen to highlight the wood's inherent beauty. Additionally, the product texture gives the planks' exterior a dimension.
The product can be fitted using a nail-down or staple-down technique and is appropriate for households and businesses. The product is convenient for staircase use, and matching stair treads are offered for sale.
12. Antique Grey Flooring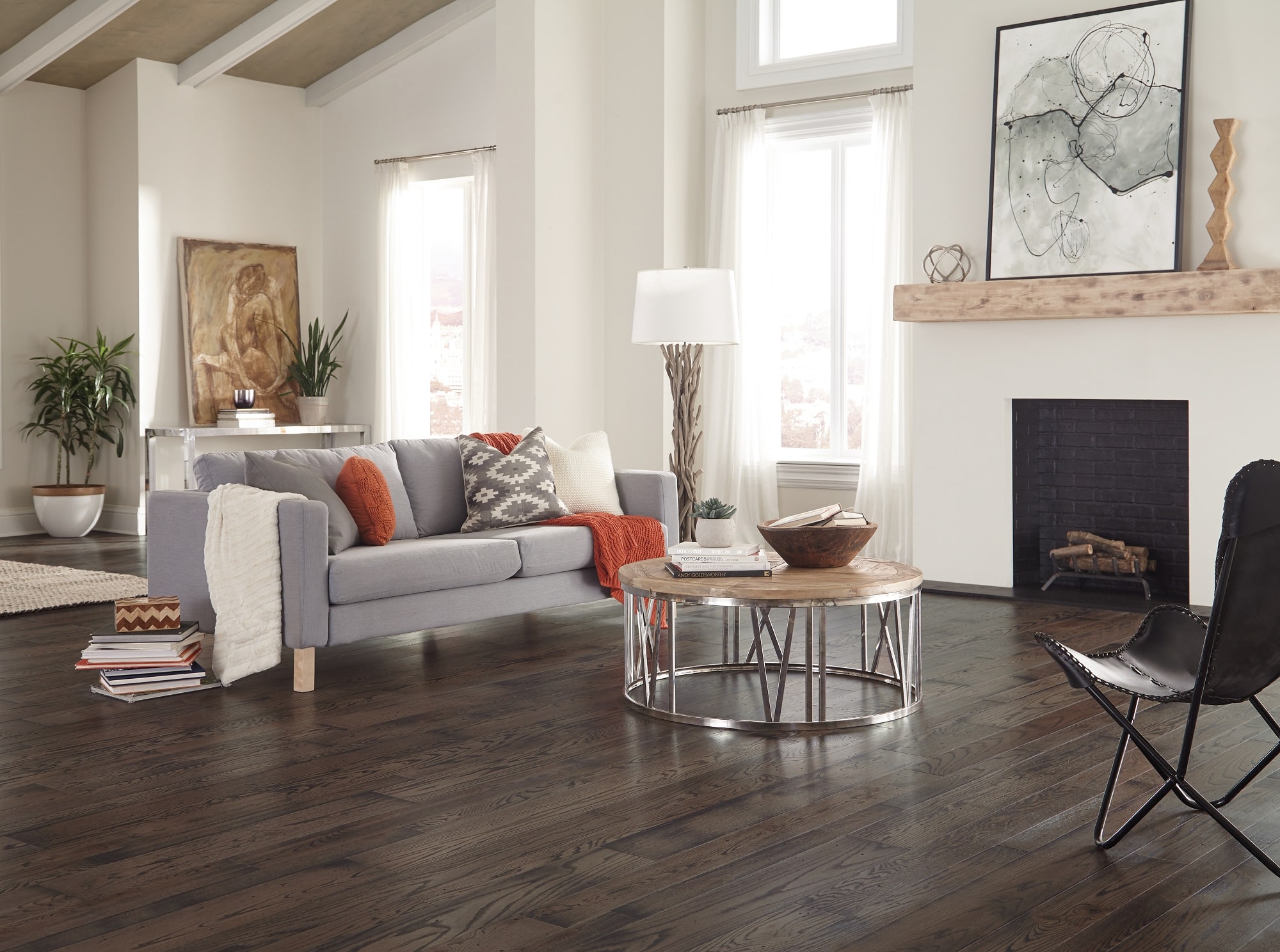 The various kinds of wooden tiles manufactured by Life Core Anew impart the unique qualities of recycled oak timber.
The planks of flooring have a thoroughly wire-brushed surface finish that gives them a luxurious feel. The flooring is a moderately distressed grey antique oak color. It is achieved using a triple-staining technique that gives the wood the desired traits and splendor.
The floorings have been treated with aluminum oxide to give an additional finish, giving it durability and resistance to damage. Easy to install floorings using a nail, glue, or floating method and blur-ribbon option for your home and workspace.
The product is endorsed by Floor Score, SCS Indoor Air Quality Gold, and Phase 2 CARB signifying that the maker has met the strict levels of indoor air quality and sustainability.
Conclusion
We sincerely hope this article met your expectations in your search for the ideal floorings for your residence.
These top-notch 12 picks present a diversity of grey shades and flooring materials. You have a plethora of online options to choose from. Now you are aware of the diverse grey flooring patterns. On the one hand, they can cover up little bulges and scratches, thus making them a practical choice for high-traffic zones of your house and also showing less dust. They are available in different price ranges, so they are buyer-friendly. Follow the general cleaning methods to maintain the grey spaces in your home.
What are your thoughts? Please share them with us in the comments.