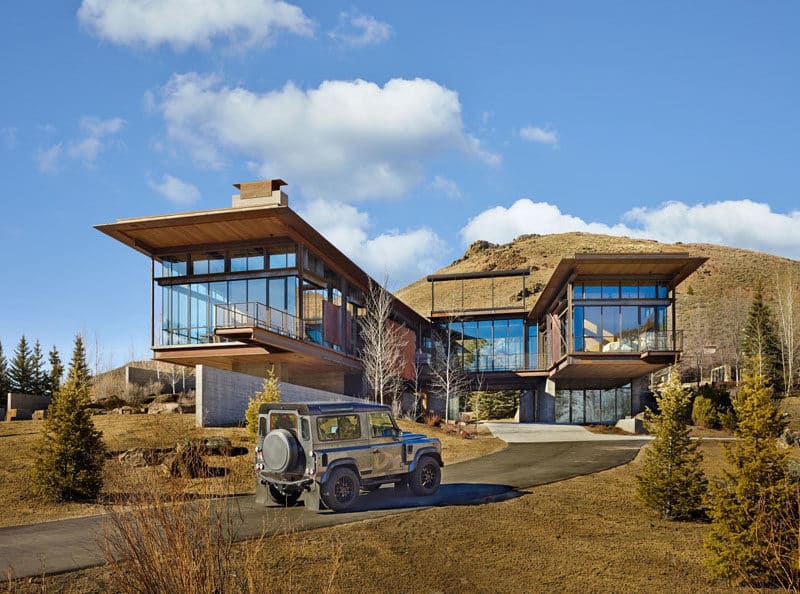 Each year in the ever-changing world of architecture and design brings forth a slew of inventive and awe-inspiring constructions that push the boundaries of what we consider a 'home.' The year 2023 was no exception, as it saw the birth of a spectacular collection of residencies that made an everlasting impression on the world of residential architecture. These 15 unique residencies caught the imagination and pushed the boundaries of what is possible, from visionary designs to ecological wonders.
In this article, we will take a fascinating tour through some of the most unusual and stylish residencies that graced the architectural landscape in 2023. Each dwelling on the list has a different tale of innovation and aesthetic expression. So, let's view the architectural marvels, including spectacular views, sustainable features, astounding beauty, and cutting-edge technologies.
Extraordinary Houses of 2023
With research from all over the world and a range of solutions, materials, settings, locations, sizes, and typologies – here are the 15

cool houses

and unique residencies from around the globe.
1. The Stone House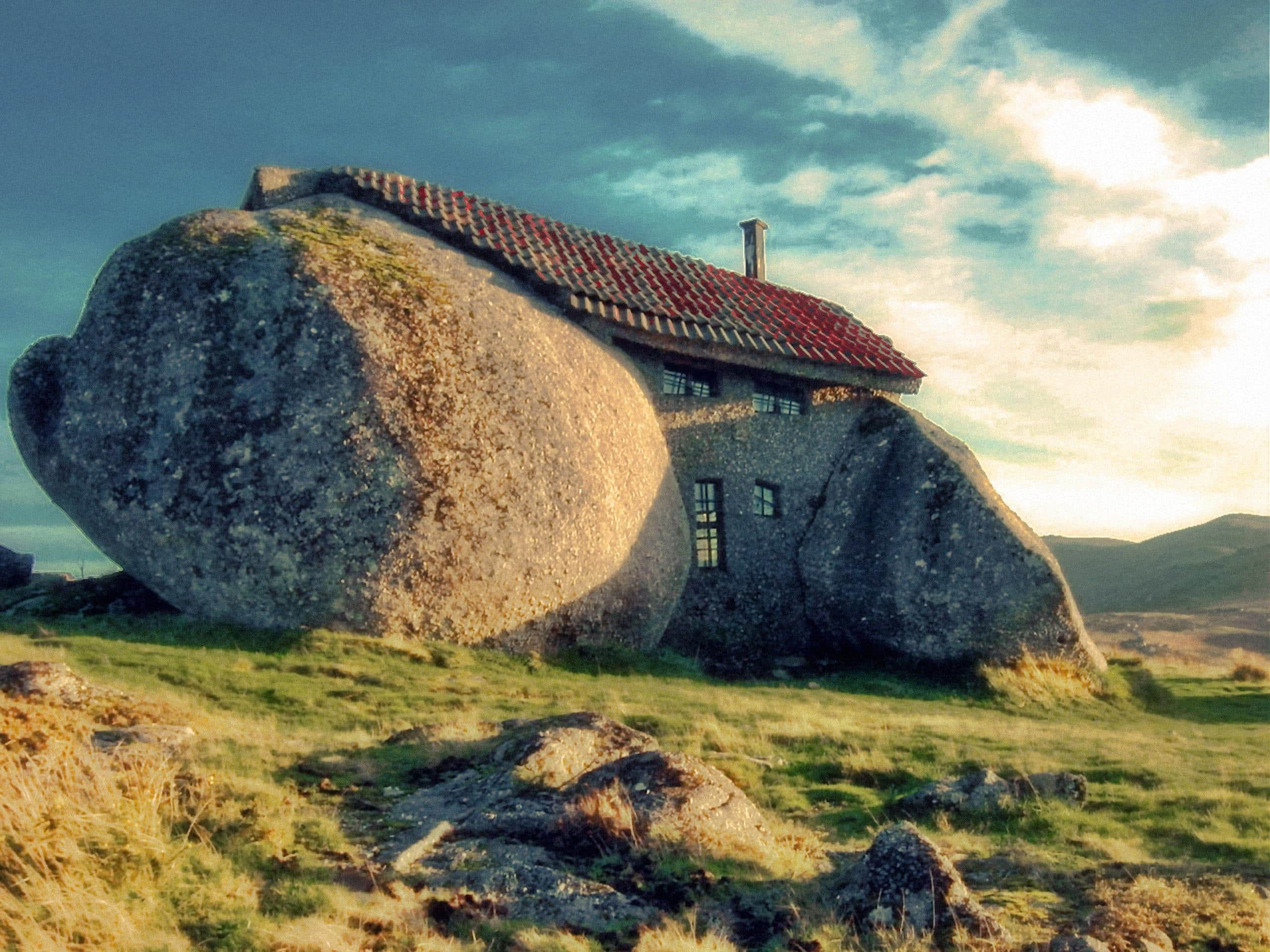 The Stone House in Portugal is an enchanting architectural jewel that exemplifies the beautiful mixing of modern design with nature. This remarkable house is erected between four large rocks in the scenic Fafe mountains, offering a perfect synergy between the natural rock formations and the man-made construction.
The facade of the home is encased in traditional stone, which blends in with its surroundings and creates a sense of peace and timelessness. The interiors' simple and contemporary design contrasts wonderfully with the rocky exterior, providing a calm and cozy living area.
The Stone House is a monument to architectural design's imaginative spirit, demonstrating that even the most unusual settings can be converted into a stunning and beautiful living environment.
2. Spitbank Forest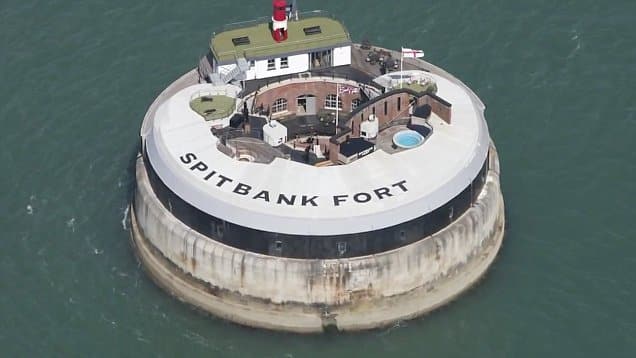 Spitabank Forest is enthralling, one of the cool houses and an artificial island off the coast of Portsmouth, England. It was opened in 2012 as a part of an ambitious project that provides an exceptional hideaway that effortlessly marries nature and luxury. The island, now a hotel, is created to look like a floating forest, with abundant lush foliage such as trees, plants, and bushes, providing a peaceful and calm setting.
This magnificent house provides a unique holiday experience with opulent accommodations and services. Visitors may take in beautiful views of the surrounding sea and shoreline and participate in various leisure activities there.
Spitbank Forest is a monument to human ingenuity and imagination, demonstrating how construction and design can dwell with nature in harmony. Whether for a romantic break or a calm retreat, this spot is a fantastic venue for anyone seeking an extraordinary escape.
3. Dar Al Hajar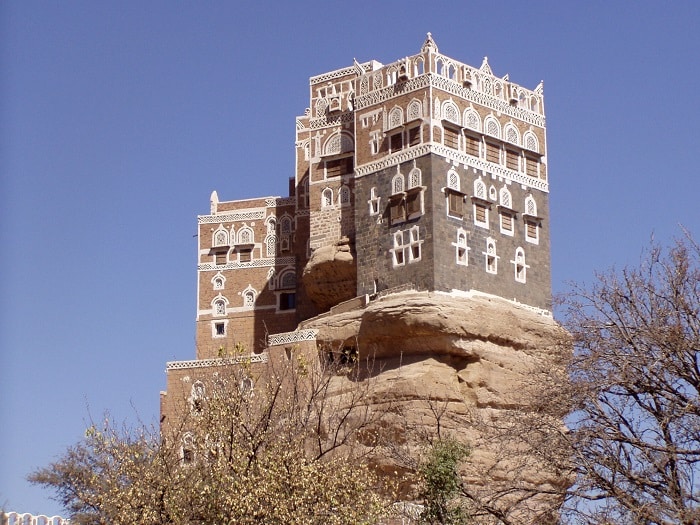 Dar Al Hajar, commonly known as the Rock Palace, is a stunning architectural marvel in Yemen's Wadi Dhahr. This ancient tower was built in the 1930s as a summer getaway for Yemen's royal family.
Dar Al Hajar's creative integration with the high rock structure on which it rests truly differentiates it. The castle merges beautifully with the natural surroundings, with its stone walls, terraces, and exquisite construction complementing the harsh terrain.
Dar Al Hajar is a tribute to human creativity and the capacity to construct magnificent structures that coexist with nature, with breathtaking views of the surrounding valley and mountains.
4. The Flintstone House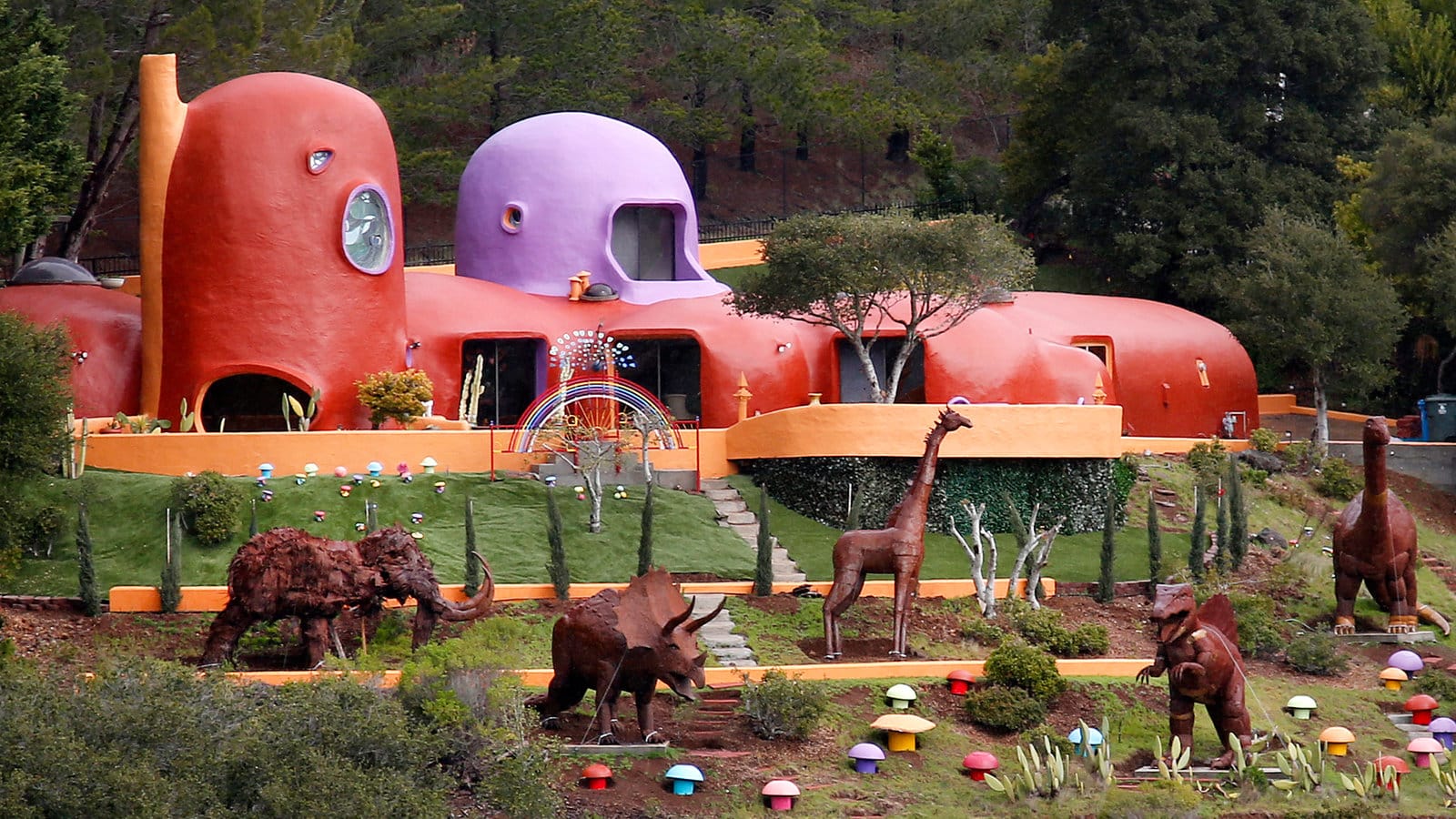 The Flintstone House in Hillsborough, California, is a unique and quirky architectural masterpiece that has captivated locals and visitors since its construction in 1976. Inspired by the cartoon television series 'The Flintstones, this mansion is a wonderful monument to innovation and thinking beyond the box. The brilliant colors and vivid shapes will definitely transport you to a primordial world.
With its unusual dome-like features and lack of straight lines, this house stands out in the conventional suburban environment. The outside is covered with artificial rocks, making the structure organic and cave-like. Inside, the house has curving walls, eccentric furnishings, and odd decor, all evocative of the cartoon series.
The Flintstone House reminds us that art may be a form of creative expression, challenging traditional design and urging us to embrace nostalgia and whimsy in our built surroundings.
5. UFO House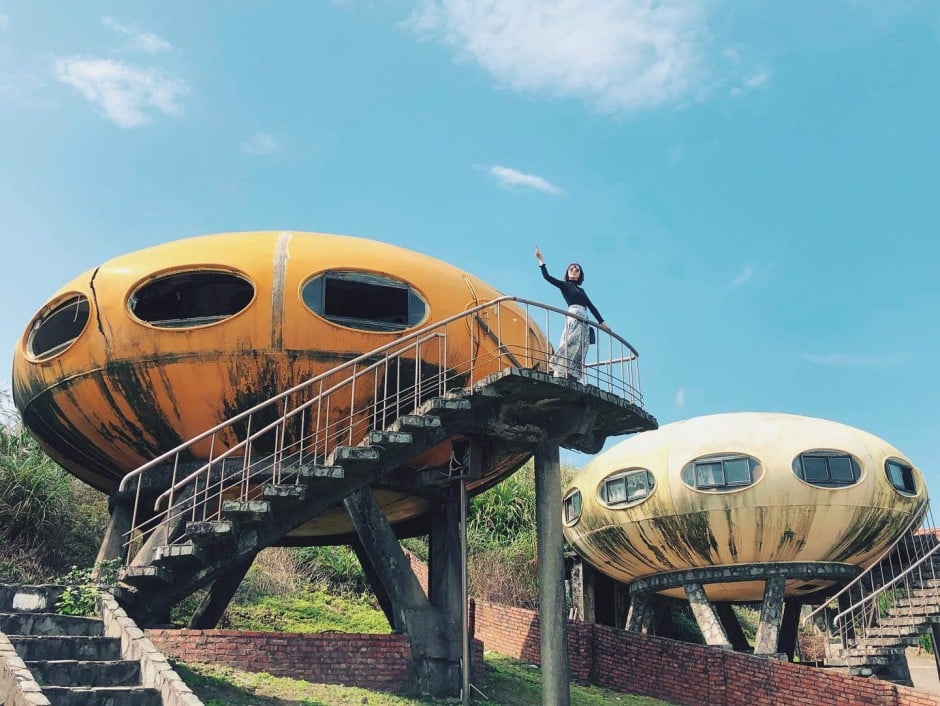 The UFO House in Sanjhih, Taiwan, is a futuristic masterpiece that sticks out among its natural surroundings. This one-of-a-kind home is shaped like a flying saucer that has landed on Earth and has a metallic exterior, giving it an extraterrestrial aspect!
The unique style of the UFO House defies typical architectural conceptions and piques spectators' interest. The circular arrangement on the inside provides panoramic views of the surrounding countryside, creating an immersive and ethereal living experience.
The UFO House is a testament to the power of architectural creativity and imagination, pushing the frontiers of design and producing a fantastic home that appears to take its inhabitants to another dimension entirely.
6. The Skateboard House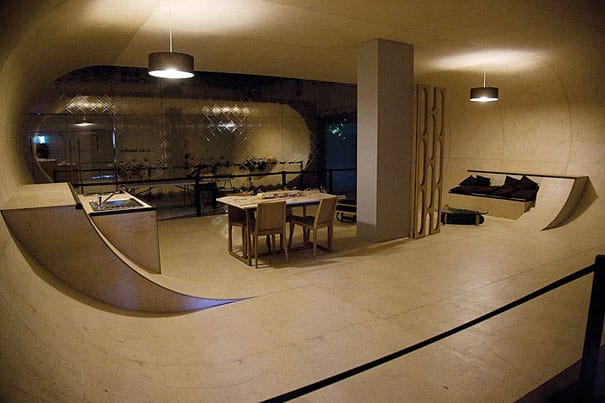 The Skateboard House in the United States is a paradise for skateboard lovers and a work of innovative architecture. This wonderful home takes the notion of a home to a new level by including a full-scale indoor skate park. The interior design flawlessly incorporates ramps, rails, and obstacles, allowing occupants to switch from the living area to a skating utopia easily.
The Skateboard House offers a thrilling experience that combines the comforts of home with the adrenaline-fueled excitement of skating. It represents the combination of lifestyle and architecture, showing how love for an activity can inspire unique and unorthodox design approaches. All these features of this house together function and makes it popular among the cool houses of 2023.
7. The Underground House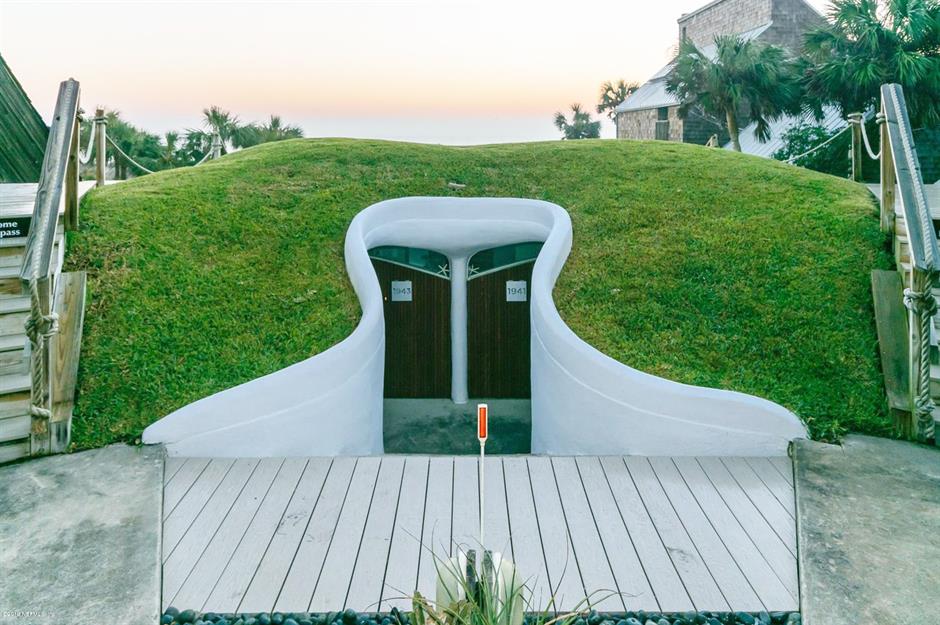 The Underground House in the United States is a magnificent structure that embodies the notion of sustainable living and harmonic balance with nature. This unique home is constructed on the slope of a hill, resulting in a seamless mix between the building and its surroundings.
Natural temperature control is provided through the soil as insulation, decreasing the need for cooling and heating. Furthermore, the house has huge windows and skylights that enable enough natural light to reach inside. This house provides a calm haven away from the rush and bustle of the outer world, with a distinctive sense of seclusion and tranquility. It is a perfect combination of sustainable living and an innovative approach.
8. Dolomitenblick
Dolomitenblick, which means 'View of the Dolomites' in German, is a stunning and unique architectural piece in Italy's South Tyrol area. Dolomitenblick is distinguished by its amazing panoramic views of the beautiful Dolomite mountain range.
With huge windows and vast balconies that allow the surrounding natural beauty into, the house is deliberately positioned to maximize spectacular vistas. The sleek and modern architecture and luxury of this excellent residence fit effortlessly with the alpine terrain, creating a harmonic link between the constructed environment and mesmerizing outdoors.
9. Polo House Victoria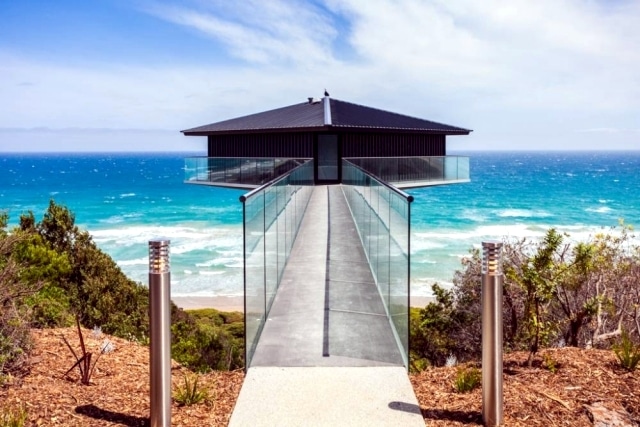 The Polo House Victoria is a marvelous architecture that oozes grandeur and elegance. It is situated in Victoria, Australia. This superb home stands out for its exceptional features and distinctive design aspects. The house has roomy living rooms, tall ceilings, and oversized windows that let in natural light, making the inside seem open and welcoming.
The high-quality finished and opulent materials used throughout demonstrate meticulous attention to detail. The Polo House also offers a variety of facilities, including a tennis court, swimming pool, and manicured gardens, giving inhabitants a lavish lifestyle and the ideal balance of ease and refinement.
The Polo House is a property that is genuinely unique due to its blend of luxurious amenities, precise craftsmanship, and outstanding design.
10. Seashell House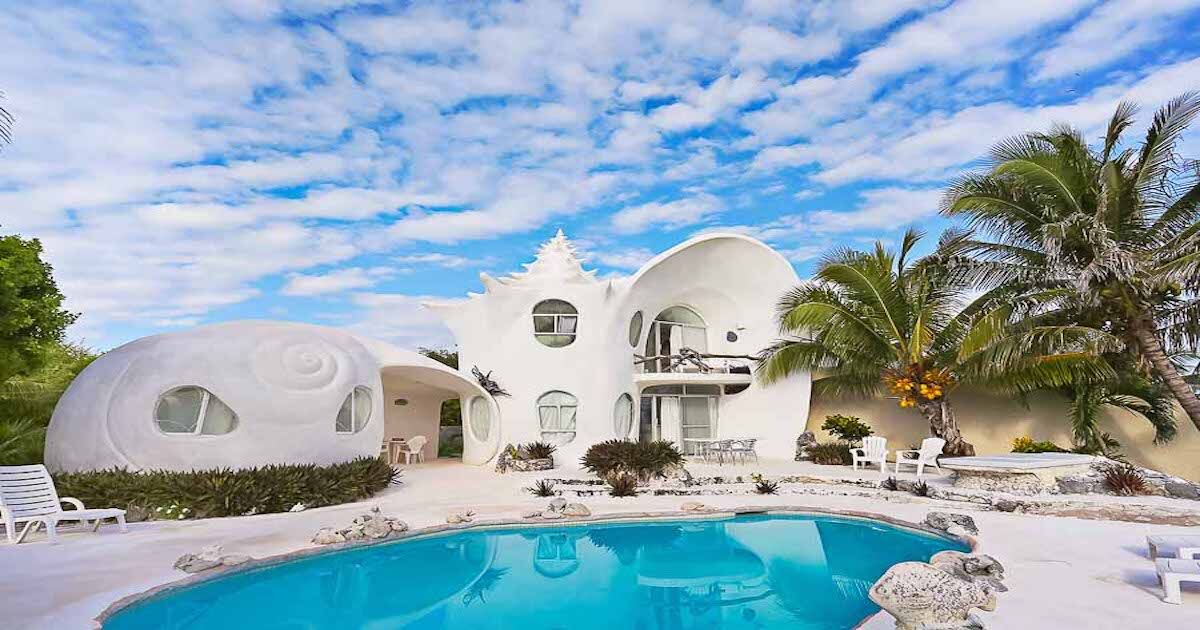 With its fantasy style, the Seashell House is a truly enthralling and distinctive architectural marvel. The perfect curves and exquisite patterns seen in seashells serve as the inspiration for this fantastic home, which is situated on Isla Mujeres, Mexico.
The organic forms produce a dreamlike and mystical environment, undulating lines, and soft colors that decorate both its exteriors and interiors. An immersive experience, the Seashell House immerses inhabitants and visitors in a world evocative of a storybook. This house is a unique and unforgettable home that celebrates the wonder of nature and the limitless potential of inventive design because of its design, meticulous attention to detail, and imaginative approach to building.
11. Hang Nga
Hang Nga, commonly called the Crazy House, is a masterpiece of architecture that sticks out for its quirky and fantastical style. It is situated in Dalat, Vietnam. This remarkable building defies accepted architectural conventions with its organic curves, winding stairs, and asymmetrical components.
Hang Nga's interior areas are also distinctive, including twisted passageways, strange room arrangements, and eccentric decor. The home is influenced by nature and has a magical treehouse or castle-like appearance. The peculiar and surreal architecture of Hang Nga, which provides guests with an immersive and remarkable experience that puts them in a realm of imagination, makes this place unique. It convincingly illustrates Dang Viet Nga's limitless creativity and aesthetic vision.
12. Desert House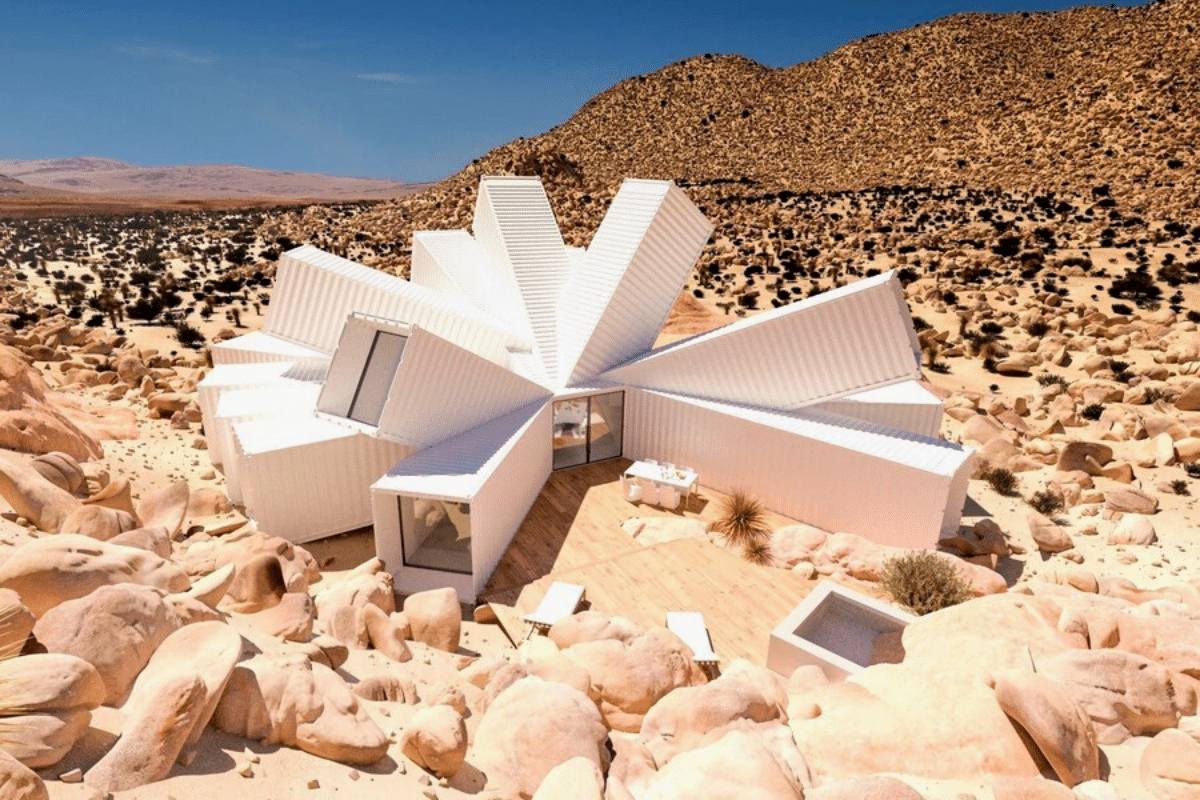 The Desert House is a fantastic piece of craftsmanship that perfectly combines contemporary style with the untamed beauty of its natural surroundings. This unusual home, situated in a desert area, embraces nature via its minimalist and ecological characteristics.
Large windows are frequently used in the house to maximize natural light and the breathtaking desert vistas. However, it could also use energy-efficient materials and technologies to lessen the high heat and brutal desert climate. The Desert House is a monument to the creativity it took to combine comfort, utility, and beauty while paying respect to and integrating with the engaging and demanding desert environment.
13. The Dancing House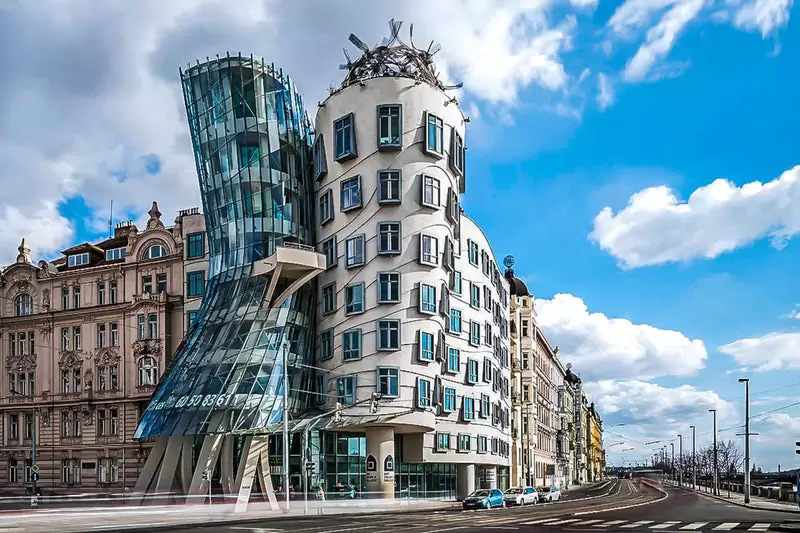 The Dancing House, a masterpiece of architecture with a unique and unusual style, is a well-known landmark in Prague, Czech Republic. The structure stands out among conventional European art's dynamic and curvy shapes. All of this definitely takes it under the category of a cool house.
The colorful composition, undulating lines, and asymmetrical curves of the Dancing House give it the image of two dancers in motion. Its distinctive style deviates from the norm and tests traditional notions of structure and beauty.
The Dancing House's interior areas are almost as fascinating, with expansive vistas of the Vltava River and Prague's skyline. This fantastic architectural marvel is proof of the potency of imagination, ingenuity, and the capacity to arouse emotion via architectural form.
14. Pirouette House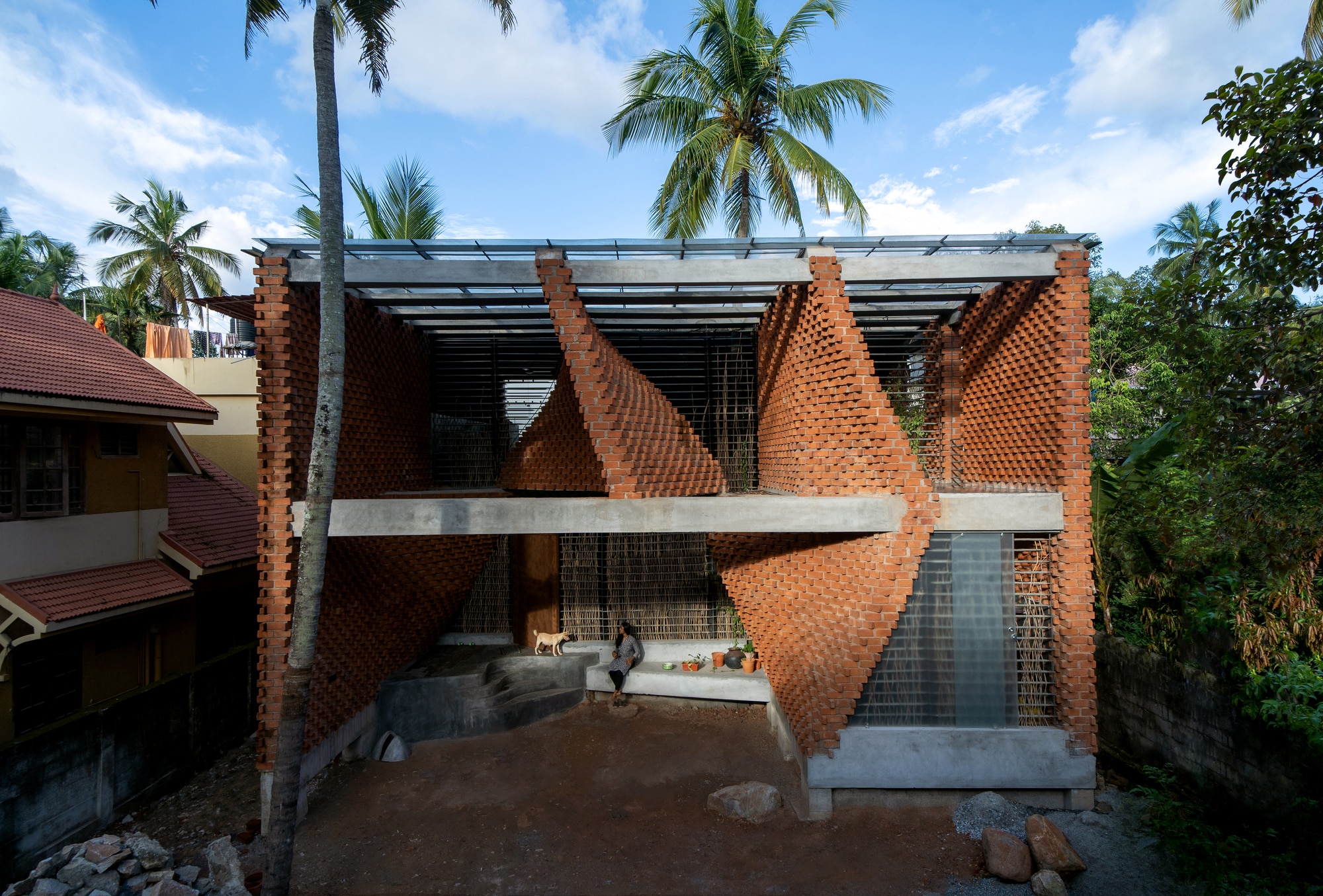 The Pirouette House, created by Wallmakers, is a remarkable piece of architecture that sticks out for its avant-garde details and distinctive style. The occupants of this eco-friendly home in India may choose the amount of privacy, light, and ventilation they want because of its incredible wooden facade that rotates 360 degrees.
The Pirouette House's dynamic nature enables it to adjust to various weather conditions and optimize energy efficiency. The house also represents a ground-breaking approach to domestic architecture, offering a fully fluid and adjustable living experience through its seamless integration of sustainability, aesthetics, and technology.
15. Fallingwater House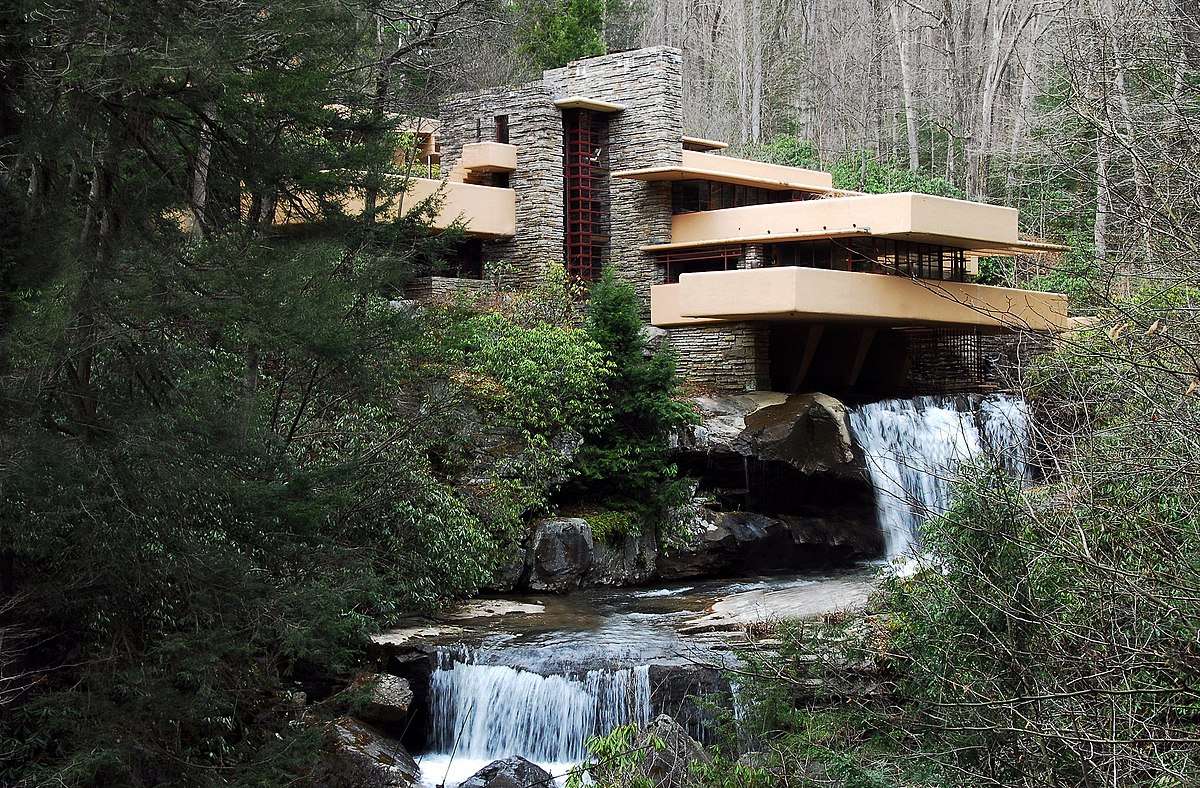 A remarkable symbol of contemporary design, Fallingwater House is a marvel of artwork in Pennsylvania, USA. This extraordinary home, created by famous architect Frank Lloyd Wright, is recognized for its flawless blending with the surrounding.
With cantilevered balconies and terraces that provide stunning views of the surrounding waterfall and woods, the house is constructed above a waterfall. The distinctive design, exemplified by horizontal lines, organic materials, and a focus on balance between artificial buildings and the wonder of nature, is on display at this superb residence. It is a classic masterpiece that continues to enthrall tourists and inspire architects today because of its uniqueness, creative use of space, and astounding location.
Bottom Line
An incredible variety of homes that pushed the limits of architectural style and captured our imagination came into being in 2023. Every house on this list, from the futuristic and whimsical building to the sustainable and eco-friendly homes, displayed different qualities and unique features. These homes are prime examples of innovative, artistic, and profoundly emotional attitudes.
Each home on the list stood out for its unique features and unrivaled qualities, whether it is the Flintstone House's seamless integration with its surroundings, the Dolomitenblick and Seashell House's breath-taking views or the unusual designs of the Skateboard House and Hang Nga.
It is likely that in the coming years, new architectural marvels will continue to push the boundaries and enhance the lifestyle of individuals.
Frequently Asked Questions
Which Qualities Make Home Cool and Exciting?
The distinctive architectural design, cutting-edge features, sustainable components, integration with nature, and capacity to arouse amazement and inspiration make interesting and cool homes stand out.
How Did the Most Cutting-Edge Residencies of 2023 Push the Limits of Architecture?
Through creative shapes, unorthodox plans, and artistic expression, the trendiest homes of 2023 pushed the boundaries of conventional architectural ideas. They expanded the definition of a house and showed the limitless potential of imaginative architecture.
Will Future Housing Be, Even More, Vibrant and Hip?
Certainly! Future homes will likely be even more exciting and stylish as the architectural design progresses. As technology and ideas expand, aesthetic appeal and a unique house are coming!