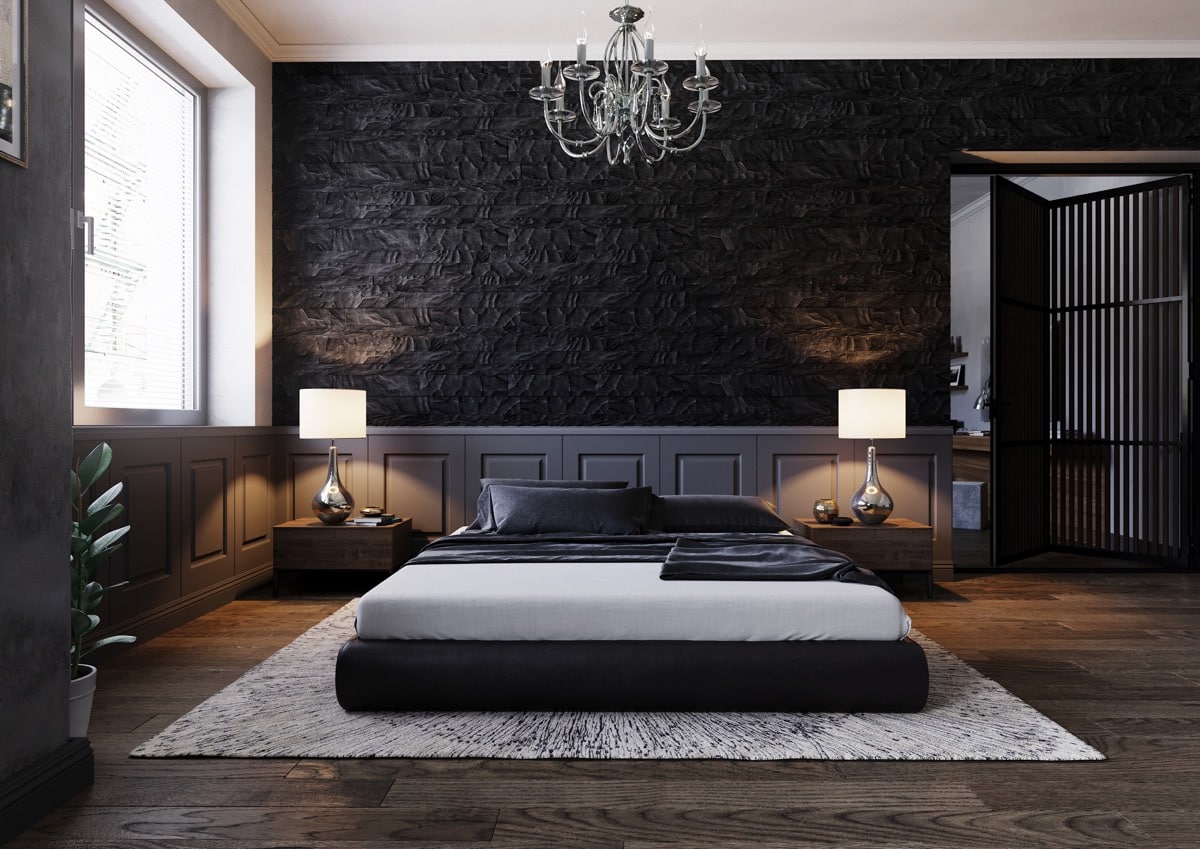 Your bedroom is one of the central places of the house. This is the space where not only one chill and relaxes but spends their most cozy and comfortable times. This makes it important to ensure that your bedroom decor remains on top.
When it comes to bedroom aesthetics, the importance of wall paint can't be simply ignored. They help create a certain mood and vibe in the room. When talking about wall paints, it would be unfair not to talk about tricorn black shade. It's unique and interesting. The black bedroom wall has been one of the most popular wall shades that individuals have preferred for a long time. And why not? It's beautiful and bold at the same time. Also, it allows one to experiment with their room in several ways.
Here, in this article, we have talked about 25 such ideas that make your black bedroom wall look more amazing.
1. Balancing the Tones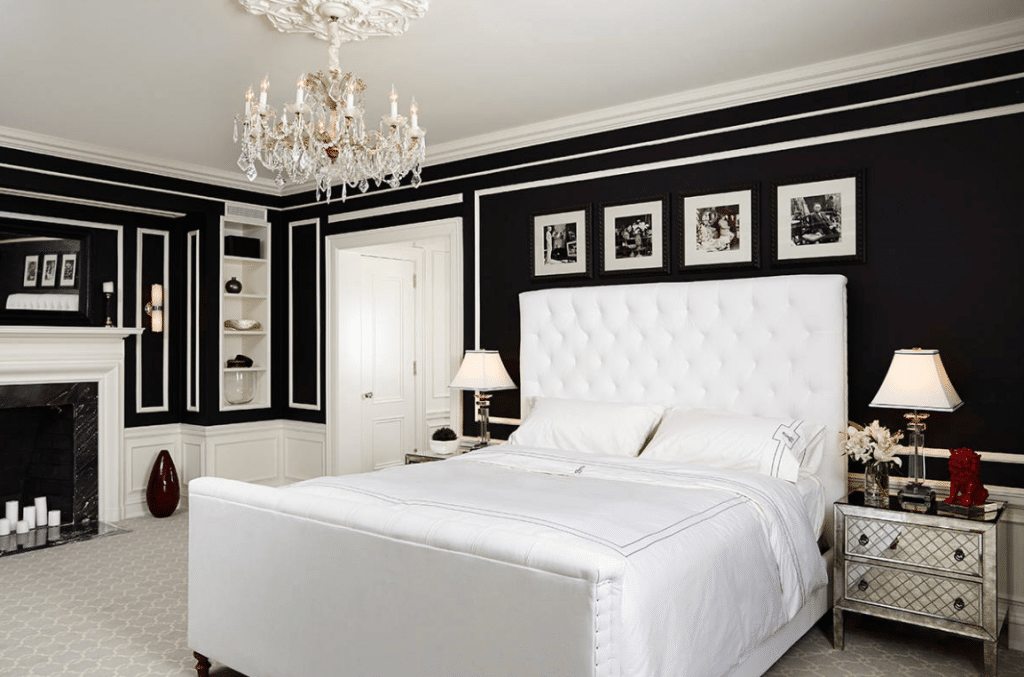 The best part about the tricorn black color is its unique shade. The dark and bold design allows one to play and experiment with their black bedroom wall with several colors.
For instance, mixing and matching tones of black and white can seldom go wrong. They perfectly blend to give a cool and refreshing vibe. The unique combination of black and white also makes any place look more chic and sophisticated. Giving your bedroom walls a contrast of black and white is one of the most reliable, effective, and safest ways to create a mid-century feel without much of a hassle.
2. Mix and Match with Furniture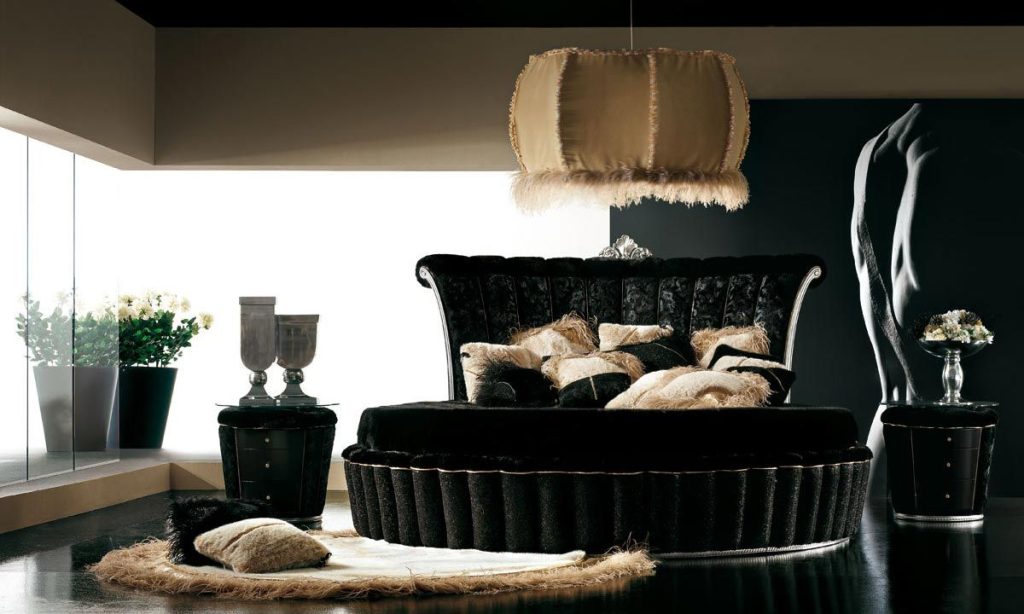 Being creative with the kind of furniture being placed against the black bedroom wall also plays a major role in determining the beauty of the whole space. Yes, you heard it right.
With the kind of material used in the furniture and its color, one can do a lot to make their bedroom beautiful. For instance, using red or dark green colored velvet sofas is the ideal choice for those who want to create a luxurious, vintage vibe.
Alternatively, neutral and light-colored furniture is suitable for those wanting to create a minimalist vibe.
3. Contrast Play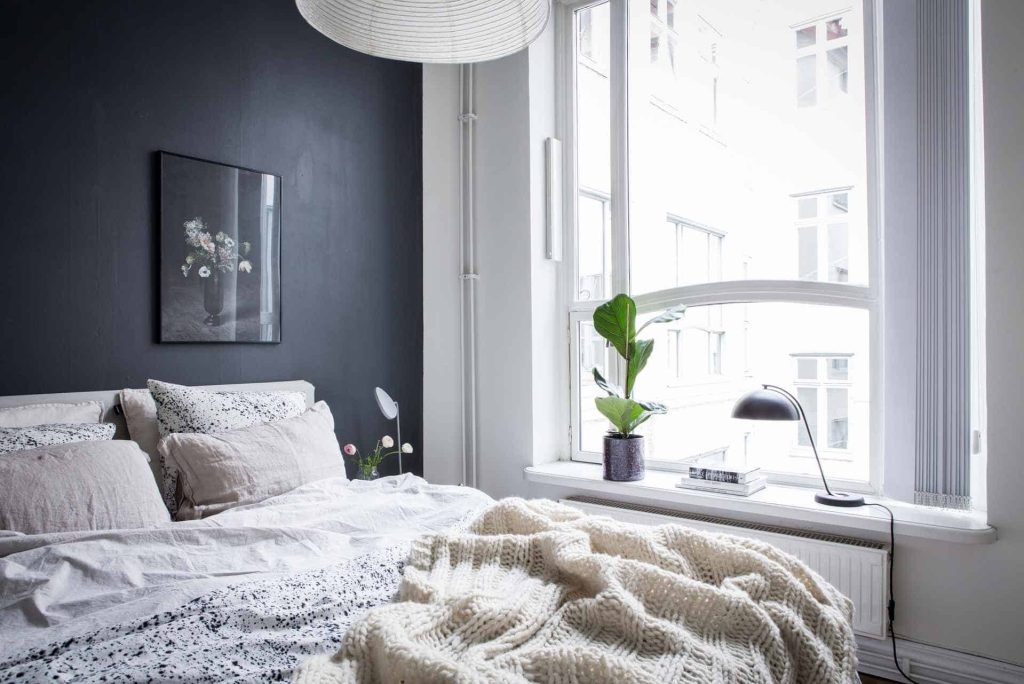 Using the correct contrast can make a great impact on your black bedroom wall. With suitable contrasts in your room, one can either create a calm or balanced vibe or go for a bright, poppy look.
Several accessories may help you create a perfect contrast with your bedroom walls. Be it floor accessories like mats or rugs, bedding accessories like sheets or pillows, or decorative accessories like curtains and wall paintings, everything can be used to establish a perfect contrast. Portraits and frames can add a vibrant touch to the whole space.
4. Experiment with Headboards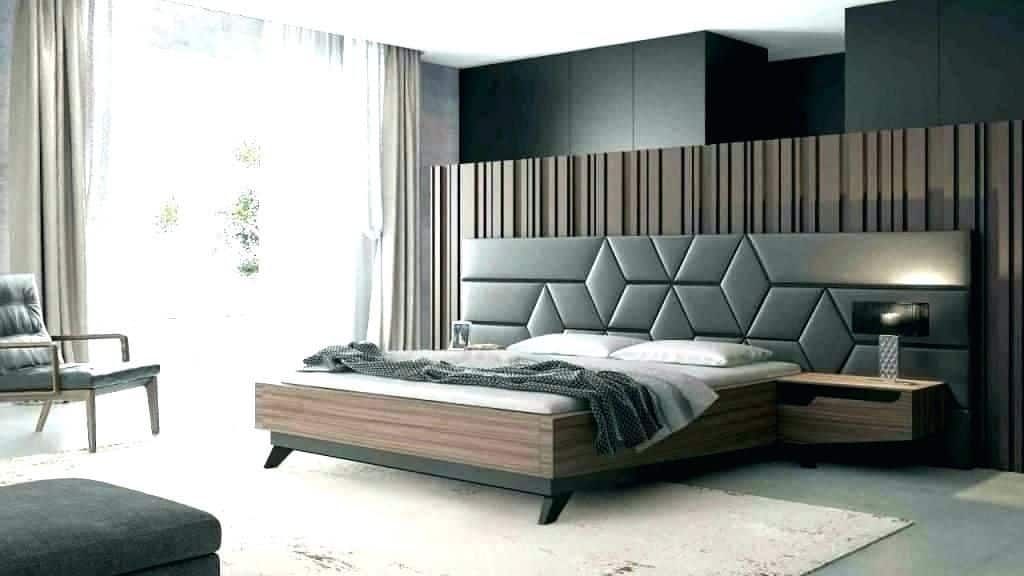 Looking for an easy way to make your black bedroom wall catch everyone's eye? Then go experimental with your headboard.
Using high black headboards can create a magnificent vibe. Additionally, for someone willing to create something natural and earthy, cane or wooden headboards are suggested. The wooden designs are one of the most popular choices in modern as well as contemporary room designs. Moreover, these are comfortable, durable, and stylish.
5. Paintings to Bring Life to Your Room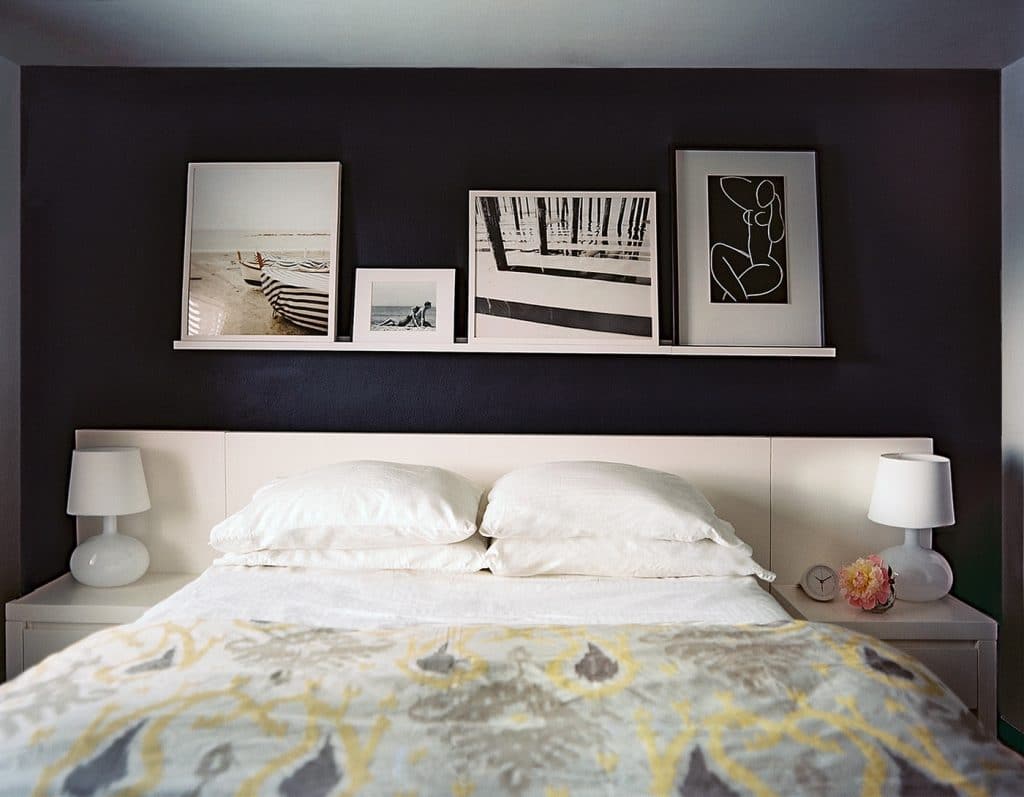 Paintings are one of the easiest and most effective tools to liven up the decor of any wall or any room and trust us, black bedroom walls are no different.
A black-colored wall with paintings installed on it looks more vibrant and catchy. Paintings of your favorite artists, actors, role models, and so on make the space look more personal. Furthermore, if you're an art lover, you can use the space to showcase your handmade pieces.
These paintings can be reflective of your art knowledge and personality. One may also hang quotes and signs that can keep them motivated and happy.
6. Geometric Patterns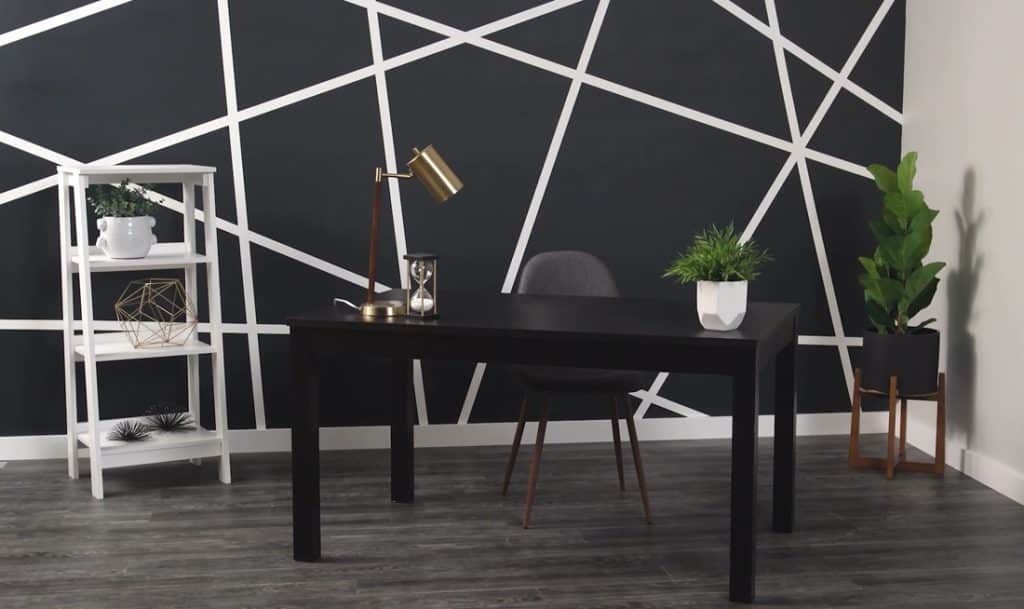 Black-colored bedroom walls reflect your clean and bold taste. But do you know that it is possible to further spice up the whole look by adding new twists to the simple plain walls?
Adding geometric patterns to your black bedroom walls can make the room look more dramatic and expensive. The best part about the design is that it's classic and timeless. It's elegant and eye-catching at the same time.
If you don't want to get an inbuilt pattern on the wall for the design, then geometric prints and wallpapers could be a quick and easy choice.
7. Bedding for Twist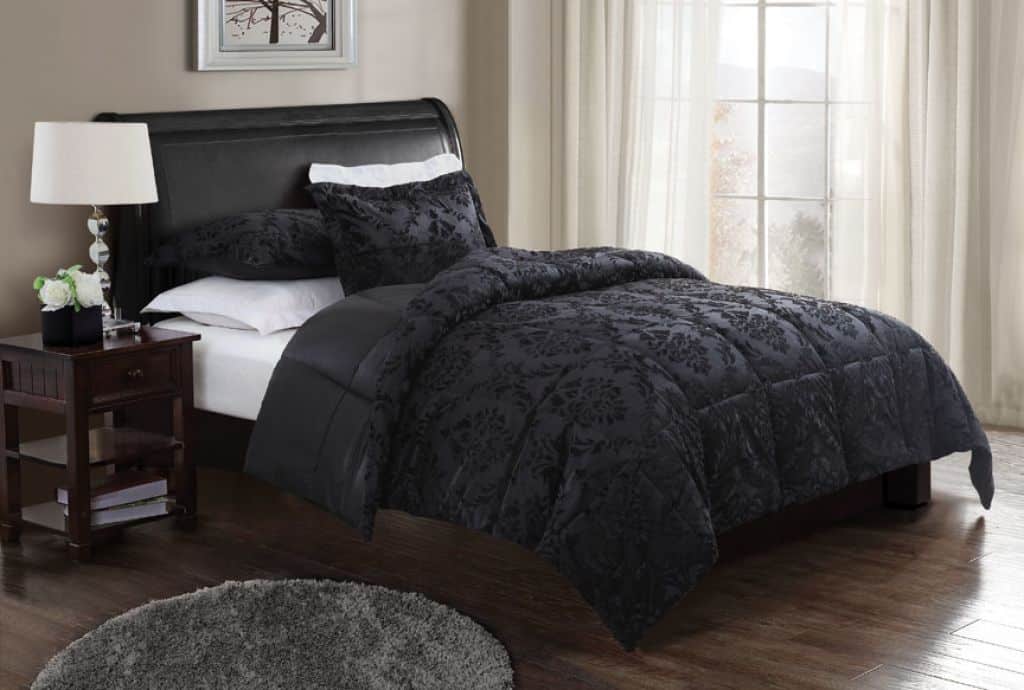 Want to get a taste of how the black-colored wall can make an impact on overall room decor? Then, playing with the bedding can be an ideal way to know the same.
Using black-colored or dark-colored bedding essentials like sheets, duvets, comforters, pillows, and more can help establish a sleepy and cozy vibe in your room without getting your walls painted black.
One can also experiment with the bedding even after black painting their walls. This will help add more layers to the area. With black walls, one may also go for lighter-shade bedding essentials to balance out the vibe of the room.
8. Patterned Walls for More Layers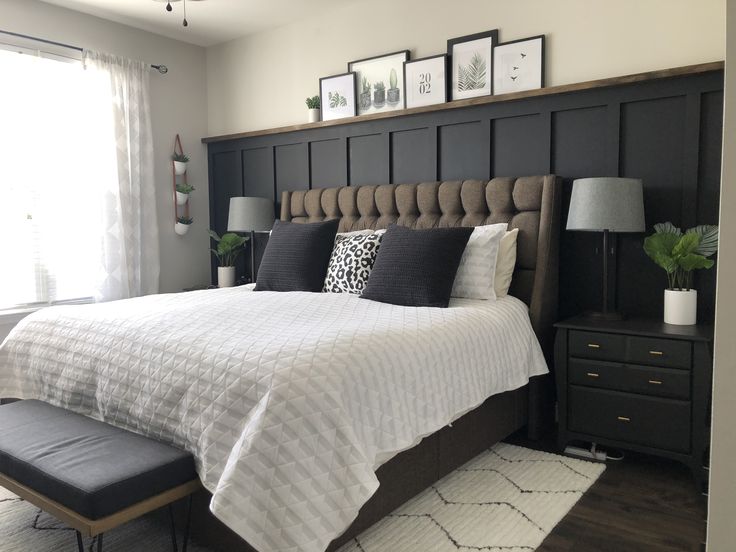 Black-colored walls surely look sophisticated, but there are ways in which they can look more exotic and unique.
One of those ways is adding patterns to the plain wall. Wainscoting your pain black bedroom walls can help add layers and texture to a simple design. It can also make the room look more luxurious and modern.
There are different geometrical patterns to get experimental with the walls. Additionally, one can also go for striped patterns on black walls. It can make your space look higher. These are perfect patterns for compact spaces.
9. Boho Vibe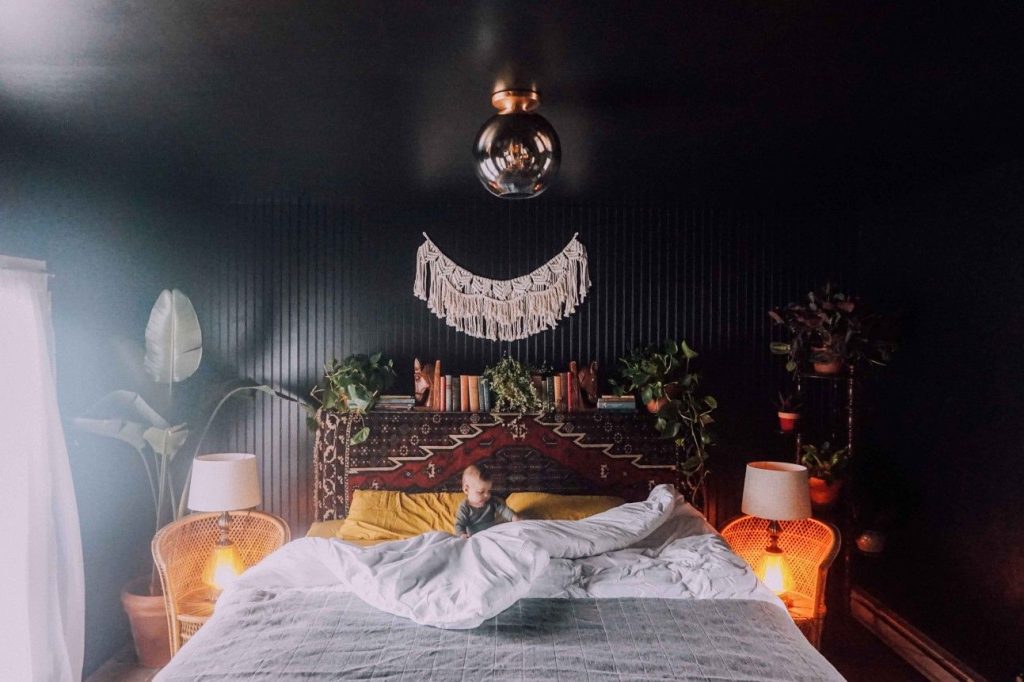 Ever thought that your thrifted boho finds can also be used to make your bedroom look more vibrant and decorative? Well, if you haven't, then it's time to display those boho accessories in style to make a statement. Adding some boho elements to your black bedroom wall can make the room look more earthy and cozy.
Introducing boho accessories like a wooden headboard for your bed or wooden paintings, clocks, artwork, and macrame hangings can add some warmth to the whole setup. One can also go for cotton or linen sheets. Doing so can add a certain level of warmth to the space.
10. Matte Finish for A Clean Look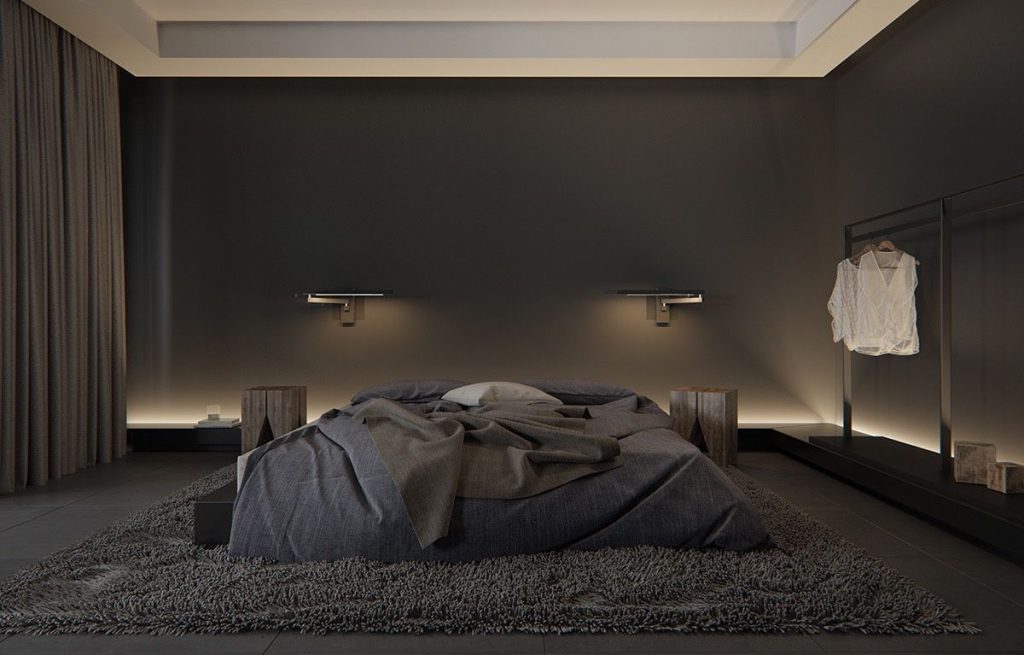 A matte finish is an ideal choice for someone who wants to go for a clean and soft look for their space. There are several advantages of getting your black wall painted in a matte finish. First of all, it looks unique. And it's suitable for all kinds of spaces, be it big or compact.
In addition to that, these walls are also helpful in concealing minor flaws on them. For instance, fingerprints, hand marks, scratches, and more are not so easily visible on matte black bedroom walls. Create an elegant and regal look with these matte walls.
11. Floor Design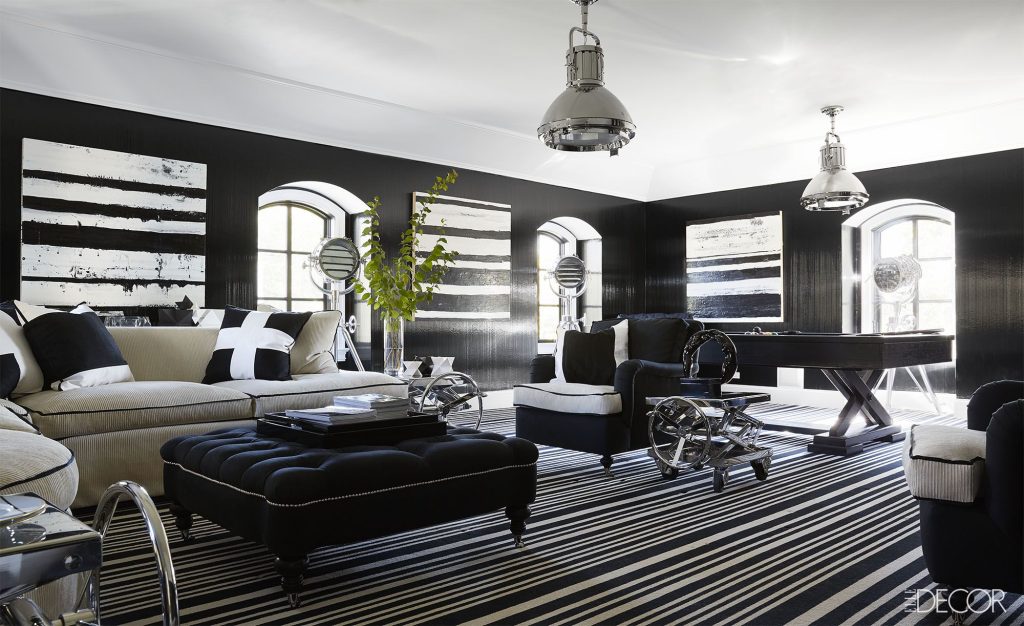 Want to make your whole room appear more majestic? Then consider going beyond black-painted walls.
Getting the floors done black will complement the black walls and add an interesting look to the whole area well. If the wall and floors are done black, then using soft tones, bedding, and furnishings are suggested to create a clean and shiny look. Dark and soft tones together can establish a regal vibe without much effort.
12. Complementing with Tricorn Bedroom Doors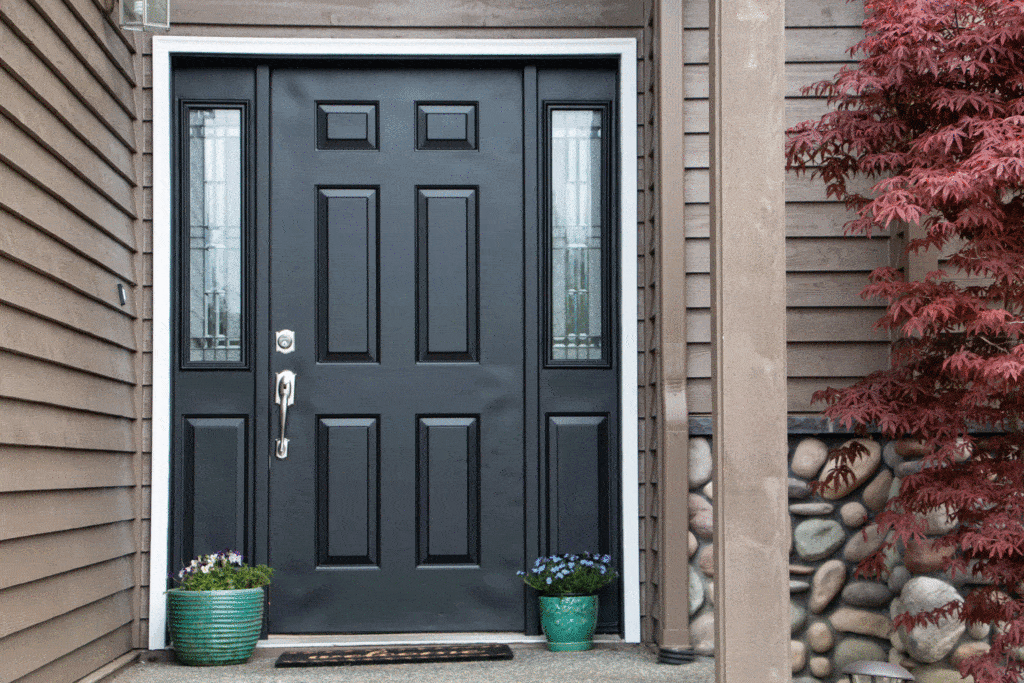 The doors of your bedroom also play a unique role in the decor of your room. In that case, one would not want to compromise the beauty of their bedroom doors.
Consider painting your interior doors tricorn black. This will match the color of the walls and make the space look more dramatic. They also add more depth to any room. In addition to bedroom doors, tricorn black doors are an ideal choice for exterior settings as well.
Be it a kitchen, powder room, garage, or front gates, tricorn black doors can go with all settings.
13. Dresser Display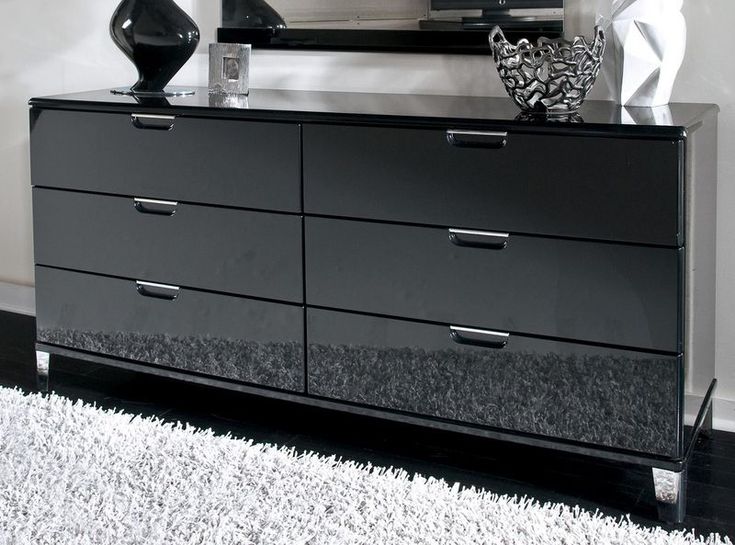 If you're a black lover, then why just limit your love to the wall paint? And why not experiment with other things as well?
If yes, and you're ready to do the same and consider installing a black dresser against your black bedroom wall. It is functional and can be used to store your important belongings while also making the wall color stand out. Installing a wooden dresser can help establish an environmentally friendly and natural vibe. It isn't necessary to have the whole dresser built in wood material; the addition of glass on top can make it look more vibrant.
14. Wallart for Beauty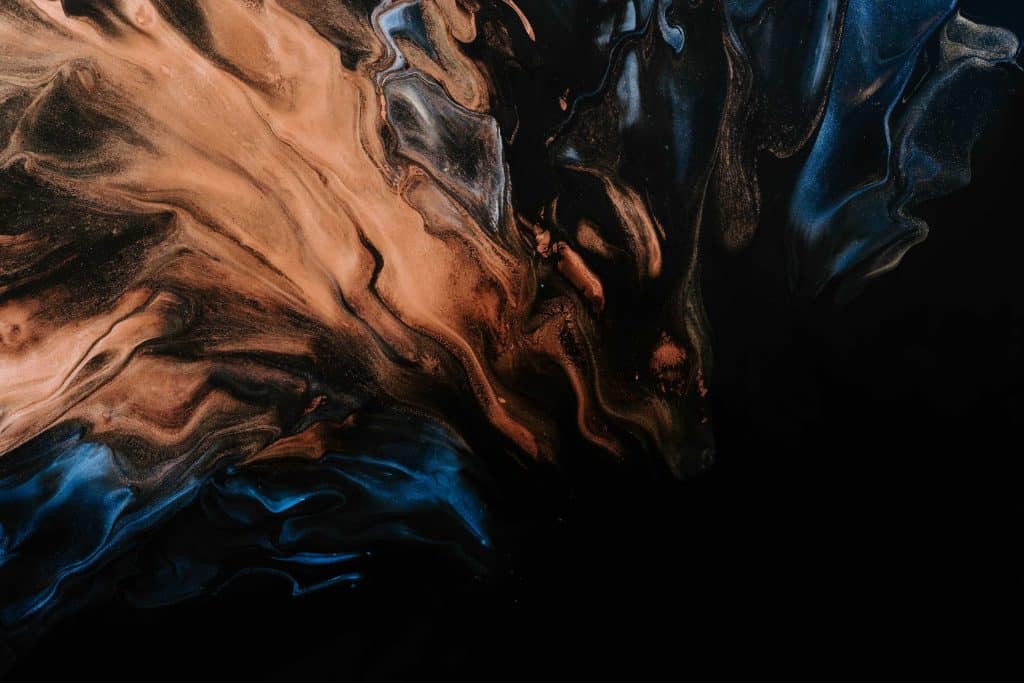 Installing big and creative wall art on black bedroom walls can not only make the space look more innovative but lively as well.
Black and white portraits and art pieces can help establish a monochromatic vibe while also bringing more drama to the whole look.
Furthermore, if someone wants to get more innovative, adding personal picture frames can also be a great idea. They can be decorative and one of the best ways to cherish your memories while also making the room look more personalized. So why not try them?
15. Built-In Shelves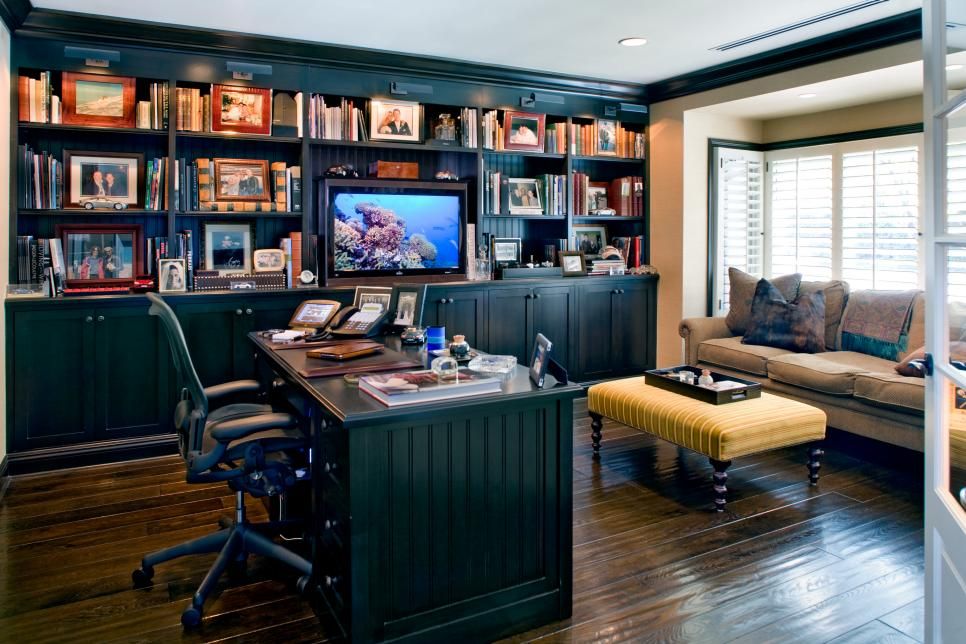 One of the most striking and innovative ways to make your black bedroom wall more unique is by adding some built-in shelves onto them.
The best part about this idea is that it is not just confined to beauty but goes much beyond that. It can make one's space more organized and functional. One can get bookshelves and other such space designs where they can hone down on their favorite reading magazines and other essentials.
Moreover, decor experts suggest that getting the built-ins in the same color as the wall can further create a striking look. Dark-colored built-ins in your room can make it look bigger and wider.
16. Shiplap Walls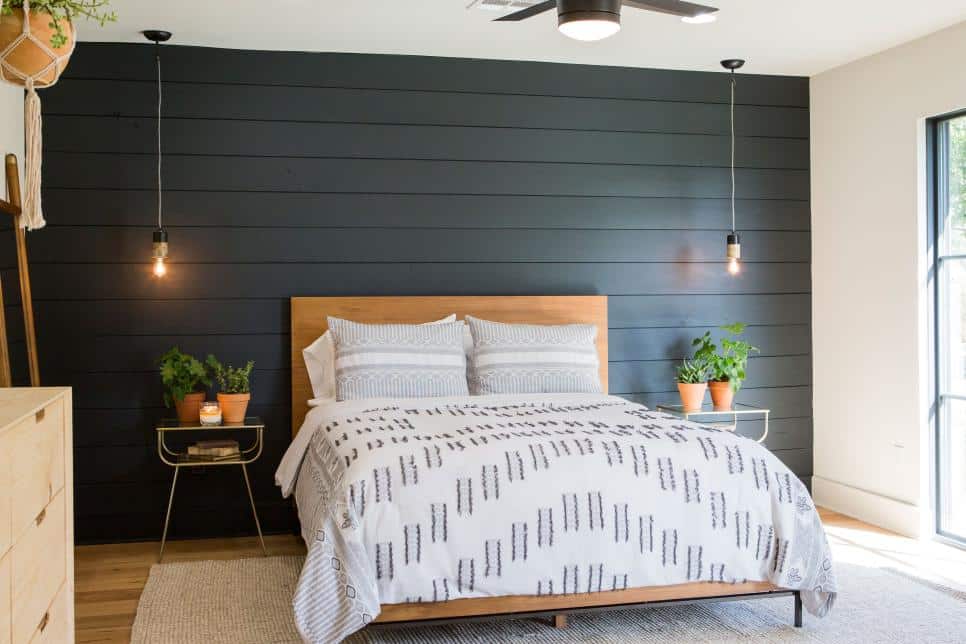 Shiplap walls have been long associated with adding texture and charm to any space. Furthermore, they are easily installable and robust as well.
However, decor enthusiasts always suggest that choosing the right color for one's shiplap walls can make a great impact in making the room look more aesthetic and captivating. So why not get your shiplap walls painted tricorn black?
Getting your shiplap walls painted black helps establish a modern vibe. They can make any space look more textured and extraordinary. Additionally, these are easy to clean and maintain.
17. Chalkboard Wall for Your Kid's Bedroom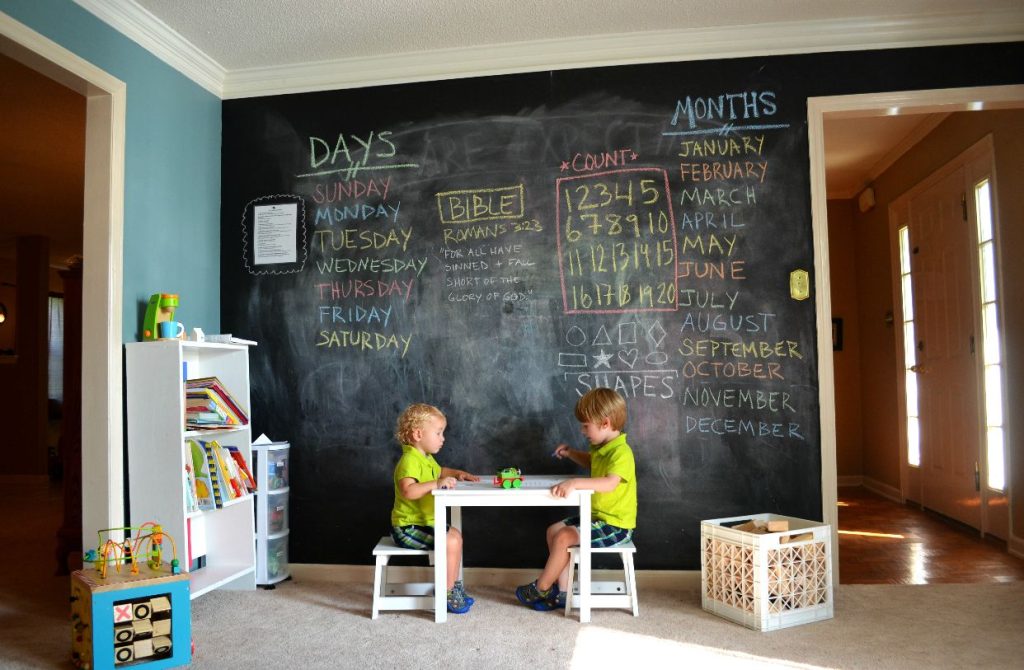 Kids are innovative, and they always want to have the freedom to express everything, and that is the reason why they love chalkboards. It helps bring their imagination to paper.
Have you ever wondered if your black-colored walls can also act as chalkboards for your toddlers? Imagine how fun it would be for them. Your little ones can play, draw, scribble, all that they want.
If you don't want the whole room to be filled with the same, then getting just one side black-painted could be a wise decision.
18. Eclectic Finish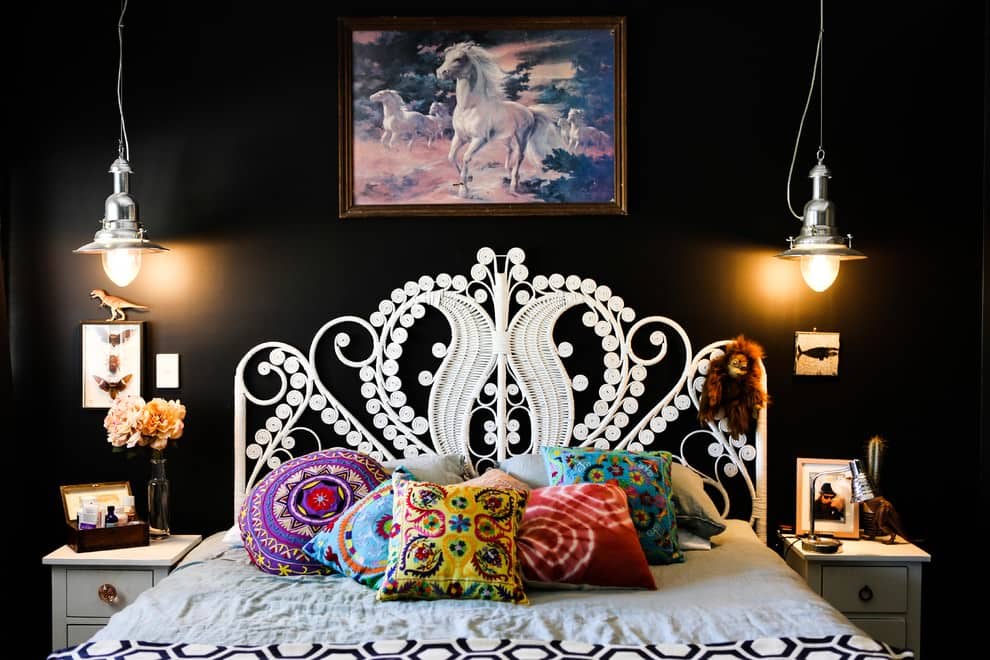 If someone wants to make their black bedroom wall look more creative and appealing, adding eclectic elements can be helpful.
Not only will such elements help set a theme, but they will also reflect your personality and innovative mind. Wallpapers, mirrors, nightstands, and electric lamps, are some of the most commonly and popularly used eclectic accessories used in a bedroom. These look amazing and are functional as well. All the accessories loved by you can be brought together to create a comfortable and cozy vibe in your bedroom.
19. Playing with The Ceiling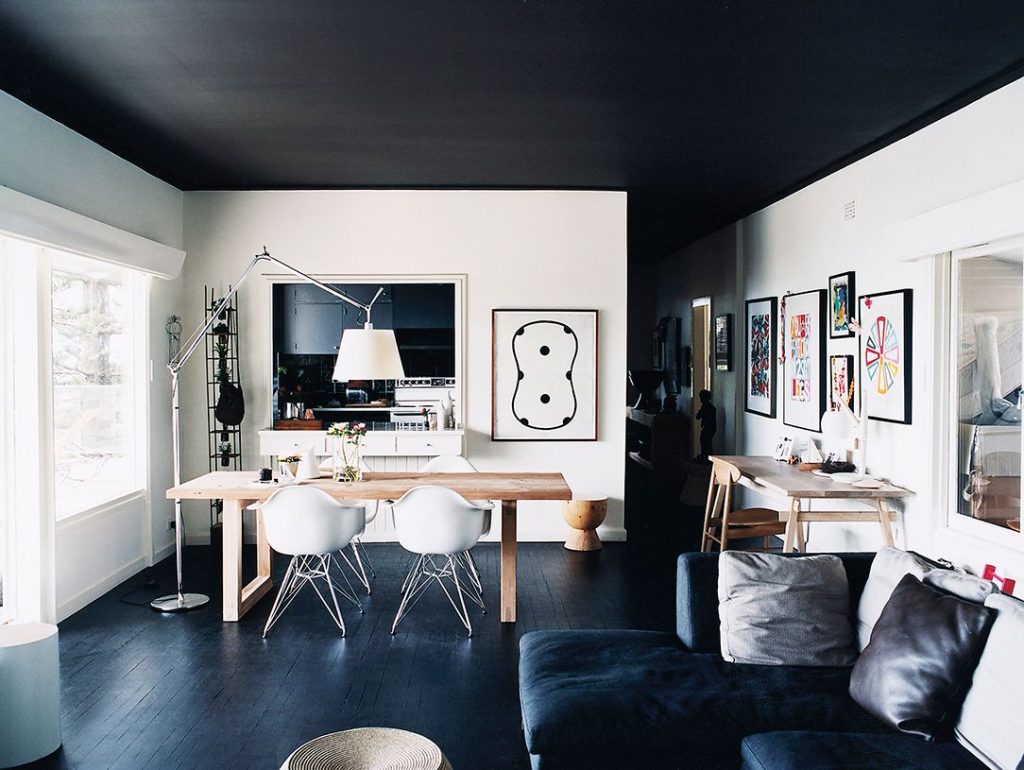 There are several ways to accentuate the aesthetic of your black bedroom walls. But have you ever wondered if matching those wall colors with the color of your ceiling can also be one of those innovative ways? If not, start wondering now.
Painting your ceiling, tricorn black won't just complement your walls but make the whole space look a bit bigger. This will help add a monochromatic theme to the whole area. Additionally, the drama element of your room will be further enhanced as well.
The addition of a golden or brass chandelier can further take the look to a whole other level.
20. Half-Black Bedroom Wall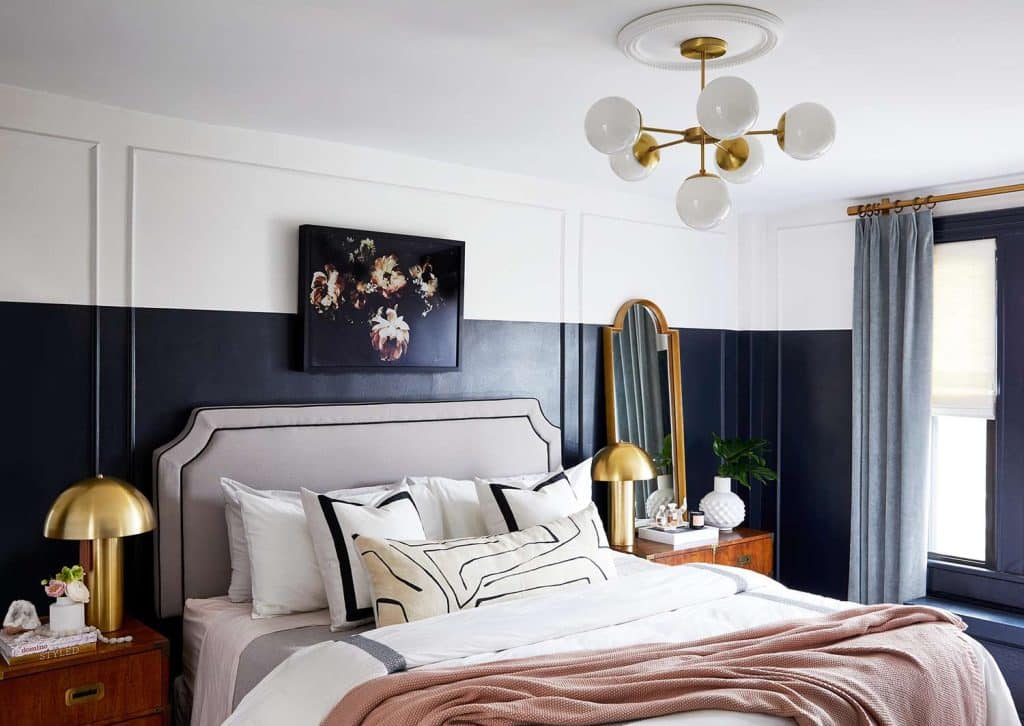 Want to add the black-colored decor to your bedroom walls but aren't fully sure of it yet? Well, in that case, why not go for half-black bedroom walls? Yes, you heard it right.
Half-black colored bedroom walls are the perfect choice for someone who wants a perfect blend of boldness and space. This unique design can make the room look more sophisticated without the need to go all out. In addition to the same, it also makes the room look more quirky and brighter.
21. Oversized Art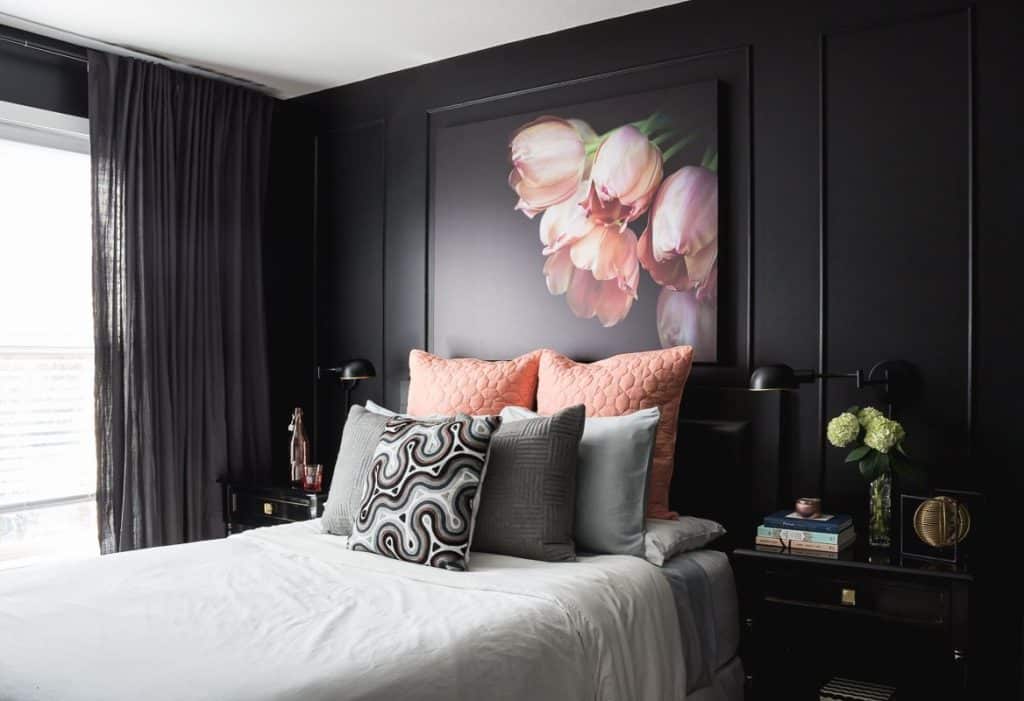 A black bedroom wall surely makes an impact. But there are ways in which one may further accentuate the beauty of their black walls. And one of those ways is installing oversized art pieces on them.
The first advantage of using such big art projects is that it creates an illusion making your room look bigger and spacious. Using oversized tapestry, mirrors, frames, portraits, or any creative piece can help. This setup makes the whole look quite catchy and appealing. Consider hanging such artistic pieces above the bed and see the royal magic.
22. Pair up With Houseplants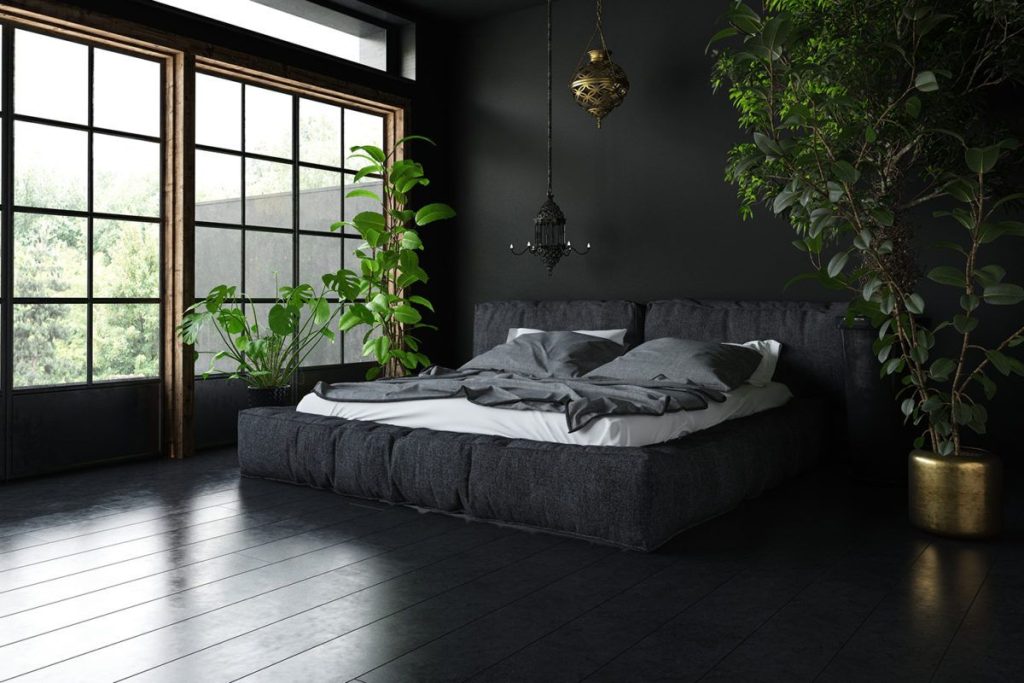 When it comes to room decor, the importance of houseplants cannot be overstated, and the bedroom is no exception. Especially if one has got their bedroom walls colored in black shades like tricorn black, and adding houseplants could be a wise decision.
Adding houseplants or some kind of greenery to your room helps add a light, natural, and calm mood to the space. One can choose their favorite house plants and stand them against the black walls so the greenery can pop out easily. Additionally, one may also use artificial plants if they want to go for something that requires the least maintenance.
23. Mix and Match with Gold Accents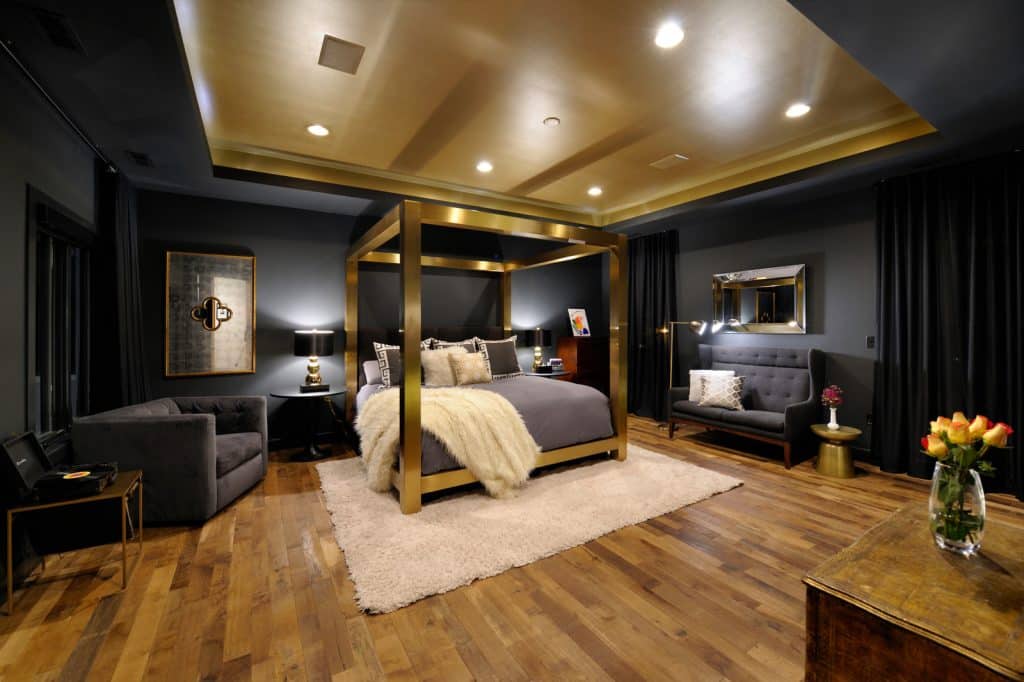 One of the most effective ways to decorate your black bedroom walls is to complement them with brighter-colored accessories.
Adding time of golden and brass elements in your room can give it an expensive look. One may install accessories like golden lamps, murals, chandeliers, candle stands, and so on. Layered accessories, black walls, simple light-colored sheets, and pillows can give a perfect mid-century vibe. If you want to go all with this unique blend, one can also mix golden and black shades in paneling their walls.
24. Mirrors for Royal Magic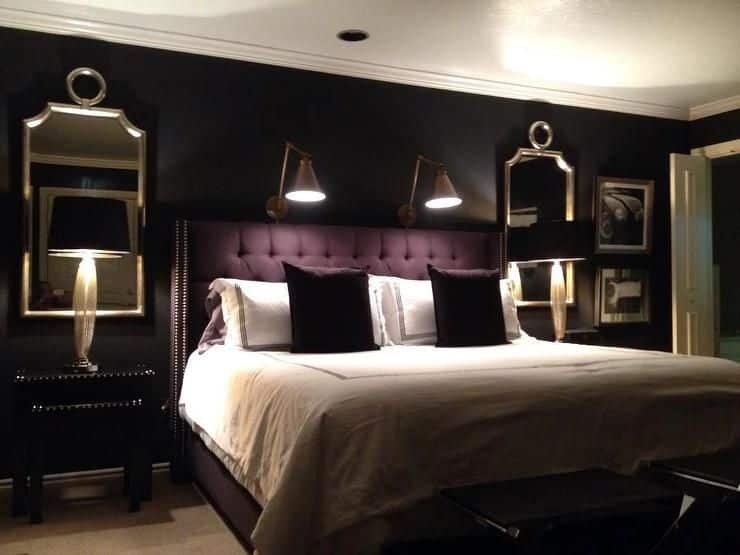 If you're worried that a black bedroom wall can make the room look a bit dark, then worry no more because we have got a solution for you, and that is using mirrors.
Mirrors are one such accessory that makes any room look more beautiful and aesthetic, and the bedroom is no exception. In addition to beauty, mirrors can further make your room look brighter and bigger as well. There are different types of mirrors available in different shapes and sizes.
From simple to vintage, small mirrors to oversized, one can create any vibe they want using a suitable mirror.
25. Install A Wallpaper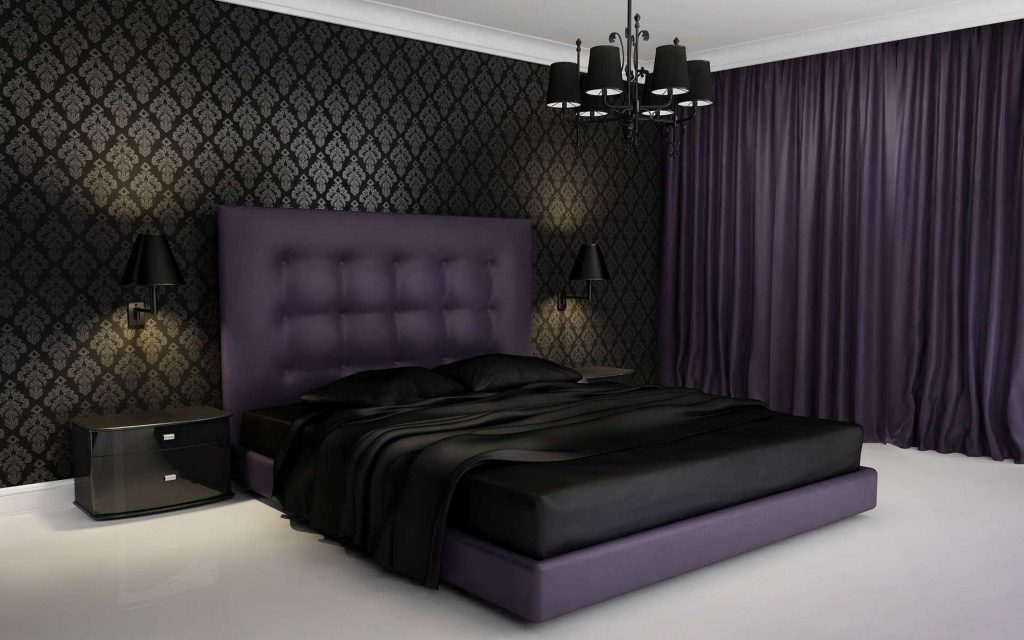 Wallpapers are one of the most popular ways used to renovate any space. They can quickly change the look of any area in just a few seconds.
So, if someone wants to give their old black bedroom walls a new and innovative look, then using wallpapers can be a great idea. One can innovatively use the wallpaper. For instance, they can be used on half the wall or full of it. These can also be used to create a distinct theme in accordance with the wall color. So, why wait? Go all out and explore your innovative side.
Conclusion
A dull bedroom can leave a negative impact on mood and energy, and you won't want the same. So it's time to add some bold and exciting elements to your room by getting them black-painted and complementing it with several decorative ideas.
Black bedroom walls are dramatic and look magnificent. They have been ruling the room decor game for quite a period and are here to stay. This article hones 25 hit ideas to enhance the beauty of your regular black walls. One may use these while renovating their boring rooms.
Also, comment below and let us know if you like any of these ideas and are going to use them as inspo for your next room decor mission.