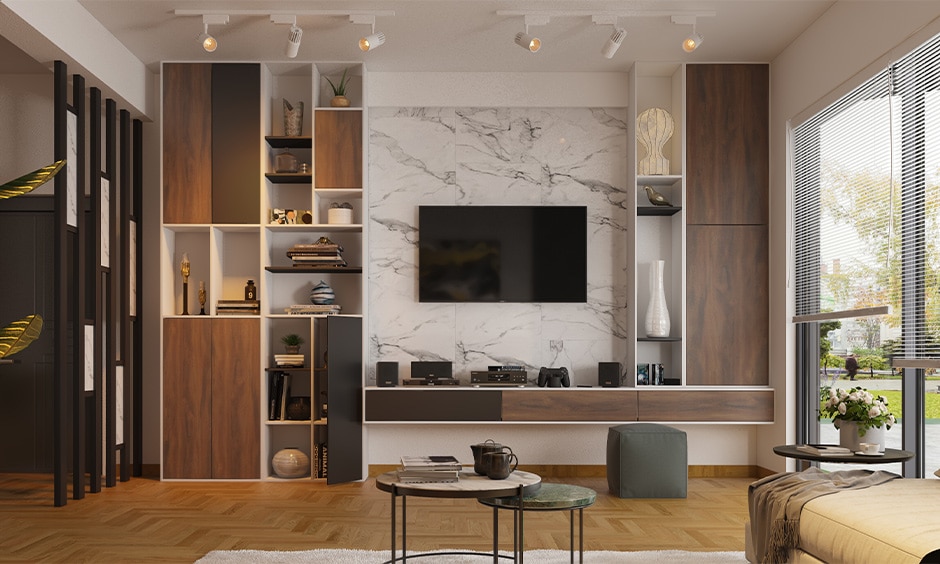 Many people believe that the 21st century is the era of modular furniture. Do you feel that way? If yes, you are absolutely right.
Modular furniture is suitable for small and large areas that need frequent re-arrangements. Unlike traditional furniture, it is lighter and thus easier to move. You are building your dream house or apartment or renovating your office space, and your vision is of an elegant and contemporary makeover. Just go for modular furniture.
Many modular furniture brands offer mind-blowing options to satisfy your demand and help you decorate your space with versatile, customized, cost-effective, and sustainable choices.
The blog "Top 14 Modular Furniture Brands Designed to Fit Any Space" assists you in picking up the cream of the crop furniture for your living room, bedroom, or workspace.
Come on! Discover the 14 top modular furniture brands!
1. Allform
Allform offers high-quality, affordable, customizable modular sofas and sectionals designed to fit any space. The upholstered Allform sofas are made of blended organic and synthetic yarn. They are in stock with seven types of fabrics and two varieties of leather. In different ways, you can configure this furniture, from an armchair to a wraparound sectional.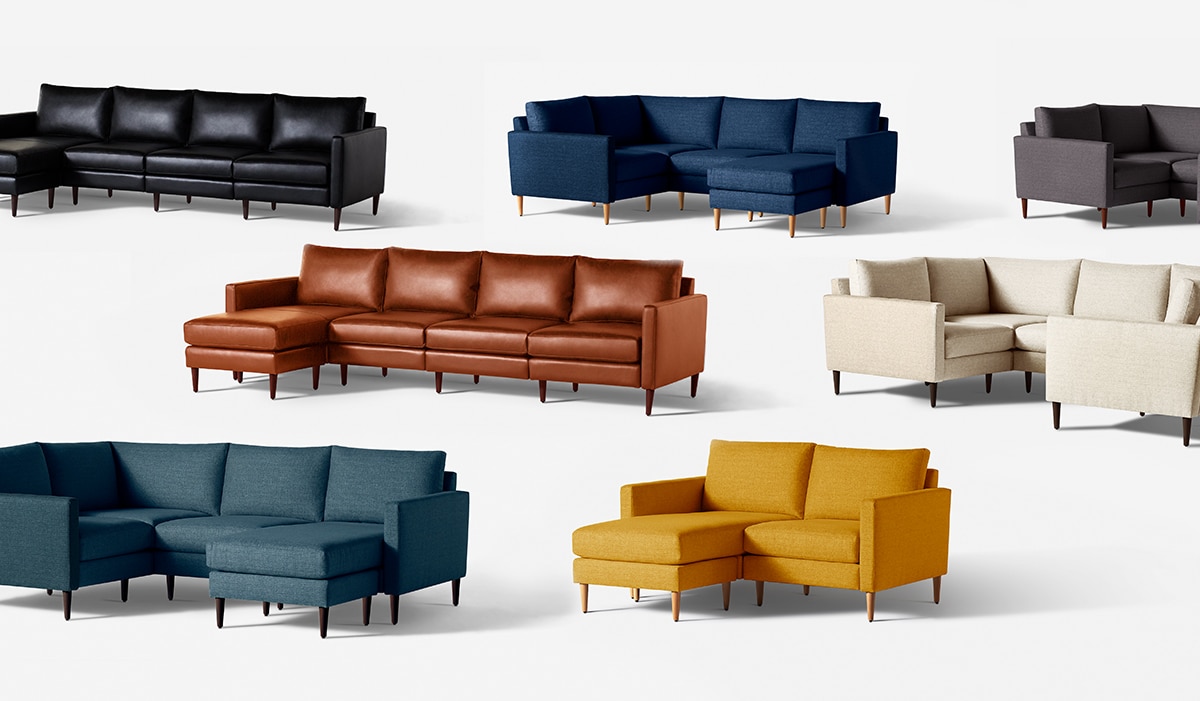 They are highly resilient concerning scrapes, strains, spills, and harsh chemicals. You don't have to restrain your pets from relaxing on it. They are created pet-tolerant.
Allform sofas are easy to set up in any corner of your home. They are handmade and custom-built elegant sofas. With Allform sofas, you don't need any home designer. The sofas are cozy and firm thanks to their expansive place to sit and more elevation and channeling in the cushions.
2. Albany Park
The brand sells trendy and comfortable modular sofas and sectionals mindfully designed to fit any space. Its hardwood, tailored furniture with high-end textiles is available in an affordable range.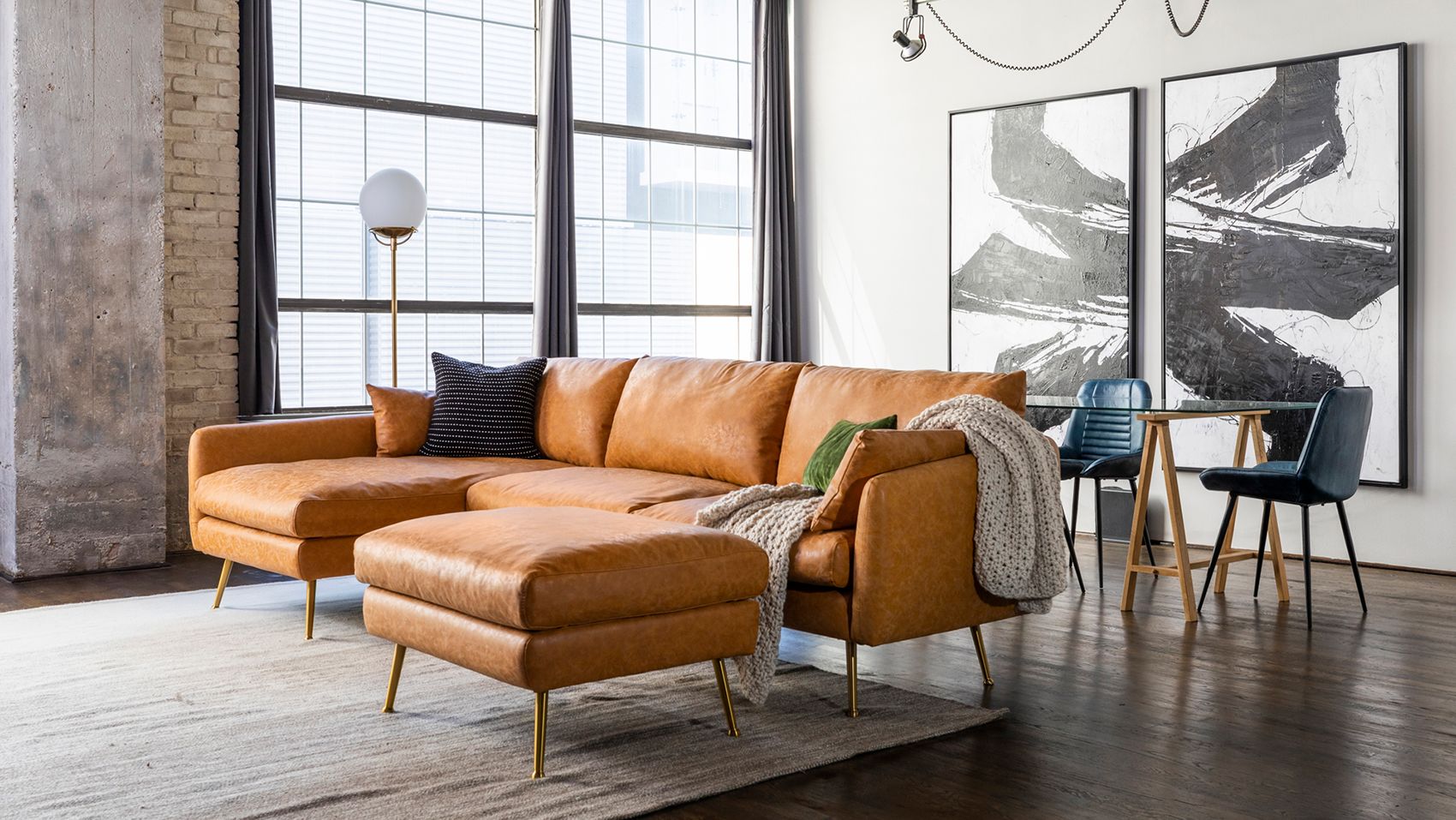 Their Kova modular sofa is a sensible choice for those looking for a Cloud Couch alternative, with its feather-filled, reversible cushions, and water-repellent, stain-resistant performance fabrics. The other two collections of the brand are Park and Albany.
The brand incorporates simple designs with multiple textures, materials, and color combinations. Its soft curves, natural forms, and straight lines make it an unparalleled furnishing.
The brand furniture is delivered to buyers promptly in space-saving, compact boxes that are simple to move in any building, including stairs and narrow passageways. The brand claims that it takes only 15 minutes to assemble the Albany furniture items.
3. Benchmade Modern
Benchmade Modern (BM) is an excellent choice if you don't have budgetary constraints. With 14 unparalleled collections of classic and avant-garde stylish sofas, couches, and chaise longues available, BM is the leader of modular living room furniture. This brand has created sofas to fit in smaller to larger spaces of your home.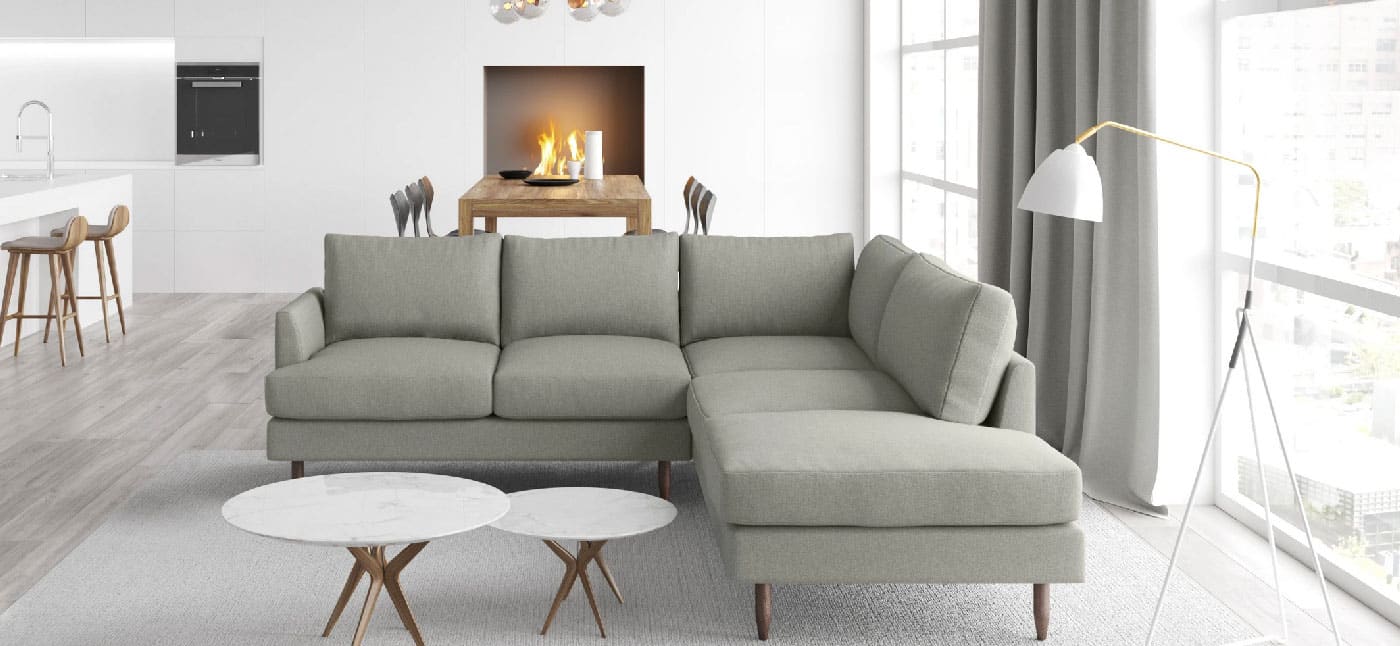 The brand's collections include 'Like Butter Modular' and 'Catwalk." The Like Butter Modular's most prominent feature is its high armrest and low backrest, offering you complete relaxation. It is configurable to fit your constantly evolving room and is made for relaxing. The Catwalk collection will remind you of classic elegance. The varieties of modular furniture, such as Catwalk sofas with perfectly designed ottomans and bumper chaises, will catch your eye undoubtedly.
4. Burrow
Burrow is a reputed modular furniture brand that offers a range of customized sofas, sectionals, and chairs at an economical price. Its products are designed to be comfortable, durable, and versatile, making them an efficient option for any space.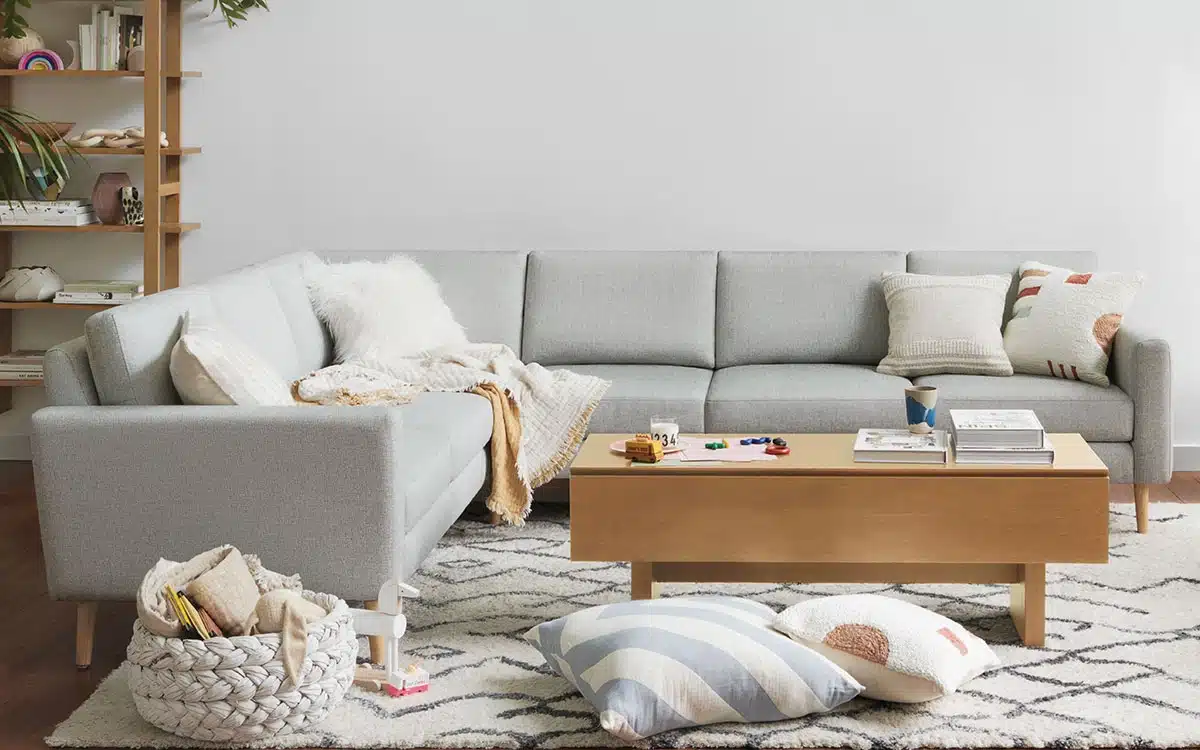 Forbes has declared Burrow's Nomad 5-seat sectional as 'the best modular sectional overall' this year. You can set up this unique furniture in your home in your personalized way. Its patented modular latch and lever technique makes assembling furniture. The sofa has an arm height of 24″, a seat depth of 22″, and dimensions of 88″ L x 88″ W x 35″ D x 33″ H. Moreover, the Chaise sectional collection includes a chaise lounge with a sectional sofa.
The brand uses zero PFCs, non-toxic, stain-resistant olefin fabric for its furniture, perfect for kids, grown-ups, and their pets.
5. Floyd
Floyd prioritizes environmentally friendly business practices and uses ethically sourced materials from reliable supply chains. It offers practical items such as sittings, tables, and shelving units. Because their products are simple to construct and deconstruct, you can make custom arrangements that perfectly complement your space.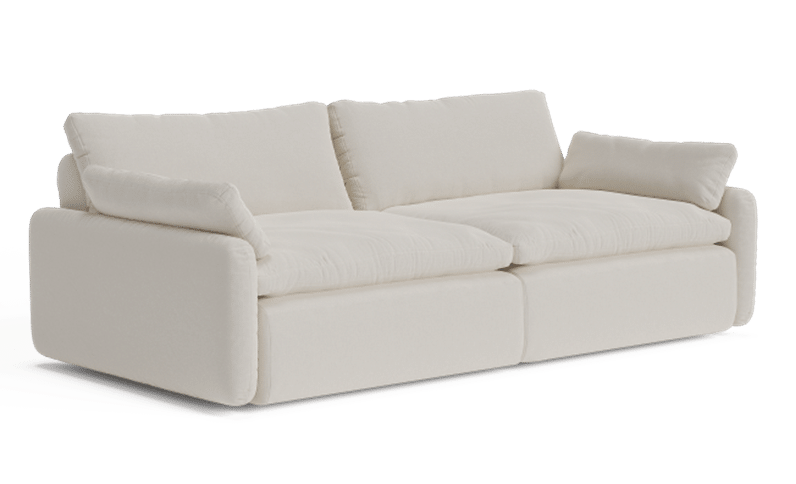 The shelving system of the brand is one of a kind. The system is configurable and adaptable, enabling users to design a shelving unit that precisely meets their requirements. These shelves are designed in a medley of sizes and colors and are made of powder-coated steel, birch, or ash wood.
You can choose its 'Media Console' to keep your cords organized and your space clear of unsightly clutter with the help of magnetic clips affixed to the back side of the media console. It can stand alone or be integrated into the shelving structure.
6. Home Reserve
The tagline of the brand HomeReserve is 'Adaptable Furniture Co.' The company encourages people to select a piece of furniture and personalize the style, fabric, and layout as per their choice.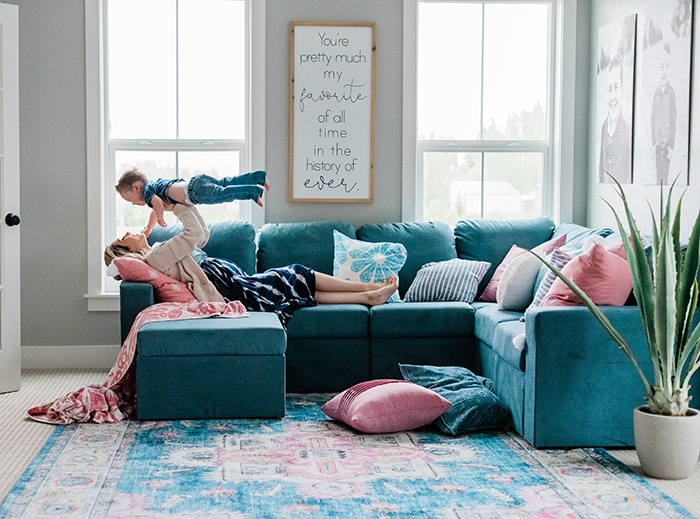 Their sofas have built-in pockets. It helps the users make the most of their space and keep their blankets, unused clothes, and books. You can even purchase new fabric covers at an affordable price and change the look of your living room. You can alter the sofa set's arm and back as well. To change the look, only replace the armrests and cushions. Because of competent linking arrangements, no tools are required to make this change. A small change can have a significant impact right away.
The timber panels and upholstery are incredibly durable. Home Reserve offers a guarantee for a decade for the furniture's wooden framework but not for the upholstery and cushions.
7. Inside Weather
Brand Inside Weather is a sustainable modular furniture brand close to my heart. They recycle two hundred plastic bottles for a sofa and prefer sustainable packaging. The brand's furniture collection is impressive, available in wide ranges, and at a market-competitive price.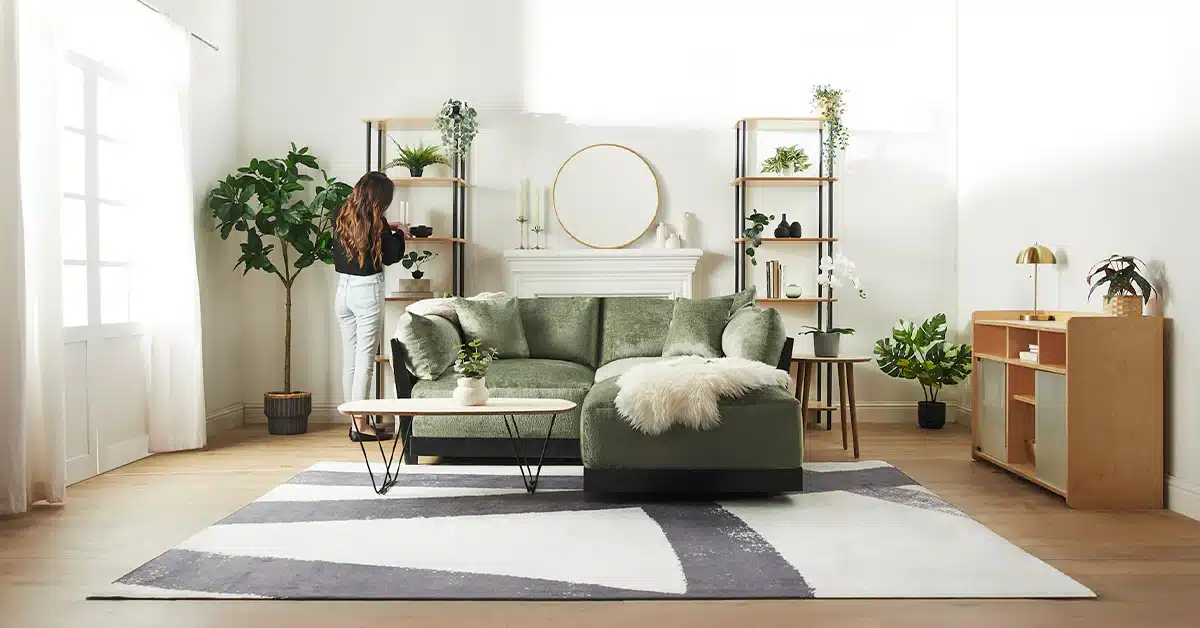 The brand offers a potpourri of possible configurations that allow buyers to select from sectionals with two to six seats and one, two, or no ottomans. The Aero 3-Seater and the Atlas Shelf are two additional modular options they offer.
The modular Ashby headboard is a custom-built, structured padded panel with ultra-dense polyurethane foam. Moreover, the company's office furniture is highly recommended. To create the ideal workstation zone, you can alter each aspect of the brand's desks, including the panels and the add-on cabinets.
8. Joyride
Founded by James Lucas as a design studio, the brand Joyride has a design mission. It intends to create furniture that easily adapts to the way it is being used to help people make the most of their space, though they may pinch buyers' budgets. It maximizes a space's flexibility for the better use of the available space.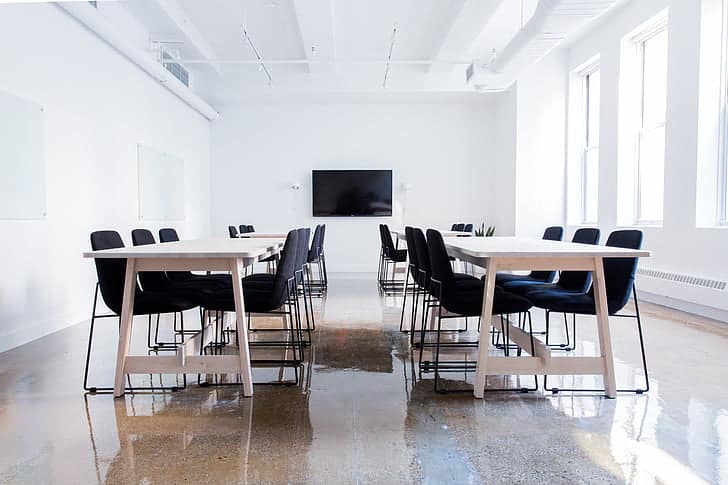 The CUBA collection guarantees to enhance your apartment, workspace, and hospitality areas. It is a classy line of furniture that customizes to its setting effortlessly, turning it into the first responsible furniture globally and perfect for contemporary office settings. For instance, the cushioned stool in Joyride Cuba chair adjusts to the user's body weight when they sit.
All sections of furniture equipment are made to be chic, versatile, and compact, thus making them ideal for the years to come. The CUBA collection consists of multipurpose stools, tables, and chairs that can easily integrate for convenient and organized storage. The surfaces and seating are created as a single piece.
9. Loose Parts
Jenifer June's new brand Loose Parts, has become well-known for its simple construction method and environmentally friendly furniture design philosophy. The furniture is versatile and comes in self-assembly sets or as separate components.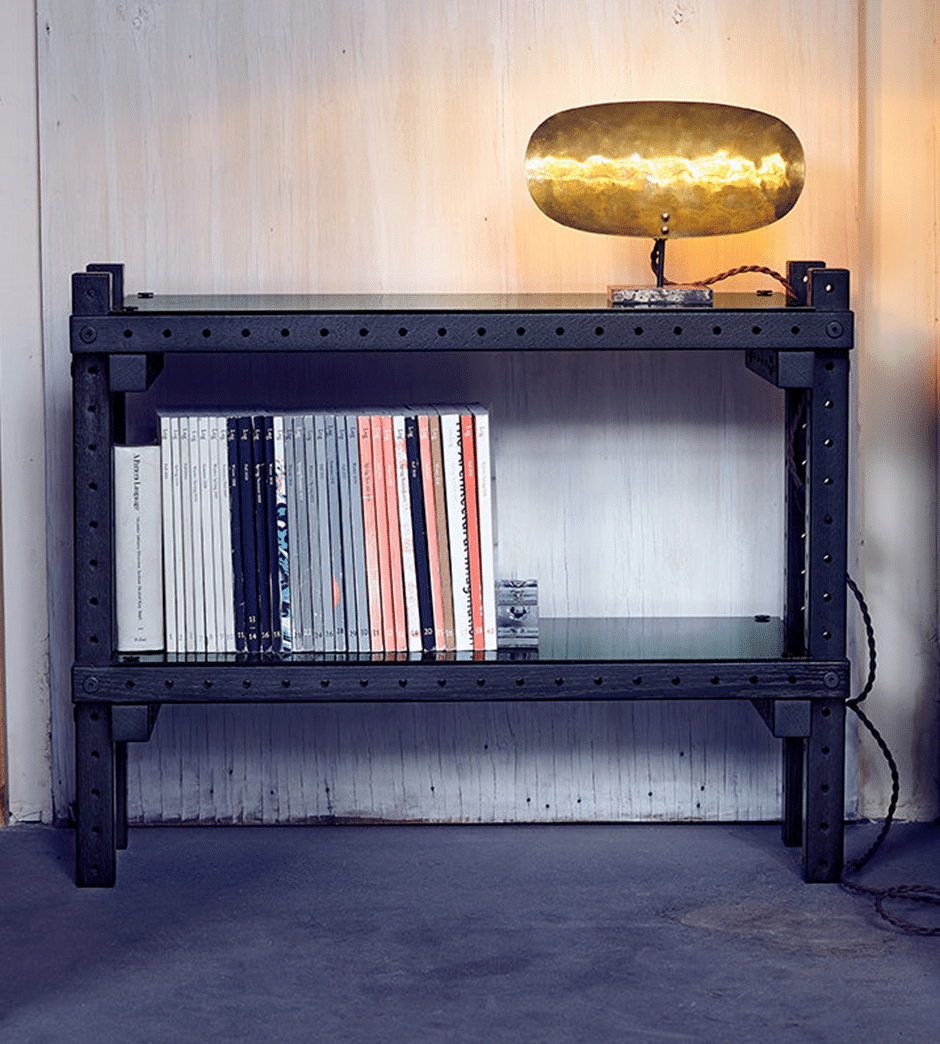 Original Assembly Kit (OAK) can create many pieces of furniture. It contains a pair of hanging metal rods, eight powder-coated metal racks that can be flipped over to act as treys, and 32 hardwood rails with slots made at regular intervals for attachments. The components can be put together to create a console dining table and table bookshelf and garment rack with just an Allen wrench. The company provides restoration services to fix any damage from normal aging.
10. Maiden Home
The brand Maiden Home offers slightly expensive handcrafted fancy furniture for modern homes. Numerous customization options are available for the brand's John modular collection to match the space and preferences of a buyer.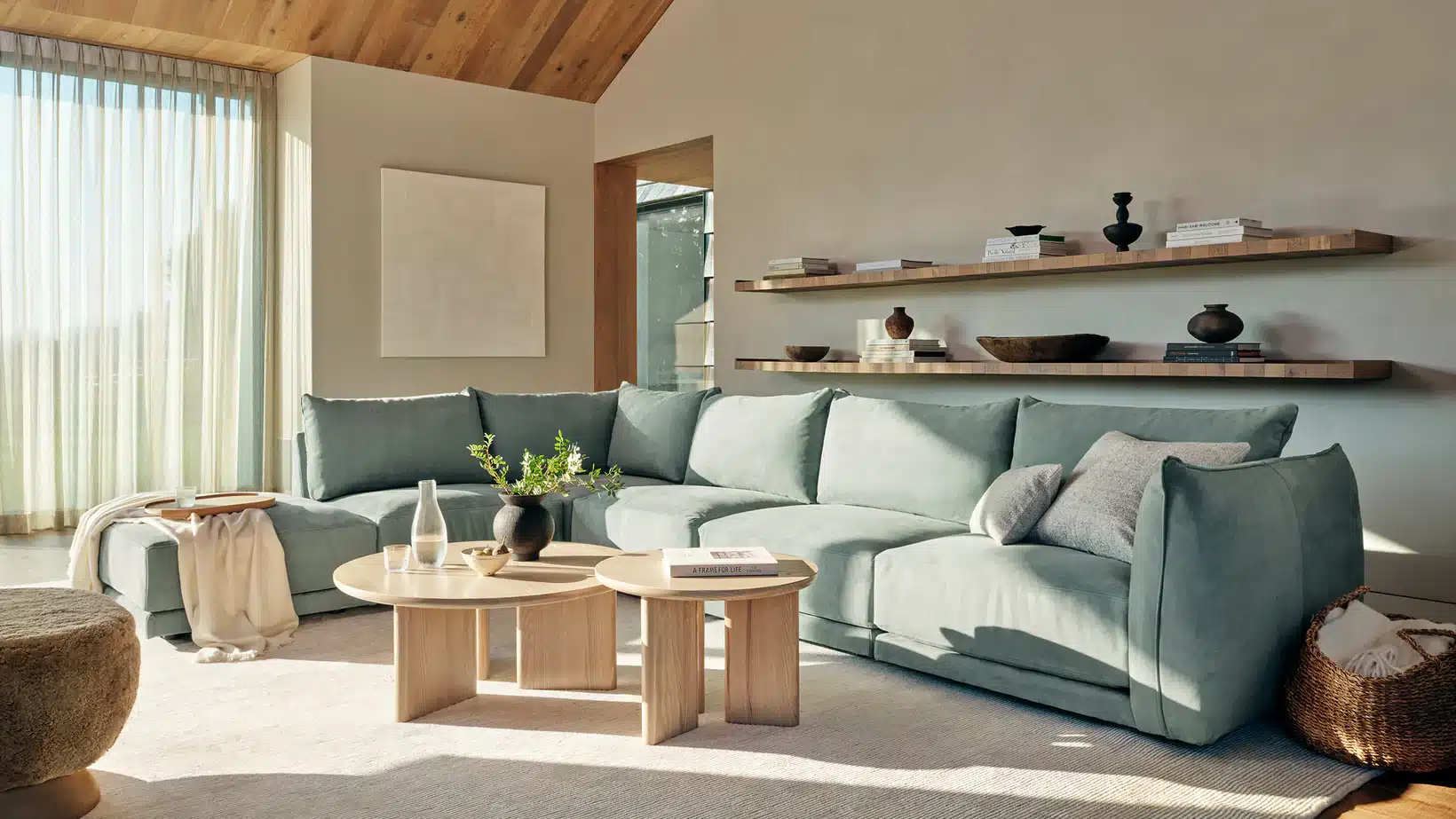 The John modular is available as a sectional or sofa in predetermined configurations. Customers can use the 'Build your own' option to remodify the furnishings that perfectly complement their space. However, the arm width remains unchanged, but the seating width can be increased or decreased. In addition, customers may remodify chaise designs that are adaptable to suit their lives by combining aligned 'luxury' or 'square' ottoman pieces. You can assemble or rearrange your space without much hassle.
To assist customers in visualizing their customizations, Maiden Home's design team can provide high-quality rendered images of specific pieces. The brand uses 'bone-performance textured linen for fabric. Moreover, the customized 'Wythe bed' is exceptionally comfortable and chic.
11. Resource Furniture
Resource Furniture is a one-stop modular furniture marketplace. It has a unique range of modular furnishings for schools, universities, libraries, offices, and homes.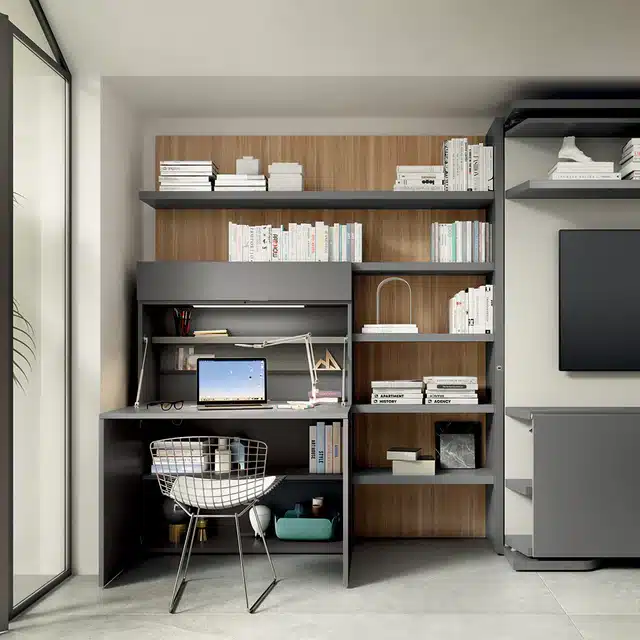 Resource Furniture presents a full selection of furniture for a learning environment. The company works with customers to design shelving and other furniture that meets their functional needs, color plan, and overall arrangement. You can explore the ideal educational furniture for your space and choose from diverse tables and chairs, student seating, desks, screens, and storage section options.
Besides, the brand offers a wide selection of workplace furnishings, for instance, office and meeting chairs, workstations and tables, break furniture, and storage options in different styles and dimensions to meet different needs. The height-adjustable espresso tables, dinner table extensions, and creative home office furniture cater to the multiple needs of the buyers.
The brand's modular furniture for the home workplace quickly converts a spacious desk to a sleek cabinet and has a motion-sensing LED illumination and cord system.
12. USM
USM is a contemporary Swiss modular furniture brand marketing a range of home and office furnishings. Their modular cabinet, boiserie, and closet systems are designed to showcase or hide items, making them a versatile option for any space.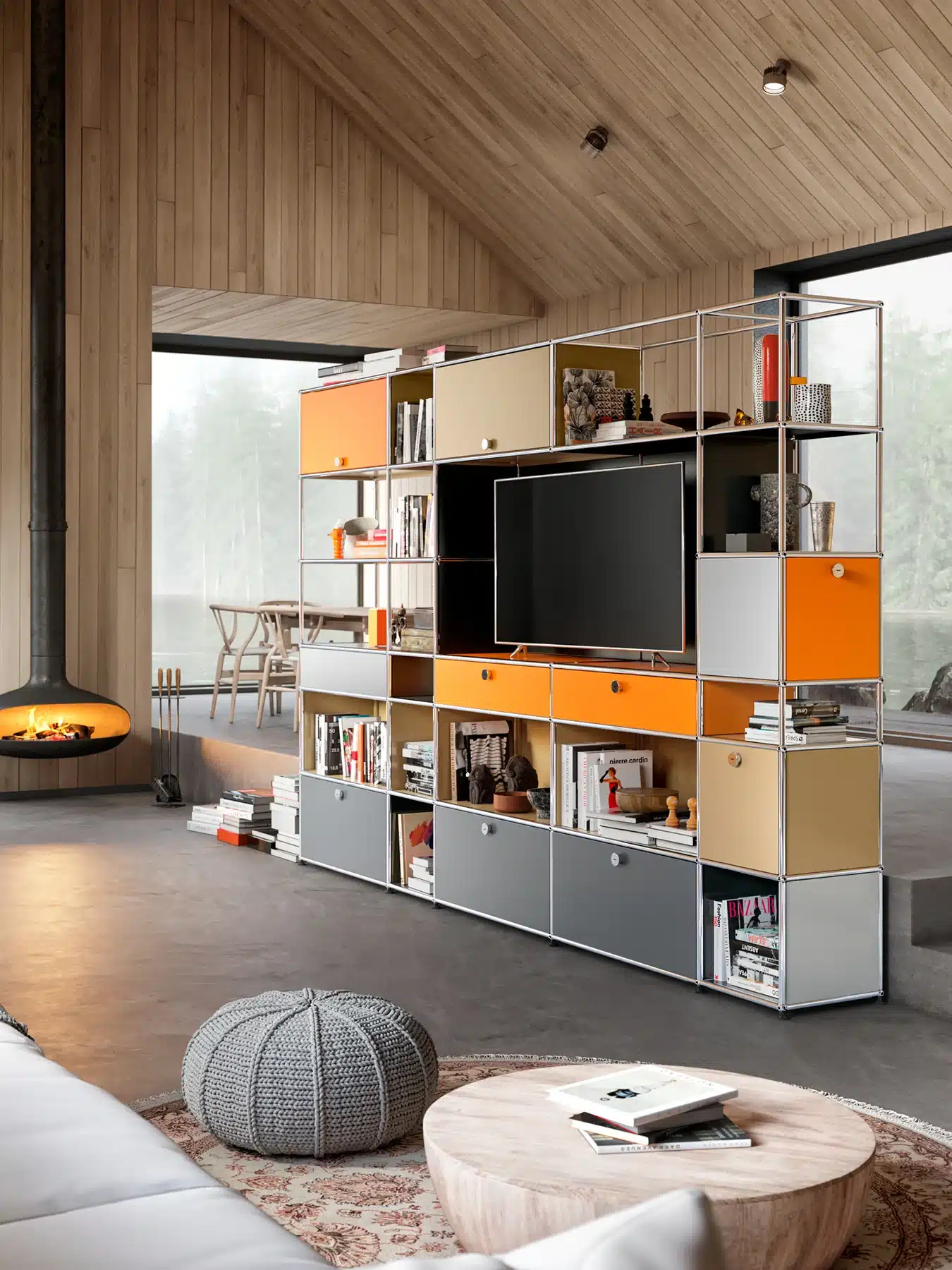 The brand pampers you with its range of collections, such as USM Haller, USM Kitos, USM Privacy Panels, and USM Inos. Haller furnishings change your living room to a stylish appearance. USM Haller offers its buyers seven color choices. Contemporary decor can be configured in a variety of ways and can easily adapt over time to changing needs, thanks to its minimalist design. It comprises separate parts that can be easily added to or reconfigured. Each furniture system is made to blend in with any architectural or interior design and be appropriate for home and office settings. There are various sizes and configurations of the table available in the keto collection.
13. Valyou Modular Furniture
Valyou Modular Furniture brand is most famous for its Chubby Sectional couch collections. It is a quickly growing modular furniture brand offering Chubby sofas, armchairs, L lounge, U sectional, armless, chaise, corner, and side seats at affordable prices. The brand interior designers are always there to assist you in materializing your home decor ideas.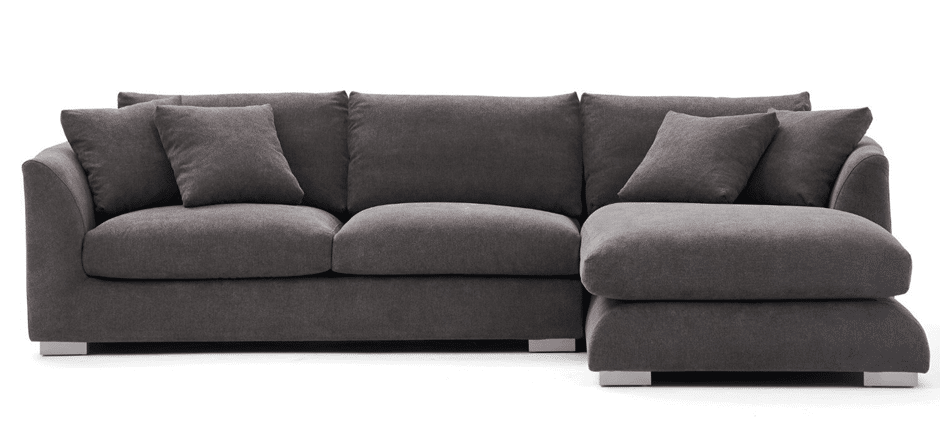 Valyou Furniture also provides modular sectional couches that can be set up in any fashion, including comfortable two-seaters, modular children's sofas, and expansive sectionals with enough space for relatives and close friends.
The brand uses high-quality components for its furniture collection—strong timber layout, thick foam, and strain-enduring linen fabrics.
To give the living room a touch of glitz and sophistication, you can add metallic decorations to the contemporary modular couch.
14. West Elm
Don't forget that the Well Elm company is renowned for its unique style, quality, and dependability; sectional sofa sets and couches are among the most popular products.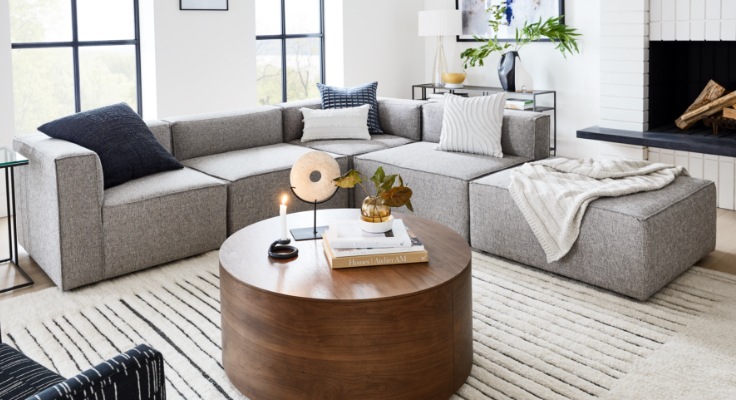 You will discover a configuration that works for you, whether you need a straightforward workplace arrangement or one with plenty of storage space. When assembling a modular home setup, a desk is an appropriate piece of furniture.
The modular sectional sofas from West Elm have simple lines and strong materials. The versatile sleeper sofa model West Elm Shelter sleeper sectional storage is what you should buy if you need more storage space.
It has a secret storage space and a comfortable piece to relax on every day and is ideal for those looking to provide more sleeping space for the extended family thanks to the soft cushions.
Conclusion
We hope the information on the best 14 modular furniture brands will lessen your burden of finding modular furniture to decorate your home, apartment, workspace, and learning setups.
You may select from a plethora of options. Some brands are pocket-friendly, while others are expensive. Yet, all brands are similar in providing practical, high-quality, people- and pet-friendly furnishings. You can experiment with these flexible appliances and accommodate your household items, books, and other things conveniently in the concealed storage of sofas and ottomans.
Wishing you luck as you create a modular setup in your space. Share your experience in the comment box!